Zoom In: Fabio Duma
Dr. Fabio Duma leads the Luxury Management Competence Team, in the Department of International Business at the ZHAW School of Management and Law. In his role as a senior lecturer, he teaches and researches the latest developments related to luxury and advises companies that position themselves in the upper segment of their industry.
October 2020
Fabio Duma was born in St. Gallen and, after completing a bank apprenticeship with a vocational diploma, worked for several years in various positions, including strategic corporate development and investment at a bank. He studied business administration at the University of St. Gallen (HSG) and earned his doctorate on "The Management of Personal Interaction in the Sale of Luxury Goods". Between his Bachelor's and Master's studies, Fabio lived and worked in San Francisco. He has lived in Zurich for around 10 years and has worked at the ZHAW SML for eight years.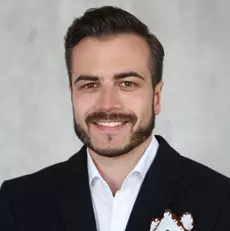 What exactly is luxury management?
Luxury management deals with the specifics of managing companies that are positioned in the top segment of their industry and operate in a variety of countries, cultures, and subcultures with different values, ways of thinking, and behavior patterns.
Many things work differently in the luxury business sector than in the mass or premium business sectors. Usually, a price increase reduces the demand for a product, but the opposite effect can be observed with prestige goods. Typically, in business, the goal is to make it as easy as possible for customers to acquire products or services. However, in the luxury sector, the reverse often happens. For example, the number of units produced might be intentionally limited, or prospective buyers put on waiting lists and made to wait years for a wristwatch, even if they could pay the three-million price tag for the mechanical marvel immediately in cash. You have to understand these differences if you want to run a luxury business successfully. It is vital to maintain a balance between tradition and innovation and between exclusivity and access.
The main drivers of luxury consumption are status, the desire to belong, or the need to be different. Equally, there are hedonistic reasons and a passion for absolute quality or perfection. In this respect, it is no longer purely a question of functionality, but of excellence in terms of design, innovation, materialization, service, or customer experience in different social and cultural contexts.
Luxury management is ultimately about creating resonance by taking people out of their monotonous everyday lives. It is about arousing their emotions, making them dream, and offering them positive experiences they will remember with pleasure. By resonance, I mean the state of "feeling alive," the temporary escape from an everyday life where we no longer notice a lot of things or, conversely, are no longer noticed. Just look around in the morning on the tram or train; we stare into our smartphones all the time. We are also increasingly shopping online and paying at self-scanning checkouts. Companies rely on automation and outsource customer interaction to bots using artificial intelligence. Here, the magic words are efficiency and convenience, but with luxury, other things come first.
The goal of luxury management is always the same. Make people dream and take them, even if only for a moment, out of their everyday lives.
Fabio Duma, Head of Competence Team Luxury Management
What first awakened your interest in the luxury industry?
The world of big luxury brands never really interested me. The "luxury industry" as such does not exist, but only companies that position themselves in the top segment of various industries (e.g., watches, jewelry, fashion, hotels, catering, leather goods, etc.). Their brands stand for specific values and, for various reasons, symbolize a certain prestige. Their products and services are superior to others in terms of design, materialization, quality of artistry, customer experience, and symbolic content depending on the social context.
What has always fascinated me are the niches - the crafts and people who create beautiful and high-quality items with passion and are constantly perfecting their skills, products, or services. We are talking about a kind of luxury that cannot be decoded without the appropriate understanding - without being "in the know" - such as when I wear a fine, tailored suit whose shoulder region is characterized by a certain design - like the "spalla camicia" (shirt shoulder) that is customary in Naples and can only be sewn by hand. This detail remains hidden to the untrained eye, but in tailoring circles, it is now considered a status symbol. Such subtleties can only be recognized by those who have acquired a certain amount of knowledge - also known as connoisseurship - and have familiarized themselves with different cultures, crafts, materials, manufacturing processes, etc.
I am not interested in those areas of the international luxury business geared towards rapid growth, scaling, and profit maximization, but in those craftsmen and women, experts in their trade, and entrepreneurs who follow their passion and desire to create something unique. These people use luxury not only to make a living and as a source of material prosperity but also to carry forward and develop a craft and tradition with pride. Or people who provide competent service and at the highest level and know how to adapt to individual customer needs and cultural differences in a matter of seconds, as is often the case when selling luxury goods.
This fascination for handcraft is probably in my genes. Money has never been the driving factor in my family, but rather a pride in career and performance. My father arrived in Switzerland from southern Italy in the 1970s, met my Swiss mother, and stayed. In his profession, he has acquired a great deal of knowledge and respect over the years. Sadly, I didn't learn an artisan craft - or maybe because of that - I feel attracted by such people and what they create.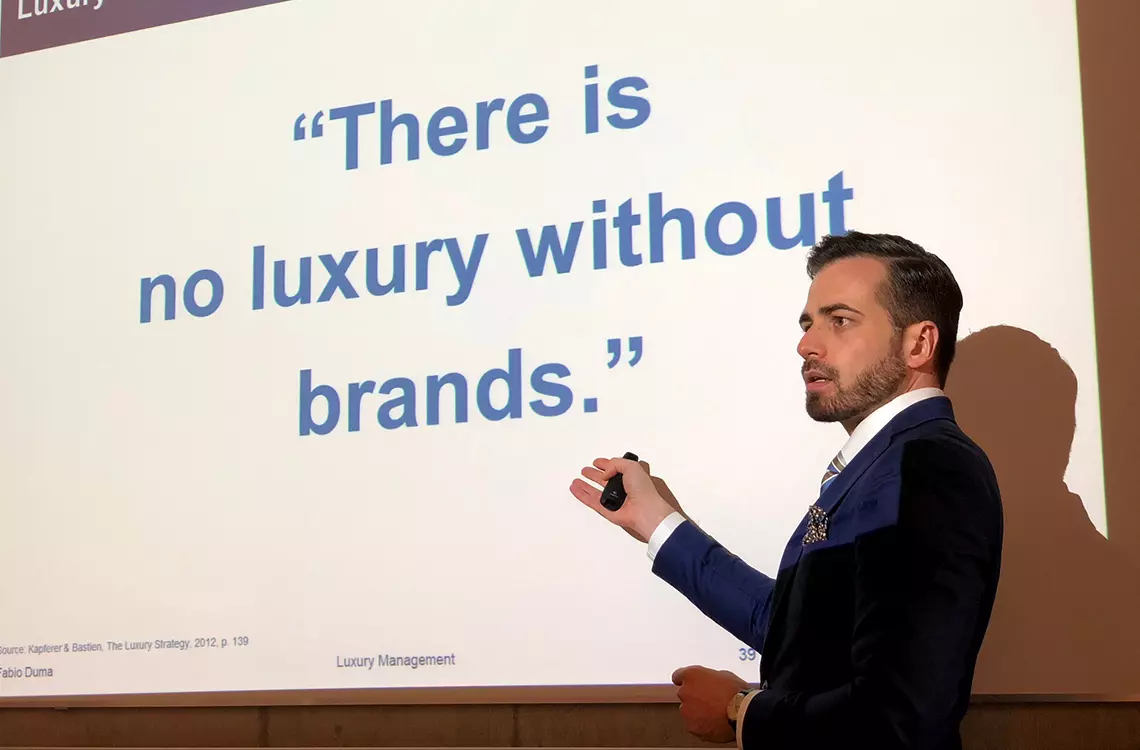 What can companies expect from you in terms of consulting?
Consulting for companies is - besides teaching, further education, and applied research - one of the four service areas of the Competence Team for Luxury Management. We offer well-founded, science-based, and practice-oriented knowledge on fundamental questions concerning the management of companies in the high-end segment of different industries. In consulting as well as in continuing education, we focus on cross-sectional issues in the fields of strategy, marketing & communication, distribution & sales, and internationalization. Topics that we are currently researching - in some cases in cooperation with our colleagues in the Department, at ZHAW, or international partner universities - include luxury ecosystems, luxury and sustainability, intercultural challenges in the international luxury context, and technology-supported multi-sensory customer experiences as well as the specific challenges faced by start-ups and small businesses in the luxury environment. Every semester, we also offer companies the opportunity to receive advice on business-related issues from our students working on International Business Projects.
Can luxury be combined with sustainability?
Absolutely. Luxury and sustainability need not be mutually exclusive. In fact, when we think of products that are still manufactured in traditional ways, they will last for generations and develop a patina that enhances their value.
I often work with smaller companies that, out of deep conviction, make a great effort to keep their products as sustainable as possible, and their manufacturing and procurement processes transparent. There is still a lot to be done, especially concerning raw materials, such as precious metals and gemstones, which often originate from crisis-torn regions. Leather is also an issue, but progress is being made. You often read that customers are becoming more critical and discerning about provenance. However, active demand is still relatively rare at the time of purchase. There remains an "attitude-behavior gap" - a gap between what people consider important in theory and their actual buying behavior. There is still a great need for research and education in this area as well.
What is the target audience of your further education courses (such as CAS in Luxury Management and webinars)?
The CAS Luxury Management program introduces participants to the basics of luxury management in the 21st Century. Starting with an introduction to the "basics," i.e., origin, definition, and the evolution of luxury and drivers of luxury consumption, the specifics of the management of luxury companies and brands and relevant developments are examined and interactively addressed with the help of real-life practical examples, guest lectures, etc.
The course is aimed at participants who are new to the topic, already working with luxury/premium goods without any formal training in the sector, and those considering their next career step or planning to start their own business in the luxury sector.
As an alternative to CAS in Luxury Management, which we have had to postpone until 2021 because of Covid-19, we are planning interactive webinars and training courses - which we will also offer online - where we will focus on relevant trends, their influence on luxury consumption, and the implications for providers in different industries.
What luxury do you allow yourself in everyday life?
At home in Zurich, we have a large roof terrace with lots of plants, a vegetable patch, seating and lounging areas, and an outdoor shower. On hot days, when I come home from teaching or business appointments, I change into my swimming trunks and treat myself to a cool-down in the evening sun. When an acquaintance of mine - a polo player and himself in the luxury business - discovered the shower during a recent visit, he exclaimed with great enthusiasm: "Fabio, THIS is what I call luxury!" And that's the way it is. Luxury often lies in the little things.