Dr. Christian Jaeger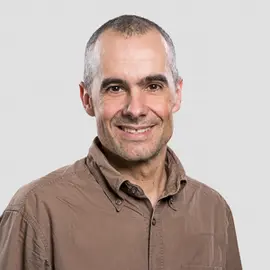 Dr. Christian Jaeger
ZHAW School of Engineering
Machine Learning in Optimal Control for Industry
Technikumstrasse 71
8400 Winterthur
Work at ZHAW
Position at the ZHAW
Lecturer for mathematics

www.zhaw.ch/de/engineering/institute-zentren/iamp/applied-complex-systems-science/
Education and Continuing education
Expertise and research interests
Control theory, dynamical systems, modelling and numerical simulation, cnc machines
Educational background
2008 PhD, institute for machine tools and manufacturing, ETHZ
1996 Diploma mathematics, ETHZ
Projects
Publications
Articles in scientific journal, peer-reviewed
Wüthrich, Michael; Gubser, Maurus; Elspass, Wilfried Johannes; Jaeger, Christian,

2021.

A novel slicing strategy to print overhangs without support material.

Applied Sciences.

11(18).

Available from: https://doi.org/10.3390/app11188760

Füchslin, Rudolf Marcel; Dumont, Elisabeth; Flumini, Dandolo; Fuchs, Hans Ulrich; Hauser, Helmut; Jaeger, Christian; Scheidegger, Stephan; Schönenberger-Deuel, Johanna; Lichtensteiger, Lukas; Luchsinger, Rolf H.; Weyland, Mathias,

2014.

Morphological control : a design principle for applications in space science.

Journal of the British Interplanetary Society.

67, pp. 305-313.

Available from: http://adsabs.harvard.edu/abs/2014JBIS...67..305F
Conference contributions, peer-reviewed
Bolt, Peter; Ziebart, Volker; Jaeger, Christian; Ritzmann, Remo; Meier, Olaf; Füchslin, Rudolf Marcel,

2018.

Model predictive control for building automation [paper].

In:

EuroSun 2018 : conference proceedings.

12th International Conference on Solar Energy and Buildings (EuroSun 2018), Rapperswil, 10-13 September 2018.

International Solar Energy Society.

pp. 1330-1341.

Available from: https://doi.org/10.18086/eurosun2018.11.05

Bernhardsgrütter, Rene; Senn, Christoph W.; Füchslin, Rudolf Marcel; Jaeger, Christian; Nakajima, Kohei; Hauser, Helmut,

2014.

Employing L-systems to generate mass-spring networks for morphological computing [paper].

In:

Proceedings of the 2014 International Symposium on Nonlinear Theory and its Applications (NOLTA2014).

2014 International Symposium on Nonlinear Theory and its Applications (NOLTA2014), Luzern, Switzerland, 14-18 September 2014.

Luzern:

IEICE.

pp. 168-171.

Available from: https://doi.org/10.21256/zhaw-1660

Jaeger, Christian; Housseini, Reza; Hertwig, Manfred; Hofer, Thomas; Füchslin, Rudolf Marcel,

2014.

Performance prediction and optimization for industrial sieves by simulation : a two-tier approach [paper].

In:

Deatcu, Christina; Wittman, Jochen, eds.,

ASIM 2014: 22. Symposium Simulationstechnik: 3. bis 5. September 2014: HTW Berlin: 2, Tagungsband: Teil II.

22. Symposium Simulationstechnik (ASIM 2014), Berlin, Deutschland, 3.-5. September 2014.

Wien:

Argesim.

pp. 299-306.

ARGESIM Report ; 43.

Available from: https://doi.org/10.21256/zhaw-1653
Publications before appointment at the ZHAW
C. Jaeger. Entwurf von Zustandsregelungen für hochdynamische Werkzeugmaschinen. Diss. ETHZ. 2010

C. Dold, R. Transchel, M. Rabiey, P. Langenstein, C. Jaeger, F. Pude, F. Kuster" K. Wegener. A study on laser touch dressing of electroplated diamond wheels using pulsed picosecond laser sources. CIRP Annals - Manufacturing Technology, DOI 10.1016/j.cirp.2011.03.117, 2011

A. Fink, C. Jaeger, O. Zirn. Lastseitige Drehzahlreglerergänzung für Servoachsen. In SPS/IPC/Drives 2009, Elektrische Automatisierung, 2009.

C. Jaeger, O. Zirn. Model based control of high speed milling machines. Seventh international conference on high speed machining, pages 83–90, 2008.

D. Läge, S. Daub, S. Bosia, Jaeger C." S. Ryf. Die Behandlung ausreisserbehafteter Datensätze in der Nonmetrischen Multidimensionalen Skalierung; Relevanz, Problemanalyse und Lösungsvorschlag. In AKZForschungsbericht Nr. 21. Zürich: Angewandte Kognitionspsychologie. 2005.

O. Zirn, C Jaeger. Model based control of machine tool manipulators. In PEMD 08, IET-IEEE, Cambridge, 2008.

O. Zirn, C. Jaeger. Vibration damping for machine tool servo drives by load acceleration feedback. International Symposium on Industrial Electronics, IEEE 978-1-4244-6391-6/10, Bari, 2010.