Prof. Dr. Kremena Bachmann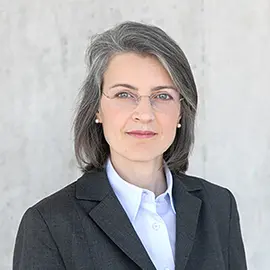 Prof. Dr. Kremena Bachmann
ZHAW School of Management and Law
Fachstelle für Personal Finance & Wealth Management
Gertrudstrasse 8
8400 Winterthur
Work at ZHAW
Position at the ZHAW
Professor in Wealth Management
Education and Continuing education
Expertise and research interests
Behavioural Finance, Household Finance, Personal Finance, Financial Decision Making, Financial Advice
Professional milestones
Since 2016: Research and Development, Moor & Bachmann AG, Basel (www.moorbachmann.ch)
Since 2008: Associate, Behavioral Finance Solutions (BhFS), Zürich
2014-2015: Postdoctoral researcher, University of Zurich, University Priority Research Program «Financial Market Regulation», in Zürich
Since 2010: Senior research fellow, University of Zurich, Department of Banking and Finance
Since 2008: Associate, Behavioral Finance Solutions (BhFS), Zurich
2007 – 2009: Postdoctoral researcher, University of Zurich, Department of Banking and Finance, Zürich
2006-2007: Program director "Certificate Program for Advanced Studies in Behavioural Finance", University of Zurich, Swiss Banking Institute, Zürich
2002: Research assistant in "Equity Research", Bank Wegelin & Co. Privatbankiers, St. Gallen
2000-2001: Research assistant in "Market Research and Product Design", Credit Suisse Asset Management, Zurich
Educational background
2002 – 2007: Swiss Finance Institute, PhD Program in Finance at the University of Zurich (Dr.oec.publ.)
2003 – 2004: Swiss Program for Doctoral Students in Economics, Study Center Gerzensee, Switzerland
1995 – 2002: Master in Economics and Finance (lic.oec.HSG), University of St. Gallen (HSG), Switzerland
Projects
Publications
Articles in scientific journal, peer-reviewed
Books and monographs, peer-reviewed
Book parts, peer-reviewed
Conference contributions, peer-reviewed
Other publications
Oral conference contributions and abstracts
Bachmann, Kremena,

2020.

Low margins : are Fintechs the only solution?.

In:

WHU New Year's Conference, Vallendar, Germany, 15-16 January 2020.

Bachmann, Kremena,

2018.

Behavioral Finance : aktuell und doch unterschätzt?.

In:

Finance Circle, Zürich, 24. September 2018.

Bachmann, Kremena,

2018.

Private oder institutionelle Anleger : wer ist (ir)ratioanaler?.

In:

XIV. AIS, Aarau, Schweiz, 28. November 2018.
Publications before appointment at the ZHAW
PEER-REVIEWED PUBLICATIONS:
Bachmann, K. (2018): "Can advisors eliminate the outcome bias in investment decision making?", Review of Behavioural Finance, 10(4), 336-352.
Bachmann, K., T. Hens and R. Stroessel (2018): "Which measures predict risk taking in a multi-stage controlled decision process?", Financial Services Review 26, 339-365.
Bachmann, K. and Hens, T. (2016): "Is there Swissness in the investment decision behavior and investment competence", lead article in Financial Markets and Portfolio Management 30, 233-275.
Bachmann, K. and Hens, T. (2015): "Investment competence and advice seeking", Journal of Behavioral and Experimental Finance 6, 27-41.
Bachmann, K. and Hens, T. (2010): "Behavioural finance and investment advice", in: "Handbook of Behavioral Finance", Edward Edgar Publishing (Northampton, MA, USA).
Other publications
Bachmann, K. (2021): «Can financial professionals help clients learn better from the outcomes of past decisions?», Insights, Retirement Income Institute.

Bachmann, K. (2018): «Sind Geschlechterunterschiede relevant beim Geldinvestieren?», FehrAdvice Blog.

Bachmann, K. (2016): «Men are from Mars, women are from Venus: Does it matter in investing?», The Charter, CFA Institute.

Bachmann, K. und Hens, T. (2016): «Is There Swissness in Investment Behavior?», Practitioners Roundtrip, Swiss Finance Institute.

Bachmann, K. und Hens, T. (2015): «Swissness im Anlegerverhalten?», Finanz und Wirtschaft, 14. March, No. 20, p. 22.

Bachmann, K. und Hens, T. (2012): «Die Risikowahrnehmung der privaten Anleger im Beratungsprozess», Private. Das Geld-Magazin.

Bachmann, K. (2012): «Psychologische Fallen», Privatsache, Luzerner Kantonalbank.


INTERVIEWS:
NZZ am Sonntag, 15. Oktober 2023, "Wie die Psychologie an der Börse mitspielt", (https://epaper.nzz.ch/article/8/8/2023-10-15/71/323317943?signature=d683b43c426a51b035732b36646f8c93ed429d6322ddfb920040192ba3d916d1)

Neue Zürcher Zeitung (NZZ), 19. Oktober 2022, «Die Psychologie hinter Bärenmarktrallys» (www.nzz.ch/finanzen/baerenmarkt-rally-die-psychologie-hinter-den-kursspruengen-ld.1707774)

ZEIT Campus 2/2021, 9. Februar 2021, «Die Corona-Semester: wie wir jetzt durchhalten?»

Zürcher Wirtschaft, «Auswirkungen der Coronapandemie auf die Vorsorge»

UZH News, 2016, «Schweizer investieren anders»