Playful therapy with robot-based hand training
The Occupational Therapy research unit is investigating whether training with the GripAble robot could usefully supplement the treatment of people who have suffered a hand injury. The GripAble is a handgrip equipped with sensors with which patients can control games on a screen.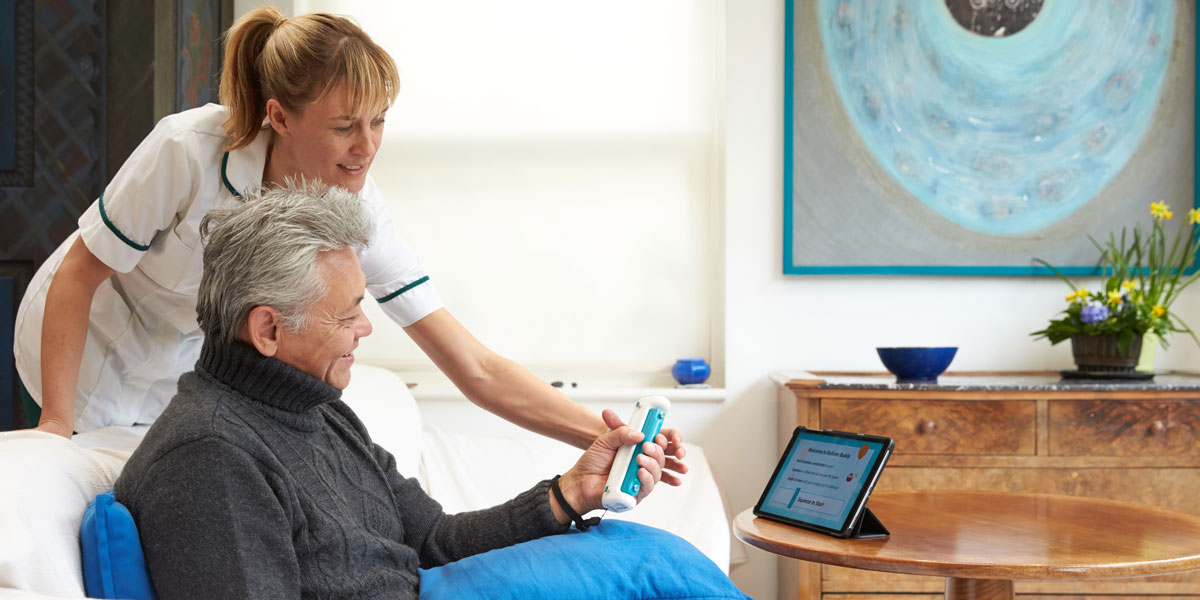 The hands are affected in many occupational and non-occupational accidents – for example, after mistakenly catching your hand in a running machine, or a fall when snowboarding. Hand injuries are thus one of the most common causes of trauma-related treatment in accident and emergency departments and they lead to numerous medical interventions and absences from work. To regain the functionality of their hand after such an accident, patients need to repeat specific exercises very frequently, sometimes independently at home, in addition to the therapy. However, the success of this "home training" depends very much on the correct execution of the exercises and the motivation of those affected. It is in such cases that the GripAble therapy robot could prove useful.
Individually adjusting the level of difficulty
By moving their hands and exerting pressure on the sensors of the GripAble robot, clients can play electronic games on a screen. Here, they need to apply precisely the right amount of force and perform the movements correctly. Thanks to various difficulty levels, the hand therapist can adjust the degree of difficulty and increase it during the course of the treatment.
Positive experience with stroke patients
The therapy robot is already being used in the field of neurology. It has shown positive effects, for example in people suffering from hemiplegia following a stroke. Thanks to the training with the GripAble, these clients were able to improve the functioning of their hands and thus also better perform everyday activities.
Study examines use following hand injuries
The Occupational Therapy research unit now wants to evaluate whether the GripAble would also be a helpful and motivational means of support in the area of hand therapy. In two individual studies, the GripAble is initially being used for therapy at the "City Handtherapie" practice in Zurich and at the University Hospital Zurich. In a second study, the use of the GripAble by patients at home is being tested in cooperation with the Winterthur Cantonal Hospital. Here, the researchers are assessing the applicability, acceptance and user-friendliness of the GripAble.