Dr. Chantal Wright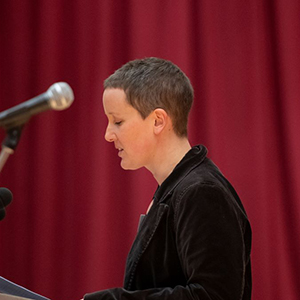 Dr. Chantal Wright
ZHAW School of Applied Linguistics
Institute of Translation and Interpreting
Theaterstrasse 15c
8400 Winterthur
Personal profile
Expertise and research interests
Literary translation, Translation Studies, Stylistics, Creativity and translation, Translation, diversity and the publishing industry, Multilingualism and exophony
Educational background
2008: Literary Translation, PhD, University of East Anglia (Great Britain)
2003: Literary Translation, MA, University of East Anglia (Great Britain)
2001: TESOL World-wide, Postgraduate Certificate in Professional Studies in Education, Open University (Great Britain)
1998: Modern and Medieval Languages (French and German), BA, Girton College, University of Cambridge (Great Britain)
Professional milestones
From October 2022: Co-Head of the Institute for Translation and Interpreting, ZHAW
2014-2022: Reader (Associate Professor), University of Warwick (Great Britain)
2013-2014: Visiting Fellow, University of Ottawa (Canada); Honorary Fellow, Durham University (Great Britain)
2010-2013: Assistant Professor, University of Wisconsin-Milwaukee (USA)
2008-2010: McCain Postdoctoral Teaching Fellow, Mount Allison University (Canada)

Founder, Warwick Prize for Women in Translation, 2017-2022

2022-23: Co-Investigator, UK Arts and Humanities Research Council Network Grant, Changing the Landscape: Diversity and Translated Fiction in the UK Publishing Industry
Membership of networks
Publications before appointment at the ZHAW
2022: 'Linguistics and Social Sciences' by Michel Foucault. Theory, Culture & Society. Available at: doi.org/10.1177/02632764221091549. Co-translated from French with Jonathan Schroeder ['Linguistiques et sciences sociales', Dits et écrits, 1954–1975, Vol. 1, Gallimard, 2001].

2021: 'Old Erfurt' by Georg Klein. Chicago Review 64 (1/2/3). Translated from German ['Old Erfurt', Von den Deutschen, Rowohlt, 2002].

2020: "What is my desire?", A response to Lawrence Venuti's Contra Instrumentalism: A Translation Polemic (2019). Available at: www.provocationsbooks.com/2020/02/13/where-is-my-desire/

2019: 'What is at stake in a theory of rhythm'; 'The name of Ophelia'; and 'Modernity is a battle' by Henri Meschonnic. In: M. Pajevic (ed), The Henri Meschonnic Reader, University of Edinburgh Press. pp.66-83; 269-278; 281-290. Translated from French.

2018: The Age of Translation by Antoine Berman. Routledge. Translated from French [L'Âge de la traduction, Presses universitaires de Vincennes, 2008].

2016: Literary Translation, Routledge.

2014: 'Before Chamisso: The role of the Munich DaF writing competitions and anthologies in the promotion of a 'deutsche Literatur von außen', 1979-1987', special issue of Oxford German Studies entitled 'Post-War Literature and Institutions', pp.20-36.

2013: Yoko Tawada's Portrait of a Tongue: An Experimental Translation, University of Ottawa Press. Translated from German ['Porträt einer Zunge', Überseezungen, Konkursbuch Verlag Claudia Gehrke, 2002].

2012: A Hand Full of Water by Tzveta Sofronieva, White Pine Press. Translated from German [Eine Hand voll Wasser, Verlag UnArtIg Aschersleben, 2008]. Winner of the 2012 Cliff Becker Book Prize in Translation.

2010: 'Exophony and Literary Translation. What it means for the translator when a writer adopts a new language.' Target – International Journal of Translation Studies, pp.22-39.
Other publications
2023 (forthcoming): The Pasta Detectives by Andreas Steinhöfel. Carlsen (revised edition, previously published by Chicken House/Scholastic, 2010). Translated from German [Rico, Oskar und die Tieferschatten, Carlsen, 2008]. Shortlisted for the 2011 Marsh Award for Children's Literature in Translation. Winner of the 2011 NASEN Inclusive Children's Book Award.