Dr. Dilyara Müller-Suleymanova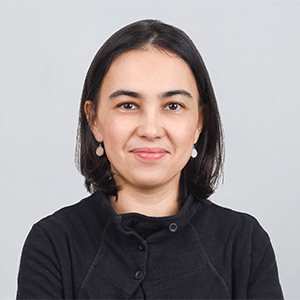 Dr. Dilyara Müller-Suleymanova
ZHAW School of Social Work
Institute of Diversity and Social Integration
Pfingstweidstrasse 96
8005 Zürich
Position at the ZHAW
Senior Researcher
Project head, SNF Ambizione
http://p3.snf.ch/project-174164
Expertise and research interests
Migration, transnationalism, and diaspora studies
Politics of memory, narratives of conflict, dealing with the past
Politics of education, anthropology of education
Muslim youth subcultures, Islamic education
Biographic-narrative analysis, ethnographic methods
Digital media, digital storytelling
Regional focus: Eastern Europe (former Yugoslavia, Russia, Ukraine), Switzerland

Educational background
2013: PhD in Social Anthropology (University of Zurich)
2010-2013: Graduate of the Regional Seminars for Excellence in Teaching (RESET) "Anthropological approaches to religion and secularism" (Georgia/Turkey)
2007: MA in Nationalism Studies (Central European University, Budapest)
2003: MA in History (Kazan State University, Russia)


Professional milestones
2017 - current: Senior researcher, Institute of Diversity and Social Integration, School of Social Work, ZHAW

2017: Visiting research fellow, Aleksanteri Institute, University of Helsinki

2015 - 2017: Project staff and lecturer, School of Social Work, ZHAW

2017: Projekt co-head, #SwissMuslimStories (https://www.swissmuslimstories.ch/), a counter-narrative project to prevent extremism and online radicalisation, Platform "Youth and Media", Swiss Federal Social Insurance Office

2012 - 2016: Lecturer and assistant, Department of Social Anthropology and Cultural Studies, University of Zurich

2016: Project staff, "Public deliberation, network analysis and the political inclusion of Muslims living in Switzerland, France and Britain", Institute of Citizenship Studies, University of Geneva

2009 - 2012: PhD Student, University Priority Research Program "Asia and Europe", University of Zurich

2008 - 2010: Online editor, "Ab Imperio Network on Empire and Nationalism Studies" (http://net.abimperio.net/)

2007 - 2008: Coordinator, "Building Democracy in Multi-Ethnic Societies", Center for Democratization of Education, Kazan State University, Russia
Membership of networks
Articles in scientific journal, peer-reviewed
Books and monographs, peer-reviewed
Book parts, peer-reviewed
Suleymanova, Dilyara,

2018.

'I'm only half!' : schooling and strategies of belonging among adolescents from minority ethnic backgrounds in Russia

.

In:

Polese, Abel, ed.,

Informal nationalism after communism : the everyday construction of post-socialist identities.

London:

I.B.Tauris.

pp. 17-35.

International library of historical studies ; 111.

Müller-Suleymanova, Dilyara,

2015.

Islamic education, youth and local religious revival in post-soviet Tatarstan, Russia

.

In:

Conermann, Stephan; Smolarz, Elena, eds.,

Mobilizing Religion: Networks and Mobility.

Berlin:

EB-Verlag.

pp. 265-286.

Bonner Asienstudien ; 12.
Conference contributions, peer-reviewed
Other publications
Oral conference contributions and abstracts
Mey, Eva; Keller, Samuel; Bombach, Clara; Müller-Suleymanova, Dilyara; et al.,

2020.

Im Vakuum fällt auch das Sprechen schwer : Reflexionen zu empirischen Annäherungen an Sichtweisen minderjähriger Geflüchteter und Fachpersonen in Bundesasylzentren.

In:

Internationale Tagung «Kindheit und Adoleszenz in Bewegung - Aufwachsen unter Bedingungen von Fluchmigration», online, 17. - 18. November 2020.

Müller-Suleymanova, Dilyara,

2020.

"I am something that no longer exists…" : longing for Yugoslavia among the youth of ex-Yugoslav descent in Switzerland.

In:

Memory as a Dialogue? History for Young People, Online, 9-11 September 2020.
Publications before appointment at the ZHAW
2010. "International Language Rights Norms in the Dispute over Latinization Reform in the Republic of Tatarstan", Caucasian Review of International Affairs, 4 (1): 43-56.

2009. "Tatar Groups in Vkontakte: The Interplay between Ethnic and Virtual Identities on Social Networking Sites", Digital Icons: Studies in Russian, Eurasian and Central European New Media, 1 (2): 37-55.
Other contributions
Projekt #SwissMuslimStories, Online Narrative gegen Extremismus
www.swissmuslimstories.ch (unterstützt durch Bundesamt für Sozialversicherungen (Plattform "Jugend und Medien"), Mercator Stiftung, Paul Schiller Stiftung, Fachstelle für Rassismusbekämpfung, Fachstelle Integration, Kanton Zürich, Integrationskredit, Stadt Zürich, usw.)

Ethnographic film project (with Dominik Müller) "Bizim Qirim – Our Crimea": Memories and narratives of the deported Crimean Tatar population" (ongoing)

* Organization of conferences, panels and workshops:

"(Counter-)hegemonic discourses within educational spaces: capitalism, well-being, and other narratives", panel at the Annual Conference of the Swiss Ethnological Society, Bern (with Jeanne Rey and Andreas von Kannel), November 2015.

"The Visible and the Invisible: Institutions and Identities in Contemporary Central Asia", workshop at the Department of Social Anthropology, University of Zurich (with Elisa Isabaeva), December 2013

"Religion as a resource: the social implications of religious affiliations, practices, and networks", panel at the Annual Conference of the Swiss Ethnological Society, Sierre (with Andrea Friedli), November 2013

* public/media appearances

Invited speaker at the podium discussion, Zurich Human Rights Film Festival, 2016

Invited speaker, Radio SRF 1: "Antworten auf Terror: Hörer diskutieren mit Experten", www.srf.ch/radio-srf-1/radio-srf-1/imam-memeti-terroristen-sind-keine-glaeubigen-menschen , 2015