Prof. Dr. Franz Baumgartner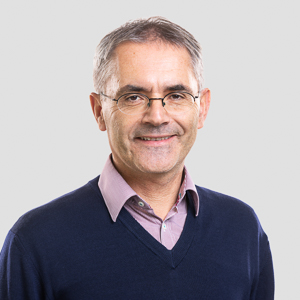 Prof. Dr. Franz Baumgartner
ZHAW School of Engineering
Department Mechanical Engineering, Energy Technology and Aviation
Technikumstrasse 9
8400 Winterthur
Personal profile
Management role
Programme Director, Energy and Environmental Engineering Studies
Position at the ZHAW
Professor of Photovoltaic Systems / Renewable Energy / Department MEA

home.zhaw.ch/~bauf/
Professional development teaching
WBK Solarstromerzeugung, Speicherung und Eigennutzung in optimierten Stromnetzen
Educational background
He studied electrical engineering at the technical University of Vienna. In 1989 he started his PhD research activities in the field of solar cell thin film materials at the University of Constance, Germany in the department of physics. At the same time he was responsible to develop a solar car and particular to optimize the efficiency to the electrical driving system of the car at the start up Auto Sol. In 1996 he becomes a Professor of electrical engineering at the University of Applied Science in Buchs, Switzerland, conducting several R&D projects with industrial partners to improve measurement techniques in the production process of photovoltaic modules.
Professional milestones
Franz Baumgartner, born in 1963, is Professor of Renewable Energy at the ZHAW Zurich University of Applied Science School of Engineering since 2008. He is programme director, BSc Energy and Environmental Engineering and head of the Photovoltaic Systems Research within the ZHAW Institute of Energy Systems and Fluid-Engineering.

In 2009 he developed the mobile flasher bus and in 2014 the portable LED flasher for power measurement of PV modules in the field. In collaboration projects with utilities he is heading for a smooth integration of PV electricity into the grid. He is also working on R&D projects and promotes start-ups on new PV System approaches like new foldable mounting systems of PV modules, cable based systems like the installation of the first solar ski lift in Switzerland. Within the International Energy Agency PVPS Task 13 he is activity leader to quantify the performance of module power electronics at partial shading conditions.
He is member of the scientific committee of the European Photovoltaic Conferences since several years, member of the advisory board of the BFE federal office of energy concerning implementation of renewables in Switzerland and member of the expert group of Electrosuisse.

He lives on the shores of Lake Constance, Germany on the border to Switzerland where he practices sailing.

Membership of networks
Projects
Publications
Articles in scientific journal, peer-reviewed
Conference contributions, peer-reviewed
Other publications
Oral conference contributions and abstracts
Other publications
Content

I. LIST OF PUBLICATIONS 1
II. LIST OF INVITED TALKS 11
III. PATENTE 24


I. List of Publications

126) Stromzukunft mit mehr oder weniger Solar?
F.P. Baumgartner
Bulletin Electrosuisse, Okt 2018, www.bulletin.ch
125) International Development of a Distributed Energy Resource Test Platform for Electrical and Interoperability Certification?
J. Johnson, E.A. Arancibia, N. Ninad, D. Turcotte, A. Prieur, R. Ablinger, R. Bründlinger, T. Moore, R. Heidari, J. Hashimoto, C. Cho, R.S. Kumar, J. Kumar, M. Verga, J.L.S. Farias, J.G.M. Tena, F. Baumgartner, I.V. Temez, R.A. Segade, B. Fox
7th WCPEC World Conference Photovoltaic Energy Conversion, www.wcpec7.org/WCPEC-7
Waikoloa, Hawai, Jun 2018
124) New PV System Concept – Inductive Power Transfer for PV Modules
F. Carigiet, R. Knecht & F.P. Baumgartner
35h European Photovoltaic Solar Energy Conf. , Proceedings;
www.eupvsec-proceedings.com
Brussels; Belgium; 24 - 28. Sep 2018
123) Analysing the Voltage Stability of Photovoltaic Inverters Reactive Power Control in the Laboratory Including the Distribution GRID Transformer
F.P. Baumgartner, F. Carigiet, T. Strasser, R. Bründlinger, C. Messner, C. Seitl & G. Lauss
35h European Photovoltaic Solar Energy Conf. , Proceedings;
www.eupvsec-proceedings.com
Brussels; Belgium; 24 - 28. Sep 2018
122) Techno-Economic Evaluation of Voltage Dependant Active and Reactive Power Control to Reduce Voltage Violations in Distribution Grids
R. Knecht, F. Carigiet, A. Schwab, P. Korba & F.P. Baumgartner
35h European Photovoltaic Solar Energy Conf. , Proceedings;
www.eupvsec-proceedings.com
Brussels; Belgium; 24 - 28. Sep 2018
121) Performance Analysis of Vertically Mounted Bifacial PV Modules on Green Roof System
T. Baumann, F. Carigiet, R. Knecht, M. Klenk, H. Nussbaumer & F.P. Baumgartner
35h European Photovoltaic Solar Energy Conf. , Proceedings;
www.eupvsec-proceedings.com
Brussels; Belgium; 24 - 28. Sep 2018
120) Solarzelle und Batterie – eine stabile Partnerschaft
F.P. Baumgartner
eco2friendly-Magzin, energie effizient nutzen,
issuu.com/eco2friendly/docs/e2f-magazin_fruehling_2017
2017 Frühlingausgabe, Seite 40
119) The Performance of Photovoltaic (PV) Systems Modelling, Measurement and Assessment; Chapter: Edited by Nicola Pearsall; 368 pages; Nov 2017;
chapter 2: Photovoltaic (PV) balance of system components: Basics, Performance;
F.P. Baumgartner, p133 - 177
ISBN: 978-1-78242-354-6 (online); www.elsevier.com
118) Sonnenstrom speichern
F.P. Baumgartner
Bulletin Electrosuisse, Okt 2017, www.bulletin.ch
117) Illumination Homogeneity of Bifacial Systems – Outdoor Measurements with Systematically Varied Installation Conditions
T. Baumann, M. Klenk, N. Keller, F.P. Baumgartner & H. Nussbaumer
33th European Photovoltaic Solar Energy Conf. , Proceedings;
www.eupvsec-proceedings.com
Amsterdam; The Netherlands; 25 - 29. Sep 2017
116) Illumination Homogeneity of Bifacial Systems – Outdoor Measurements with Systematically Varied Installation Conditions
T. Baumann, M. Klenk, N. Keller, F.P. Baumgartner & H. Nussbaumer
33th European Photovoltaic Solar Energy Conf. , Proceedings;
www.eupvsec-proceedings.com
Amsterdam; The Netherlands; 25 - 29. Sep 2017
115) PV-Battery and Diesel Hybrid System for Irrigation of a Farm in Patagonia
R. Knecht & F.P. Baumgartner
33th European Photovoltaic Solar Energy Conf. , Proceedings;
www.eupvsec-proceedings.com
Amsterdam; The Netherlands; 25 - 29. Sep 2017
114) Optimisation of the Load Flow Calculation Method in Order to Perform Techno-Economic Assessments of Low-Voltage Distribution Grids
F. Carigiet, F.P. Baumgartner, P. Korba & V. Knazkins
33th European Photovoltaic Solar Energy Conf. , Proceedings;
www.eupvsec-proceedings.com
Amsterdam; The Netherlands; 25 - 29. Sep 2017
113) Field Testing of Portable LED Flasher for Nominal Power Measurements of PV-Modules On-Site
R. Knecht, F.P. Baumgartner & F. Carigiet
33th European Photovoltaic Solar Energy Conf. , Proceedings;
www.eupvsec-proceedings.com
Amsterdam; The Netherlands; 25 - 29. Sep 2017
112) Portable LED Flasher – Field Test Results
F.P. Baumgartner, R. Knecht
Proceedings
32. Symposium Photovoltaische Solarenergie, www.pv-symposium.de,
Kloster Banz, Bad Staffelstein, 08. bis 10. März 2017
111) Portable LED Flasher - a Cost Effective Tool to Improve Quality of Field Tests
F.P. Baumgartner, D. Schär & R. Knecht
32th European Photovoltaic Solar Energy Conf. , Proceedings;
www.eupvsec-proceedings.com
Munich; Germany; 20 - 24. Jun 2016
110) Bifacial Outdoor Rotor Tester
F.P. Baumgartner, G. Petrzilek, S. Schartinger, T. Baumann, F. Carigiet, N. Keller, M. Klenk & H. Nussbaumer
32th European Photovoltaic Solar Energy Conf. , Proceedings;
www.eupvsec-proceedings.com
Munich; Germany; 20 - 24. Jun 2016
109) Influence of Low Concentration on the Energy Harvest of PV Systems Using Bifacial Modules
H. Nussbaumer, G. Petrzilek, M. Klenk, S. Schartinger, N. Keller, T. Baumann, F. Carigiet & F.P. Baumgartner
32th European Photovoltaic Solar Energy Conf. , Proceedings;
www.eupvsec-proceedings.com
Munich; Germany; 20 - 24. Jun 2016
108) PV Battery Learning Curve and Future Market Penetration
F. P. Baumgartner
32th European Photovoltaic Solar Energy Conf. , Proceedings;
www.eupvsec-proceedings.com
Munich; Germany; 20 - 24. Jun 2016
107) Performance Analysis of PV Green Roof Systems
T. Baumann, D. Schär, F. Carigiet & F. Baumgartner, A. Dreisiebner
32th European Photovoltaic Solar Energy Conf. , Proceedings;
www.eupvsec-proceedings.com
Munich; Germany; 20 - 24. Jun 2016
106) PV Strom verheizen: Warmwasser Erzeugung mit PV und Wärmepumpe
F.P. Baumgartner,
a) Electrosuisse Bulletin; 2016 / 8, Seite 37 www.electrosuisse.ch
b) Schweizer Gemeinden, 2016 / 9, Seite 18, www.chgemeinden.ch/de/schweizer-gemeinde/fachartikel/index.php
c) electro revue, 2016 / 17, Seite 2; www.vsei.ch/verband/electrorevue/
d) Elektrotechnik ET/HK-Gebäudetechnik, Extra 2016 / 7, Seite 94; www.elektrotechnik.ch
105) The Swiss PV Wall System to Maximise Self-Consumption in a Single Building Element
F.P. Baumgartner, R. Knecht, D. Lantschner, T. Baumann, H. Nussbaumer, J. Böhler, U. Brühl;
31th European Photovoltaic Solar Energy Conf. , Proceedings; Talk: 6DO.8.1;
www.eupvsec-proceedings.com
Hamburg; Germany; 14 - 18. Sep 2015
104) Operation and Maintenance Costs (O&M) of PV Plants in Switzerland
F.P. Baumgartner, O. Maier1, D. Schär, D. Sanchez, P. Toggweiler
31th European Photovoltaic Solar Energy Conf. , Proceedings; Talk: 5AO.8.2;
www.eupvsec-proceedings.com
Hamburg; Germany; 14 - 18. Sep 2015
103) Case Study of a Low-Voltage Distribution Grid with High PV Penetration in Germany and Simulation Analyses of Cost-Effective Measures
F. Carigiet, F.P. Baumgartner, M. Niedrist, C. Scheuermann
Prog. Photovolt: Res. Appl. (2015) John Wiley & Sons, Ltd. DOI;
PROGRESS IN PHOTOVOLTAICS: RESEARCH AND APPLICATIONS
onlinelibrary.wiley.com/doi/10.1002/pip.v23.11/issuetoc
and
31th European Photovoltaic Solar Energy Conf. , Proceedings; Talk: 7DO.14.2;
www.eupvsec-proceedings.com
Hamburg; Germany; 14 - 18. Sep 2015
102) BIFACIAL MODULES USED IN CABLE BASED PV CARPORT APPLICATIONS
F.P. Baumgartner, H. Nussbaumer, T. Baumann, F.Carigiet, N. Keller, D. Schär, A. Büchel, C. Comparotto, R. Harney and A. Schneider
6th World Conference on Photovoltaic Energy Conversion (WCPEC-6); Proc. 8WePo.9.33;
www.photovoltaic-conference.com
Kyoto; Nov 2014
101) SOLARWENDE MUSS NICHT AUF SPEICHER WARTEN
F.P. Baumgartner
Zeitschrift Erneuerbare Energien No 5; Seiten 12 - 15
www.sses.ch/137.html
Schweiz; Okt 2014
100) ENERGY RATING BASED ON THERMAL MODELLING OF FIVE DIFFERENT PV TECHNOLOGIES
F. Carigiet, F.P. Baumgartner, J. Sutterlueti, N. Allet, M. Pezzotti, J. Haller
29th European Photovoltaic Solar Energy Conf. , Proceedings; 5CV.2.34;
www.eupvsec-proceedings.com
Amsterdam; Sep 2014
99) PORTABLE LED FLASHER WITH IMPLEMENTED BYPASS DIODE TESTER
D. Schär, F.P. Baumgartner
29th European Photovoltaic Solar Energy Conf. , Proceedings; 5DO.12.6;
www.eupvsec-proceedings.com
Amsterdam; Sep 2014
98) BIFACIAL N-TYPE SOLAR MODULES: INDOOR AND OUTDOOR EVALUATION
C. Comparotto, L. Popescu, A. Edler, J. Ranzmeyer, M. Noebles, R. Harney, T. Klaus, V.D. Mihailetchi, T.S. Böscke, J. Lossen, D. Schär, T. Baumann, H. Nussbaumer, F.P. Baumgartner
29th European Photovoltaic Solar Energy Conf. , Proceedings; 5CV.2.11;
www.eupvsec-proceedings.com
Amsterdam; Sep 2014
97) Regenerative Region, Energy and Climate Atlas Lake Constance-Alpine Rhine
Kapitel 6 Erneuerbare Mobilität und solarer Individualverkehr
P. Dröge, H. Neumann, D. Schär, F. Baumgartner, et. al.
ISBN 978-3-86581-455-5, www.oekom.de, 400 Seiten, 2014
96) Integracao e gerenciamento de baterias de sistemas fotovoltaicos
P. Korba, F. Baumgartner, B. Völlmin, A. P. Manjunatha
EM Journal (Eletricidade Moderna), vol. 41, No. 474, pp. 120-127, 2013
95) Simulation versus Ertragsmessung von Fotovoltaikanlagen
F. Carigiet, F.P. Baumgartner, J. Sutterlueti, N. Allet, M. Pezzotti, J. Haller
Bulletin electrosuisse Nov 2013, www.electrosuisse.ch
94) URBAN PLANT" light-weight Solar System FOR PARKING AND Other URBAN DOUBLE USE APPLICATIONS
F.P. Baumgartner, A. Büchel, F. Carigiet, T. Baumann, R. Epp, A. Wirtz, A. Huegeli, U. Graf;
28th European Photovoltaic Solar Energy Conf. , Proceedings; Session 4CO.12.2;
www.eupvsec-proceedings.com
Paris; France; 30 Sept 2013
93) Verification of Measured PV Energy Yield versus Forecast and Loss Analysis
F. Carigiet, F.P. Baumgartner, J. Sutterlueti, N. Allet, M. Pezzotti, J. Haller;;
28th European Photovoltaic Solar Energy Conf. , Proceedings; Session 5BV.4.25;
www.eupvsec-proceedings.com
Paris; France; 30 Sept 2013
92) Spectral Sensitivity Analyses of Tandem Modules using Standard Flasher an Dynamic LED Backlight
D. Schär, F.P. Baumgartner;
28th European Photovoltaic Solar Energy Conf. , Proceedings; Session 4AV.6.53;
www.eupvsec-proceedings.com
Paris; France; 30 Sept 2013
91) Spectral Response Measurement of Tandem Modules
F.P. Baumgartner, D. Schär, S. Achtnich;
27th European Photovoltaic Solar Energy Conf. , Proceedings; Session 4CO.11.2;
www.eupvsec-proceedings.com
Frankfurt; Germany; 24-28 Sept 2012
90) Solar Skilift PV Carport and other Solar Wings cable based Solutions
F.P. Baumgartner, A. Büchel, R. Bartholet;
27th European Photovoltaic Solar Energy Conf. , Proceedings; Session 5.BV.1.60;
www.eupvsec-proceedings.com
Frankfurt; Germany; 24-28 Sept 2012
89) Inverter Performance under Field Conditions
N. Allet, F.P. Baumgartner, J. Sutterlueti, S. Sellner, M. Pezzotti;
27th European Photovoltaic Solar Energy Conf. , Proceedings; Session 4.DO.4.5;
www.eupvsec-proceedings.com
Frankfurt; Germany; 24-28 Sept 2012
88) Integration and Management of PV Battery Systems into the Grid
P. Korba, F.P. Baumgartner, B. Völlmin, A. P. Manjunatha;
27th European Photovoltaic Solar Energy Conf. , Proceedings; Session 5.DP.3.2;
www.eupvsec-proceedings.com
Frankfurt; Germany; 24-28 Sept 2012
87) Energiewende durch Investitionen
F.P. Baumgartner
klima freundlich, Magazin für Nachhaltigkeit, Ökologie und Lifestyle, Nov. 2012,
www.klimafreundlich-magazin.ch
Ausgabe 2.12 / Nov. 2012, Seite 14
86) Solartechnologie – vom Welt- zum Heimmarkt
F.P. Baumgartner
eco2friendly-Magzin, energie effizient nutzen,
issuu.com/eco2friendly/docs/e2f-magazin_fruehling_2012
2012 Frühlingausgabe, Seite 109
85) Was Wind und Sonne können
F.P. Baumgartner im Streitgespräch mit Rudolf Hug, Präs. Kommission. Energie und Umwelt von Economiesuisse
Impact, Hochschulmagazin der ZHAW Zürcher Hochschule f. Angewandte Wissenschaften
www.zhaw.ch/de/zhaw/die-zhaw/publikationen/zhaw-impact.html
Ausgabe No. 12, März 2012 Seite 30 und siehe auch Dossier Energie
84) Energie von oben
F.P. Baumgartner
FHSchweiz, Zeitschrift des Dachverbandes Absolventinnen Fachhochschulen,
www.fhschweiz.ch/pdf/INLINE_01-12.pdf&
Ausgabe Februar 2012 #35 Seite 24
83) Intercomparison of Pulsed Solar Simulator Measurements between the Mobile Flasher Bus and Stationary Calibration Laboratories
F.P. Baumgartner, D. Schär, M. Pezzotti, J. Haller, P.D. Polverini, G. Tzamalis, W. Zaaiman;
26th European Photovoltaic Solar Energy Conf. , Proceedings; Session 4AV1.27;
www.eupvsec-proceedings.com
Hamburg; Germany; 5- 9 Sept 2011
82) Evaluation of PV System Performance of Five Different PV Module Technologies
N. Allet, F.P. Baumgartner, J. Sutterlüti, L. Schreier, M. Pezzotti, J. Haller;
26th European Photovoltaic Solar Energy Conf. , Proceedings; Talk 4DO.6.2
www.eupvsec-proceedings.com
Hamburg; Germany; 5- 9 Sept 2011
81) The Potential of PV-Carports to Cover the Energy Demand of Road Passenger Transport
H. M. Neumann, F.P. Baumgartner, D. Schär;
Prog. Photovolt: Res. Appl. (2011) John Wiley & Sons, Ltd. DOI;
PROGRESS IN PHOTOVOLTAICS: RESEARCH AND APPLICATIONS
onlinelibrary.wiley.com/journal/10.1002/(ISSN)1099-159X/homepage/custom_copy.htm
26th European Photovoltaic Solar Energy Conf. , Proceedings; Talk 5CO.11.3;
Hamburg; Germany; 5- 9 Sept 2011
80) Ertragsvergleich unterschiedlicher Solartechnologien
F. Baumgartner; N. Allet, J. Sutterlüti, M. Pezzoti, J. Haller; B. Aeschbach
SEV Bulletin Juli 2011, www.electrosuisse.ch
79) Mobil flashen
F. Baumgartner
Photovoltaik Zeitschrift, Ausgabe 5/ 2011, p110, www.photovoltaik.eu;
78) Der erneuerbare Strom – man muss ihn nur holen!
F. Baumgartner
Die Politik, Ausgabe 4/ Juni 2011, www.die-politik.ch;
77) Die Leistung der Sonne
F. Baumgartner;
Themenbeilage Energie Spezial zum Tagesanzeiger, Smart Media, 18. Juni 2011
76) Mobiles Messlabor für PV-Module
F. Baumgartner;
ZHAW – Jahresbericht 2010, www.zhaw.de; erschienen Mai 2011
75) Mobiles Messlabor für PV-Module
F. Baumgartner, J. Haller;
ep Photovoltaik, S40 - 45, ISSN: 1867-7339; www.ep-photovoltaik.de; Ausgabe1/2, 2011
74) Schweizer Autos könnten mit Solarstrom fahren!
Interview mit F. Baumgartner;
Migros Magazin, 6. Feb 2011; www.migrosmagazin.ch/index.cfm
73) Understanding future customer needs by monitoring EV-drivers behaviour
M. de Queiroz Tavares, J. Gartmann, F. Perucchi, F. Baumgartner, Maria Youssefzadeh;
Proceedings of EVS-25, The 25th World Battery, Hybrid and Fuel Cell Electric Vehicle Symposium & Exhibition, Shenzhen, China, Nov. 5-9, 2010
72) Solarstrom in den Bergen
F. Baumgartner;
Berner Tageszeitung, Beilage Energie, Nov. 2010
71) Mit voller Sonnenkraft in die energetische Unabhängigkeit
F. Baumgartner;
NZZ Neu Zürcher Tageszeitung am Sonntag, Beilage Energiezukunft, 12. Sept 2010
70) Steps towards integration of PV-electricity into the GRID
F.P. Baumgartner, T. Achtnich, J. Remund, S. Gnos, S. Nowak;
Prog. Photovolt: Res. Appl. (2010) John Wiley & Sons, Ltd. DOI: 10.1002/pip.1047; PROGRESS IN PHOTOVOLTAICS: RESEARCH AND APPLICATIONS
onlinelibrary.wiley.com/journal/10.1002/(ISSN)1099-159X/homepage/custom_copy.htm
25th European Photovoltaic Solar Energy Conf. and 5th World Conference on Photovoltaic Energy Conversion, Proceedings;
Valencia; Spain; 6- 10 Sept 2010
69) Swiss Mobile Flasher Bus: progress and new measurement features
T. Achtnich, F.P. Baumgartner, N. Allet, M. Pezzotti, J. Haller, B. Aeschbach;
25th European Photovoltaic Solar Energy Conf. and 5th World Conference on Photovoltaic Energy Conversion, Proceedings;
Valencia; Spain; 6- 10 Sept 2010
68) Cable-based Solar Wings tracking system: two-axis and progress of one-axis system
F. Baumgartner, A. Büchel, R. Bartholet;
25th European Photovoltaic Solar Energy Conf. and 5th World Conference on Photovoltaic Energy Conversion, Proceedings;
Valencia; Spain; 6- 10 Sept 2010
67) Solar Wings – Skilifttechnik für die Modulnachführung
F. Baumgartner;
ep Photovoltaik – Jan 2010, S38-42; ISSN 1864-7855; www.photovoltaik.eu
66) Swiss Mobile Flasher Bus
F. Baumgartner, T. Achtnich, N. Pezzotti, F. Koch, C. Droz;
24. European Photovoltaic Solar Energy Conf. Proceedings;
Hamburg; Germany; 21- 25 Sept 2009
(In the closing session marked as conference highlight by the conf. chairman) 1
65) Experiences with cable-based tracking systems and progress toward two-axis large scale Solar Wings system
F. Baumgartner, A. Büchel, R. Bartholet;
24. European Photovoltaic Solar Energy Conf. Proceedings;
Hamburg; Germany; 21- 25 Sept 2009 1
64) EN 50530 – The new European Standard for Performance Characterisation of PV inverters?
R. Bruendlinger, N. Henze, H. Häberlin, B. Burger, A. Bergmann, F. Baumgartner;
24. European Photovoltaic Solar Energy Conf. Proceedings;
Hamburg; Germany; 21- 25 Sept 2009
63) Are we benchmarking Inverters on the basis of outdated definitions of the European and CEC efficiency?
B. Burger, H. Schmidt, B. Goeldi, B. Bletterie, R. Bruendlinger, H. Häberlin,
F. Baumgartner, G. Klein;
24. European Photovoltaic Solar Energy Conf. Proceedings;
Hamburg; Germany; 21- 25 Sept 2009
62) Der Europäische Jahrswirkungsgrad und seine Fehler
B. Burger, H. Schmidt, B. Bletterie, R. Bruendlinger, H. Häberlin, F. Baumgartner, G. Klein;
Symposium Photovoltaischer Solarenergie, Staffelstein März 2009
61) Photovoltaik & Elektrotechnik: Wie viel ET steckt im Solarkraftwerk
F. Baumgartner;
www.elektronikjournal.com; ElektronikJOURNAL, Februar 2009
60) Österreichs heisse Dächer
F. Baumgartner;
Energy now; Sondernummer STZ Zeitschrift Swiss Engineering erschienen zum Tag der Technik, Thema Energieeffizienz; Nov 2008
59) Solar Wings a New Lightweight PV Tracking System 1
F. Baumgartner, A. Büchel, R. Bartholet;
23. European Photovoltaic Solar Energy Conf. Proceedings;
Valencia, Spain; 1-5 Sept 2008;
(In the closing session marked as conference highlight by the conf. chairman)
58) Redefinition of the European Efficiency – Finding the Compromise between Simplicity and Accuracy
B. Bletterie, R. Bründlinger, H. Häberlin, F. Baumgartner, H. Schmidt, B. Burger, G. Klein, M. Abella; 23. European Photovoltaic Solar Energy Conf. Proceedings;
Valencia, Spain; 1-5 Sept 2008;
57) Modellierung der Spannungsabhängigkeit des Wechselrichter-Wirkungsgrades
H. Schmidt, B. Burger, H. Häberlin, R. Bründlinger, F. Baumgartner, M. Zehner;
23. Nationales Symposium Photovoltaische Solarenergie, OTTI-Tagungsband;
Staffelstein; Deutschland; 5-7 März 2008;
56) Status and Relevance of the DC Voltage Dependency of the Inverter Efficiency
F. Baumgartner, H. Schmidt, B. Burger, R. Bründlinger, H. Häberlin, M. Zehner
22. European Photovoltaic Solar Energy Conf. Proceedings;
Milano; Italy; 2-6 Sept 2007;
55) Spectral Outdoor Characterisation and Performance of a-Si:H PIN Modules
R. Grabher, F. Baumgartner
22. European Photovoltaic Solar Energy Conf. Proceedings;
Milano; Italy; 2-6 Sept 2007;
54) Recent Progress in Up-scaling of Amorphous and Micromorph Thin Film Silicon Solar Cells to 1.4 m2 Modules
J. Meier, U. Kroll, S. Benagli, J. Spitznagel, A. Hügli, F. Baumgartner, D. Koch,
Materials Research Science Conf. Proceedings;
San Francisco; USA; 13 Apr 2007
53) Indoor and Outdoor Characterization of a-Si:H PIN Modules
F. Baumgartner, J. Sutterlüti, W. Zaaiman, T. Sample, J. Meier
21. European Photovoltaic Solar Energy Conf. Proceedings;
Dresden; Germany; 4-8 Sept 2006;
52) Mapping of Local Spectral Photocurrent of Monolithic Series connected a-Si:H Modules
J. Sutterlüti, S. Janki, A. Hügli, J. Meier, F. Baumgartner
21. European Photovoltaic Solar Energy Conf. Proceedings;
Dresden; Germany; 4-8 Sept 2006; 1
51) Euro Realo Inverter Efficiency: DC - Voltage Dependency
F. Baumgartner
20. European Photovoltaic Solar Energy Conf. Proceedings;
Barcelona; Spain; 6-10 June 2005; 1
see also Photon, Solarstrommagazin Juni 2006, Marktübersicht Wechselrichter
50) Optical Thickness Monitoring for the a-Si Production Line
S. Janki, F. Baumgartner, C. Ellert, L. Feitknecht
20. European Photovoltaic Solar Energy Conf. Proceedings;
Barcelona; Spain; 6-10 June 2005; 1
49) Spectral Photocurrent Measurement Techniques for Thin Film Modules
S. Janki, F. Baumgartner, J. Meier, A. Huegeli, A. Büchel
19. European Photovoltaic Solar Energy Conf. Proceedings; ISBN 3-936-338-15-9
Paris; France; 7-11 June 2004; 1
48) MPP Voltage Monitoring to Optimise Grid Connected System Design Rules
F. Baumgartner, H. Scholz, A. Breu, S. Roth
19. European Photovoltaic Solar Energy Conf. Proceedings; ISBN 3-936-338-15-9
Paris; France; 7-11 June 2004; 1
47) Praxisnahe Definition des EURO Wirkungsgrades für Wechselrichter
F. Baumgartner
Tagungsband: 5. Nationale Photovoltaik-Tagung, Seite 107, ETH Zürich, 25-26 März 2004;
46) Web-based Laboratory Training on Electrical Measurement Systems
F. Baumgartner, R. Heule, M. Peter
Proceedings, IMEKO World Congress Proc.; ISBN 953-7124-00-2, Dubrovnik, June 2003;
45) Nachhaltige Energietechnik: Aufgaben für Ingenieure im 21. Jahrhundert
F. Baumgartner
Schriftenband zur Vortragsreihe NACHHALTIGE ENERGIETECHNIK 2002
mit Beiträgen der 16 Referenten der Vortragsreihe an der Fachhochschule Buchs
NTB (Okt. 2002), Buchs; Herausgeber: Baumgartner, Ossenbrink; ISBN: 907134-109; 1
44) BOS and Storage in PV Systems
F. Baumgartner,
Proceedings of PVNET Workshop of the EU-Commission JRC, Ispra
"Cross-Fertilisation between the Photovoltaic Industry & other Technologies"
held in Ispra, Italy on 28/29 May 2002; EU JRC S.P.I.02.91
43) Nutzung der Sonnenenergie am NTB
F. Baumgartner
Buchs aktuell Nr. 44; Dezember 2000
42) Dickenmessung von Kunststofffolien in der Produktion
P. Büchel, W. Büchel, R. Casparis, F. P. Baumgartner,
Technische Rundschau, Themenheft Automatisierungstechnik; Zürich, August2000
41) Photovoltaic Internet Laboratory
F. P. Baumgartner, R. Heule, M. Brechtbühl
16th European Photovoltaic Solar Energy Conference Proceedings; ISBN 1 902916 19 0
Glasgow, UK; 1-5 May 2000
40) Photovoltaik-Internetlabor
F. Baumgartner
Bulletin SEV/VSE 1/00 -Seite 30 - 32; Ausgabe Jan. 2000 des Schweizerischen Elektrotechnischen Vereins und des Verbandes Schweizerischer Elektrizitätswerke; Thema: Innovationsforum; ISSN 1420-7028; Zürich 18.Jan 2000
39) Dünnschichtsolarzellen: Funktionale Werkstoffe im Mikrometerbereich
F. Baumgartner
Beitrag zum Tagungsband der Mikrotechnik-Tagung 1999, Buchs 30.9 bis 1.10.99
Herausgeber: Dommann, A und Jütz, J.; Inter. Fachhochschule Buchs, Sept. 1999
38) Neue Materialien für innovative Produkte; Entwicklungstrends und gesellschaftliche Relevanz
Wissenschaftsethik und Technikfolgenbeurteilung Band 3 ; Kurzbeitrag Seite183
Springer Verlag 1999; ISBN 3-540-66063-1
37) FEM - Simulation of the Electromagnetic Field in Eddy Current Proximity Sensors
F. Baumgartner
SENSOR 99 ; Session C1: Design and Simulation; Nürnberg, D (18-20 Mai 1999)
36) Solarkraftwerk Rheinbrücke: Technische Machbarkeit und Nachhaltigkeit
F. Baumgartner
Studie für die Stiftung Propter Homines im Auftrag von der Genossenschaft für die
Nutzung der Solarenergie in Liechtenstein; Umfang 105 Seiten (Mai 1998)
35) Hall mobility minimum of temperature dependence in polycrystalline silicon
H. Nussbaumer, F. Baumgartner, G. Willeke and E. Bucher
Journal of Applied Physics.; Vol. 83 (1) page 292-296 (1 January 1998)
34) The Solar-Roof-Window
F. Baumgartner, D. Sutter
14. European Photovoltaic Solar Energy Conf. Proceedings; ISBN 0-901675-04-1;
Barcelona (Jul. 1997)
33) Energie aus Sonne, Wind und Biomasse: Potential und Kosten
F. Baumgartner
Schriftenband zur Vortragsreihe NEUE ENERGIETECHNIK 1997, Seite 48
NTB (1997), Buchs; Herausgeber: Ehrbar, Palmy, Baumgartner; ISBN: 3-907134-05-2
32) Das netzgekoppelte Solardachflächenfenster
F. Baumgartner, D. Sutter, H. Kolb, S. Martin
Zwöftes Symposium Photovoltaische Solarenergie, Staffelstein, BRD, Feb. (1997)
31) Solarstrom Energischer Aufbruch
F. Baumgartner
Schweizerisch Technische Zeitschrift, Nr. 5, S 21-24, 1996
30) Sonnenstrom aus Dünnfilmsolarzellen
F. Baumgartner
Schweizerisch Technische Zeitschrift, Nr. 2, S 10-13, 1996
29) New Ideas to Promote the Application of Alternative Energies to Improve the
Quality of City Life
E. Bucher, F. Baumgartner et al
NATO Workshop at Academy of Science of Moldava in Kishinev, May 1996
28) Photoluminescence Properties of Doped- and Undoped CuGaSe2-single crystals
J.H. Schön, H. Riazi-Nejad, Ch. Kloc, F. Baumgartner, E. Bucher
Journal of Luminescence 72-74 (1997), p118-120
27) Photoluminescence and Electrical Properties of Sn-Doped CuGaSe2-single crystals
J.H. Schön, F. Baumgartner, E. Arushanov, H. Riazi-Nejad, Ch. Kloc, E. Bucher
Journal of Applied Physics 79 (9) , p6961-6965, 1996
26) Entwicklung von CuGaSe2 als Tandemzelle zu Si oder CuInSe2 Solarzellen
E. Bucher, F. Baumgartner, H. Schön, M. Wendel et al.
Jahreszwischenbericht für 1995 für das Projekt Nr. A5193 gefördert von
der Stiftung Energieforschung Baden-Württemberg
25) Electrical properties of doped CuGaSe2-single crystals
J.H. Schön, F. Baumgartner, E. Arushanov, H. Riazi-Nejad, Ch. Kloc, E. Bucher
10th Intern. Conf. on Ternary and Multinary Compounds, Stuttgart , (Sept. 1995)
Crystal Research and Technology 31, p 155-158, 1996
24) Formation of CuGaSe2-thin films by RTP and their photoluminescence properties
A. Petersen, F. Baumgartner, J.H. Schön, E. Bucher
13. European. Photovoltaic Solar Energy Conf. Nice (Oct. 1995)
23) Entwicklung von CuGaSe2 als Tandemzelle zu Si oder CuInSe2 Solarzellen
E. Bucher, F. Baumgartner, H. Schön, M. Wendel et al.
Jahreszwischenbericht für 1994 für das Projekt Nr. A5193 gefördert von
der Stiftung Energieforschung Baden-Württemberg
22) Hat die Solarzelle eine Zukunft? Stand der Technologie und Trends
F. Baumgartner
Übersichtsartikel für e&i, Elektrotechnik und Informationstechnik,
Zeitschrift des Österreichischen Verbandes für Elektrotechnik,
Springer Verlag Wien, Ausgabe Okt. 95; e&i Jg. 112, H 10 (1995)
21) Optimierung eines Wechselrichters für den Einsatz in Elektrofahrzeugen
F. Baumgartner, M. Simon, R. Burkhardt
Abschlußbericht für die Projektjahre 1992 -1994 (91 Seiten) für das Projekt
Nr. A2891 gefördert von der Stiftung Energieforschung Baden-Württemberg
20) Das Elektroauto braucht die Solarenergie
F. Baumgartner
Das Solarzeitalter, Journal für ökologische Politik 1994 Nr.3 S14
19) Das Elektroauto gewinnt an Fahrt
F. Baumgartner
Geschäftsbericht 1992/93 der Energiestiftung Baden-Württemberg, S11
18) Optimierte Antriebssysteme für Solar-Elektrofahrzeuge
M. Simon, F. Baumgartner
9. Internationales Sonnenforum, Stuttgart, Juni 1994
17) CVT-Growth of AgGaSe2 Single Crystals: Electrical and Photoluminescence Properties
K.-M. Nigge, F. Baumgartner and E. Bucher
Journal of Solar Energy Materials and Solar Cells, 43 (1996) 335-343
16) Strom von der Sonne für Wien
F. Baumgartner, Studie im Auftrag der Wiener Stadtwerke über das Potential der
Photovoltaikanwendungen im Wien, Mai 1994 (94 Seiten, 31 Tab. u. 34 Abb.)
15) Formation of CuInSe2-layers in a Small Space Vacuum Chamber by RTP
F. Baumgartner, M. Regula, E. Bucher
12. European. Photovoltaic Solar Energy Conf. Amsterdam (1994) p 637
14) One kWp Alternative Energy for Each Electrical Vehicle
F. Baumgartner, E. Bucher, M. Simon, R. Burkhardt
12. European. Photovoltaic Solar Energy Conf. Amsterdam (1994) p197
13) Optimierung eines Wechselrichters für den Einsatz in Elektrofahrzeugen
F. Baumgartner, M. Simon, R. Burkhardt
Jahreszwischenbericht 1993 (126 Seiten) für das Projekt Nr. A2891 gefördert von
der Stiftung Energieforschung Baden-Württemberg
12) Performance of two E-vehicles driven by asynchronous motors in real city traffic
F.P. Baumgartner, M. Simon, U. Dörr, B. Scheele
Conf. on Electric/Hybrid and Alternative Fuel Vehicles - 26th ISATA Meeting, Aachen (1993)
11) Alltagstaugliche Solar- und Elektrofahrzeuge
M. Simon, F. Baumgartner, R. Burkhardt
Workshop Alternativ Mobil 20-01-93 Karlsruhe, MESAGO Stuttgart, p203(1993)
10) Si-Solarzellen mit alternativen Zellstrukturen sowie Verbindungshalbleiter für die
Dünnschichtzellen hoher Leistungen mit Bandlücken im Bereich 1 - 1.7 eV
E. Bucher, M.Ch. Lux-Steiner, G. Willeke, Ch. Kloc, F. Baumgartner
BMFT Statusreport 1993 Photovoltaik p47 (1993)
9) Stabilität von a-Si Modulen am Beispiel einer Solartankstelle
F. Baumgartner, F. Peuker, E. Bucher, M. Simon, R. Burkhardt
Achtes Nationales Symp. Photovoltaische Solarenergie, Staffelstein p539 (1993)
8) Optimierung eines Wechselrichters für den Einsatz in Elektrofahrzeugen
F. Baumgartner, M. Simon, R. Burkhardt
Jahreszwischenbericht 1992 (44 Seiten) für das Projekt Nr. A2891 gefördert von
der Stiftung Energieforschung Baden-Württemberg
7) Herstellung, Eigenschaften und Anwendungen von CdSiAs2- und CdGeAs2- Einkristallen
F. Baumgartner
Konstanzer Dissertationen Nr. 350, ISBN 3-89191-568-3, Hartung Gorre (1992)
6) Tino - a solar car for daily use
F. Baumgartner, M. Simon, R. Burkhardt
Proc. 10. European Photovoltaic Solar Energy Conf. Lissabon p1409 (1991)
5) Ein alltagstaugliches Solar-Elektrofahrzeug
R. Burkhardt, M. Simon, F. Baumgartner
7. Internationales Sonnenforum, DGS , Frankfurt, p2193 (1990)
4) Preparation of CdSiAs2 homojunction solar cells and its anisotropic optical properties
F. Baumgartner, H-P. Schweikardt, E. Bucher
Proc. 10. European C. Photovoltaic Solar Energy Conf. Lissabon, p590 (1991)
3) Spin-polarized photoelectrons from optically pumped p-CdSiAs2
F. Meier, A. Vaterlaus, F. Baumgartner, M. Lux-Steiner, G. Döll, E. Bucher
Satellite Workshop of the 9th International Symposion on High Energy Spin
Physics, Bonn (Germany), (1990)
2) Electronic, crystallographic and spin polarized properties of doped CdSiAs2
single crystals
F. Baumgartner, M. Lux-Steiner, G. Döll, E. Bucher, F. Meier, A. Vaterlaus
Journal of Crystal. Growth, 109 (1-4), 318-322 (1991)
1) Growth of CdGeAs2 Single Crystals by the Chemical Vapor Method
F. Baumgartner, M. Ch. Lux-Steiner and E. Bucher
Journal of Electronic Materials 19(8), 777-781 (1990)


II. List of Invited Talks

204) Photovoltaik & Batteriespeicher
F.P. Baumgartner
Vortrag bei Infoveranstaltung
www.schaer-energie.ch/wp-content/uploads/2018/07/180905_PV_Batt_Baumgartner_def.pdf
Herisau; Switzerland; Sep 5th, 2018
203) Latest in Photovoltaic Inverters
F.P. Baumgartner
Talk UBA Universidad de Buenos Aires – Facultad de Ingenieria Departmento Electronica
www.fi.uba.ar
Buenos Aires; Argentina; Apr 6th, 2018
202) Photovoltaic Research @ IEFE ZHAW
F.P. Baumgartner
Talk at Berkeley Labs - Energy Storage and Distributed Resources Division,
www.lbl.gov
Berkely; CA USA; Mar 7th, 2018
201) Optimisation of the Load Flow Calculation Method in order to perform Techno-Economic Assessments of Low-Voltage Distribution Grids
F.P. Baumgartner
Talk at CSULB, California State University, Long Beach
www.csulb.edu
Los Angeles, Long Beach; CA USA; Feb 13th, 2018
200) Stability of Photovoltaic Inverters Reactive Control by the distribution GRID voltage
F.P. Baumgartner
Talk at iSEnEC: Integration of Sustainable Energy Conference
www.isenec.org
Nürnberg; Germany; Jul 18th, 2018
199) Latest R&D PV Projects at ZHAW IEFE
F.P. Baumgartner
Invited seminar talk at European Joint Research Center Energy Efficiency & Renewables
ec.europa.eu/jrc/en/research-facility/european-solar-test-installation live video stream to Brussels
Ispra; Italy; Jun 15th, 2018
198) Energie – Transformationen: Wie tickt die Schweiz ?
F.P. Baumgartner
Vortrag bei Rotary Club Oberwart/Hartberg
www.rotary.at/clubs/61_rc_oberwart-hartberg/clubinfo
Hartberg; Österreich; May 3th, 2018
197) Solarbatterie
F.P. Baumgartner
Einführungsstatement, Moderation und Organisation des Anlass für die Electrosuisse
www.electrosuisse.ch
Dietikon; Switzerland; Feb 7th, 2018
196) Photovoltaic Projects @ ZHAW IEFE
F.P. Baumgartner
Diverse Impulsvortrag und Vorstellung von innovativen Projekten des ZHAW IEFE PV Teams bei diversen möglichen Industriepartner in Indien – Swissnex Solar Tour
www.swissnexindia.org
Mumbai & Dehli; India; Jan 20 - 26th, 2018
195) Markt: Entwicklung der Solarenergie in der Schweiz und weltweit
F.P. Baumgartner
auf Einladung des BFE Vortrag bei der SWISS BAU
www.swissbau.ch
Bern; Switzerland; Jan 18th, 2018
194) Smarte Stromspeicher im Solarhaus der Zukunft
F.P. Baumgartner
Vortrag und Mitorganisation der Tagung Smart Living an der HTWG Konstanz
uc-lab.in.htwg-konstanz.de/smart-future-living-bodensee
Konstanz; Germany; Nov 24th, 2017
193) Photovoltaik & Batteriespeicher
F.P. Baumgartner
Vortrag bei Infoveranstaltung PSR/IPPNW Ärzte für eine Schweiz ohne Atomkraft
und Diskussion mit Nationalrat Nussbaumer
www.ippnw.ch
Winterthur - Banane; Switzerland; Nov 23th, 2017
192) Wie machen wir Risiken zu Chancen?
F.P. Baumgartner
Moderation und Diskussionleitung im Workshop IF.11 Klimawandel des
www.sges.ch Swiss Green Economic Forum
Winterthur Casino Theater; Switzerland; Oct 30th, 2017
191) Photovoltaik & Batteriespeicher – Investitionen bei geänderten Rahmenbedingungen
F.P. Baumgartner
Einführungsreferat - Infoanlass Troller
www.elektrobedarf.ch
Zofingen; Switzerland; Nov 1th, 2017
190) Photovoltaik & Batteriespeicher – Investitionen bei geänderten Rahmenbedingungen
F.P. Baumgartner
Einführungsreferat - Infoanlass Troller
www.elektrobedarf.ch
Zofingen; Switzerland; Oct 31th, 2017
189) Photovoltaik & Batteriespeicher – Investitionen bei geänderten Rahmenbedingungen
F.P. Baumgartner
Einführungsreferat - Infoanlass Troller
www.elektrobedarf.ch
Lenzburg; Switzerland; Oct 30th, 2017
188) Zukunft der Energietechnologien
F.P. Baumgartner
Impulsvortrag beim Anlass für Grünstromkunden der EKS
www.eks.ch im Lipo Park dem Solarstrom Stadion Schaffhausen
Schaffhausen; Switzerland; Sept 13th, 2017
187) PV Projects at IEFE PV Systems
F.P. Baumgartner
Vortrag beim BFE Meeting Workshop PV@UAS
www.bulletin.ch
Bern; Switzerland; Sep 5th, 2017
186) Symbiose Solar & Gründach
F.P. Baumgartner
Festvortrag zur Eröffnung der PV Residenz Eichgrund Winterthur
www.solarspar.ch oder www.zhaw.ch/~bauf
Winterthur; Switzerland; Jul 10th, 2017
185) PV Anlagen & Batteriespeicher für die Industrie
F.P. Baumgartner
Impulsvortrag des Workshops Energie-Modell Schweiz – Gruppe Winterthur
www.zhaw.ch eine Veranstaltung der Energie-Agentur der Wirtschaft EnAW
Winterthur ZHAW; Switzerland; Sept 14th, 2017
184) Smart Grid IEA Netzwerk – Blackout?
F.P. Baumgartner
Impulsvortrag Strategietagung des INES SoE ZHAW
www.zhaw.ch
Kreuzlingen Seehotel; Switzerland; Jul 5th, 2017
183) Course B: Solar Photovoltaic to Power Electrical Vehicles
F.P. Baumgartner
Doktoranden Seminar der Universität Erlangen SAOT Summer Academy 2017
www.aot.uni-erlangen.de/saot/
Oberreifenberg im Taunus; Germany; Aug 1-4th, 2017
182) Haus der Zukunft – Autarkie mit Solarstrom und Batterie
F.P. Baumgartner
Impulsvortrag zum Thema Haus der Zukunft
www.lkw.cli
Schaan; Liechtenstein; Jun 1th, 2017
181) Integration Photovoltaik-Strom ins Verteilnetz
F.P. Baumgartner
Vortrag beim der Nationalen Photovoltaik Tagung Schweiz
www.photovoltaic.ch
Lausanne; Switzerland; Marc 24th, 2017
180) Portabler LED Flasher – Field Test Results
F.P. Baumgartner
Vortrag beim 32. Symposium Photovoltaische Solarenergie Deutschland
www.pv-symposium.de
Bad Staffelstein – Kloser Banz; Germany; Mar 10th, 2017
179) Mehr Energie-Autonomie mit Solarstrom und Batterie
F.P. Baumgartner
Vortrag im Rahmen des Hegau Bodensee Forums am Humboldt Gymnasium Konstanz
www.humboldt-konstanz.de
Konstanz; Germany; Feb 20th, 2017
178) Solarstrom – Jede Zelle zählt!
F.P. Baumgartner
Vortrag beim Rotary Club Winterthur Mörsburg
www.rcwm.ch/d/programm.asp
Winterthur; Switzerland; Jan 24th, 2017
177) Mit der Speicherung von Solarstrom zu mehr Autonomie
F.P. Baumgartner
Vortrag – Veranstaltung der Energiestadt Planken und Energie Schweiz
www.lenum.ch
Planken; Liechtenstein; Dec 1th, 2016
176) Anwendungen zur Speichertechnologie
F.P. Baumgartner
Einstieg und Moderation Smart Energy Session
Cossmic Workshop – EU Eragrid Projekt
www.cossmic.eu
Konstanz; Germany; Nov 29th, 2016
175) Photovoltaik Industrialisierung hin zu weniger Ressourceneinsatz
F.P. Baumgartner
Vortrag im Rahmen der Lehrerfortbildung im Schloss Böttstein
www.forumvera.ch
Dietikon; Switzerland; Nov 4th, 2016
174) Warum Solarstrom verheizen?
F.P. Baumgartner
Impulsvortrag zum Start der Tagung der Electrosuisse – Energie der Zukunft
als Tagungsleiter
www.bulletin.ch
Dietikon; Switzerland; Nov 3th, 2016
173) Photovoltaik Nutzung Eigenbedarf
F.P. Baumgartner
Vortragsveranstaltung von Troller AG
www.elektrobedarf.ch
Lenzburg; Switzerland; Nov 2th, 2016
172) Photovoltaik Nutzung Eigenbedarf
F.P. Baumgartner
Vortragsveranstaltung von Troller AG
www.elektrobedarf.ch
Lyss; Switzerland; Nov 1th, 2016
171) PV Batterie Speicher Systeme
F.P. Baumgartner
Energie und Umweltforum des Stadtwerks Winterthur
www.zhaw.ch
Winterthur, ZHAW; Switzerland; Oct 26th, 2016
170) PV Batterie Speicher Systeme
F.P. Baumgartner
Vortragsveranstaltung von ebw Energie Bewegt Winterthur
www.energie-bewegt-winterthur.ch
Winterthur, Casino Theater; Switzerland; Sep 22th, 2016
169) Solarstrom in der Batterie könnte wirtschaftlich werden
F.P. Baumgartner
Vortragsveranstaltung des Rotary Club Konstanz Rheintor
konstanz-rheintor.rotary.de
Konstanz; Germany; Jul 21th, 2016
168) Fortschritte Photovoltaik-Anlagen und Trends in Schweiz und Umgebung
F.P. Baumgartner
Vortragsveranstaltung der EKS für Bürgermeister im deutschen EKS Gebiet
www.eks.ch
Schaffhausen; Switzerland; Jul 5th, 2016
167) Fortschritte Photovoltaik-Anlagen und Trends in Schweiz und Umgebung
F.P. Baumgartner
Vortragsveranstaltung der EKS für Gemeindepräsidenten in Schaffhausen
www.eks.ch
Schaffhausen; Switzerland; Jun 28th, 2016
166) PV Battery Learning Curve and Future Market Penetration
F.P. Baumgartner
32th European Photovoltaic Solar Energy Conf., Proceedings; Talk: 6CO.12
www.elektrobedarf.ch
Munich; Germany; Jun 23th, 2016
165) Photovoltaik Markt in der Schweiz im Wandel
F.P. Baumgartner
Vortragsveranstaltung von Troller AG
www.elektrobedarf.ch
Emmenbrück / Luzern; Switzerland; Apr 6th, 2016
164) Photovoltaik Markt in der Schweiz im Wandel
F.P. Baumgartner
Vortragsveranstaltung von Troller AG
www.elektrobedarf.ch
Zoffingen; Switzerland; Apr 5th, 2016
163) Photovoltaik Markt in der Schweiz im Wandel
F.P. Baumgartner
Vortragsveranstaltung von Troller AG
www.elektrobedarf.ch
Ittigen Bern; Switzerland; Apr 4th, 2016
162) Elektrische Speicher und ein Vergleich zur Lernkurve der Photovoltaik
F.P. Baumgartner
Vortragsveranstaltung der Abonax – Vereinigung von Stromversorgern
www.abonax.ch
St. Gallen; Switzerland; Feb 26th, 2016
161) Solare Mobilität im Raum Zürich
F.P. Baumgartner
Vortragsreihe: Mobilitätsstationen - neue Optionen für vernetzte Mobilität; TU München
www.vt.bgu.tum.de/en/events/verkehr-aktuell/
München; Germany; Nov 19th, 2015
160) Status der Photovoltaik in der Schweiz
Veranstaltung "Energie der Zukunft", 4. Jahrestagung der Electrosuisse ETG EnergieTechnische Gesellschaft, Fachgruppe Neue Erneuerbare Energien, Kongresshaus; www.electrosuisse.ch/etg
Zürich, Switzerland, Nov 7th, 2015
159) Portable Module Flashers for Field Applications
F.P. Baumgartner, D. Schär et al.
PV Days, Workshop, Session: PV Solar Simulators; Org. Fraunhofer CSP
www.pv-days.com/
Halle; Germany; 27. Oct 2015
158) «Smart Home» – Lösungen für die private Strom- und Wärmeversorgung
F.P. Baumgartner
Tag der Technik; ZHAW SoE, Vortragsreihe: Smart Home, Smart City, Smart Grid
www.tage-der-technik.ch
www.zhaw.ch/de/engineering/ueber-uns/veranstaltungen/veranstaltung/event/detail/2015/10/22/tage-der-technik/
Winterthur; Switzerland; 22. Oct 2015
157) Photovoltaik & Anwendung: Chancen zur Selbstständigkeit
F.P. Baumgartner
Impulsvortrag im Rahmen der Verwaltungsratsitzung der städtischen Wohnbau Gesellschaft WOBAK
www.wobak.de/
Konstanz; Deutschland; 13. Oct 2015
156) The Swiss PV Wall System to Maximise Self-Consumption in a Single Building Element
F.P. Baumgartner et al.
31th European Photovoltaic Solar Energy Conf. , Proceedings; Talk: 6DO.8.1;
www.eupvsec-proceedings.com
Hamburg; Germany; 14 - 18. Sep 2015
155) Operation and Maintenance Costs (O&M) of PV Plants in Switzerland
F.P. Baumgartner, O. Maier1, D. Schär, D. Sanchez, P. Toggweiler
31th European Photovoltaic Solar Energy Conf. , Proceedings; Talk: 5AO.8.2;
www.eupvsec-proceedings.com
Hamburg; Germany; 14 - 18. Sep 2015
154) Der Schweizer Solarmarkt im Wandel
öffentliche Infoveranstaltung
www.solarholzbauer.ch ; www.youtube.com/watch
Frutigen, Switzerland, Sep 8th, 2015
153) Solar Electric Mobility
invited Talk, Public Lectures Program
7th ISU International Summer University on Renewable Energy: Photovoltaic+Solar+Wind
www.helmholtz-berlin.de/events/isu-energy/isuenergy_de.html
Falera, Switzerland, Aug 26th, 2015
152) Die Zukunft der Photovoltaik ist im System
F.P. Baumgartner
öffentlicher Vortrag im Sonnensaal, Schillerstraße 7;
vorarlberg.gruene.at/themen/sonstiges/die-zukunft-der-photovoltaik-liegt-im-system
Feldkirch; Österreich; 21. Aug 2015
151) Die Rolle der Photovoltaik in der Schweizer Energiestrategie 2050
F.P. Baumgartner
öffentlicher Vortrag im Bildungsturm Konstanz, Reihe: Energievisionen 2015
blog.zukunftswerkstadt-konstanz.de
Konstanz; Deutschland; 17. Apr 2015
150) Mehr dezentral verbrauchter Solarstrom entlastet die Netze
F.P. Baumgartner
öffentliche Vortragsreihe des Solarstrompool Thurgau
www.solarstrom-pool.ch
Weinfelden; Schweiz; 25. Mar 2015
149) Einmalvergütung für Solarstrom: Die neue Förderung aus Bern rechnet sich
F.P. Baumgartner
öffentliche Vortragsreihe "clever leben und bauen" im Rahmen der WOHGA
www.ebw.ch
Winterthur; Schweiz; 7. Mar 2015
148) Der Schweizer Photovoltaik-Markt im Wandel
F.P. Baumgartner
6. Energie-Lunch von Energie Bewegt Winterthur im Casinotheater Winterthur
www.ebw.ch
Winterthur; Schweiz; 26. Feb 2015
147) Eigenverbrauch optimieren bei Einmalvergütung und KEV
F.P. Baumgartner
Energieapero Aargau
www.energieaperos-ag.ch
Lenzburg, Schweiz; 22. Jan 2015
146) Eigenverbrauch optimieren bei Einmalvergütung und KEV
F.P. Baumgartner
Energieapero Aargau
www.energieaperos-ag.ch
Aargau, Switzerland; 20. Jan 2015
145) Eigenverbrauch optimieren bei Einmalvergütung und KEV
F.P. Baumgartner
Vortrag zur Infoveranstaltung von Swissolar und Energie Schweiz
www.swissolar.ch
Olten, Switzerland; 18. Nov 2014
144) Eigenverbrauch optimieren bei Einmalvergütung und KEV
F.P. Baumgartner
Impulsvortrag zum Helvetic Energy Solargipfel
www.helvetic-energy.ch
Winterthur, Switzerland; 23. Oct 2014
143) Solar Electric Mobility
invited Talk, Public Lectures Program
6th ISU International Summer University on Renewable Energy: Photovoltaic+Solar+Wind
www.helmholtz-berlin.de/events/isu-energy/isuenergy_de.html
Falera, Switzerland, Aug 26th, 2014
142) PV Carport – urban plant – das Solarfaltdach
Infoveranstaltung zum Tag des offenen SUNNYsolarHauses
www.sunny-solartechnik.de
Konstanz, Deutschland, May 17th, 2014
141) PV Application at urban and regional level URBAN PLANT - FOR PARKING AND Others
F.P. Baumgartner
COST European Cooperation in Science and Technology ACTION TU1104
Smart Energy Regions; Talk: in WG Plenary Session. at ZHAW; www.cost.eu
Winterthur; Switzerland; 25. Mar 2014
140) Dynamic LED-based characterization of thin-film tandem PV modules
F.P. Baumgartner
Workshop on Durability and Characterization of Next Generation Solar Cells; at ZHAW
www.dursol.ch
Winterthur; Switzerland; 6.Feb 2014
139) URBAN PLANT" light-weight Solar System FOR PARKING AND Other URBAN DOUBLE USE APPLICATIONS
F.P. Baumgartner et al.
28th European Photovoltaic Solar Energy Conf. , Proceedings; Talk: 4CO.12.2;
www.eupvsec-proceedings.com
Paris; France; 2. Oct 2013
138) Solar Electric Mobility
invited Talk, Public Lectures Program
5th ISU International Summer University on Renewable Energy: Photovoltaic+Solar+Wind
www.helmholtz-berlin.de/events/isu-energy/isuenergy_de.html
Falera, Switzerland, Aug 26th, 2013
137) Was kostet Solarstrom heute wirklich?
Vortrag und Tagungsleitung "Neuer Strom aus lokalen Quellen", 1. Jahrestagung der Electrosuisse ETG EnergieTechnische Gesellschaft, Fachgruppe Neue Erneuerbare Energien, Kongresshaus; www.electrosuisse.ch/etg
Zürich, Switzerland, Dec 6th, 2012
136) Die Energiewende ist machbar – Herausforderungen und Lösungsansätze in der Schweiz
Werkstoffwissenschaftliches Kolloquium WS 12/13, Department Werkstoffwissenschaften der Friedrich Alexander Universität Erlangen Nürnberg
www.i-meet.ww.uni-erlangen.de
Erlangen, Germany, Dec 4th, 2012
135) Energiewende selbst gestalten
interne Infoveranstaltung Lunch & Learn der AXA Winterthur,
Winterthur, Switzerland, Nov 23th, 2012
134) Mit Investitionen in erneuerbare Energien zur Energiewende
Veranstaltung der EKS Elektrizitätswerke Schaffhausen: Gemeinsam die Energiwende erleben im Kantonssaal Schaffhausen, www.eks.ch
Schaffhausen, Switzerland, Nov 14th, 2012
133) Energiewende selbst gestalten – Energiestrategie 2050
Veranstaltung: Energiewende – von Rio in den Thurgau, www.grunliberale.ch
Frauenfeld, Switzerland, Nov 8th, 2012
132) Bedeutung der Photovoltaik in der Energiestrategie 2050
Swissolar ERFA: Photovoltaik – Brandschutz, www.swissolar.ch
Winterthur, Switzerland, Nov 7th, 2012
131) Energiewende selbst gestalten
Vortrag und Podiumsdiskussion zu Energiewende: Wie schaffen wir das? www.fdp-move.ch
Oetwil an der Limmat, Switzerland, Nov 6th, 2012
130) Potential von Parkplätzen mit Photovoltaikdächern in der städtischen Stromversorgung
Vortrag im Rahmen Tag der Technik an der ZHAW SoE
www.engineering.zhaw.ch/fileadmin/user_upload/engineering/veranstaltungen/Tag_der_Technik/Praesentation_2012/Solartankstelle.pdf
Winterthur, Switzerland Oct. 18th, 2012
129) Quality in Solar Systems
Solar energy in the Wisloka River Basin – Swiss Contribution Launching Conference
www.swiss-contribution.admin.ch/poland/en/Home/News/News_Detail
www.wirtualnejaslo.pl/artykul/w_polsce_zasoby_ropy_gazu_i_wegla_wyczerpia/3771/
Jaslo, Poland, Oct 4th, 2012
128) Solarenergie und Energiewende in der Schweiz
HOCHTIEF Development Schweiz Circle
Zürich, Switzerland, Oct 2th, 2012
127) Laudatio für Susan Boos
The Nuclear-Free Future Award 2012; www.nulear-free.com
www.nuclear-free.com/PDF/Boos,%20Laudatio,%20deutsch,%20Heiden.pdf
Heiden, Switzerland, Sept 29th, 2012
126) Integration and Management of PV Battery Systems into the Grid
Invited PlenaryTalk, 5DP.3.2
Measurement of Spectral Characteristics of Tandemmodules
invited Talk; 4CO.11.2; and Chairman session BOS System Components
www.photovoltaic-conference.com
27. European Photovoltaic Solar Energy Conf.; Frankfurt; Germany; 23- 27 Sept 2012
125) Die lokale Energiewende: Mehr Erneuerbar weniger Fossil kein Nuklear
Vortrag im Rahmen Workshop der CVP
Volkertswil, Switzerland, Sept 22th, 2012
124) Götter im blauen Gewand: Technologie und Erträge des Solarstroms
Vortrag im Rahmen der Weiterbildung im Kantonsspital Baden; www.ksb.ch,
Baden, Switzerland, Sept 19th, 2012
123) Die Energiewende gemeinsam gestalten
invited talk at Blue-Tech 2012, Kongress und Marktplatz für effiziente Energielösungen;
sowie Moderation Workshop: Fluktuierende erneuerbare Stromerzeugung und die Auswirkung auf die lokalen Stromnetze; www.blue-tech.ch, Casinotheater und Neumarkt
Winterthur, Switzerland, Sept 13th, 2012
122) Brennpunkt Energie an der ZHAW
Podiumsdiskussion am ZHAW Hochschultag 2012
www.zhaw.ch/de/zhaw/die-zhaw/veranstaltungen/hochschultag.html www.youtube.com/watch
Winterthur, Switzerland, Sept 6th, 2012
121) Erneuerbare Energien – Erfolgsstory in Liechtenstein
Vortrag bei der LIGA Liechtensteinische Industrie und Gewerbeausstellung 2012, LKW
www.helmholtz-berlin.de/events/isu-energy/isuenergy_de.html
Schaan, Liechtenstein, Sept 5th, 2012
120) Solar Electric Mobility
invited Talk, Public Lectures Program
4th ISU International Summer University on Renewable Energy: Photovoltaic+Solar+Wind
www.helmholtz-berlin.de/events/isu-energy/isuenergy_de.html
Falera, Switzerland, Aug 24th, 2012
119) Solar Electric Mobility
invited Talk, Public Lectures Program
3nd ISU International Summer University on Renewable Energy: Photovoltaic
www.erweiterungsbeitrag.admin.ch/de/Home/Laender/Polen
Warsaw, Poland, July 3rd, 2012
118) Swiss perspective of Solar Energy
Panel debate Ministry Regional Dev.- Swiss-Polish Cooperation Program mid-term conf.
www.erweiterungsbeitrag.admin.ch/de/Home/Laender/Polen
Warsaw, Poland, July 3rd, 2012
117) Balance of System (BOS) trends and storage solutions in PV Systems
talk at Trends in PV, serec swiss electromagnetic research & engineering centre, meeting,
www.serec.ethz.ch
Visp, Switzerland, June 22th, 2012
116) Solarmarkt PV und Energiewende
Impulsvortrag bei der ersten Kadertagung der RENA Stulz Gruppe
Freiburg Dietzingen, Germany, June 21th, 2012
115) Schritte der Energiewende mit Weitsicht in der Schweiz
Eröffnung Solaranlage" Landarzt trifft Obstbauer"
www.shn.ch; Bericht in der Regionalzeitung vom 23. Mai 2012;
Marthalen, Switzerland, May 21th, 2012
114) PV Integration into the Grid Cost of Storage in Switzerland
seminar talk at University Erlangen i-MEE, Materials Electronics and Energy Technology
www.i-meet.ww.uni-erlangen.de
Erlangen, Germany, May 18th, 2012
113) Trends in PV Inverter
The cost of PV peak shift
two seminar talks at the Photovoltaics and thin film electronics laboratory PV-LAB
EPFL-STI-IMT NE; pvlab.epfl.ch
Neuchatel, May 4th 2012
112) Landscape integrated photovoltaic
Liechtenstein Congress on Sustainable Development and Responsible Investing
www.lisda.li
Vaduz, Liechtenstein, May3rd 2012
111) Photovoltaic basics and technology
Capturing the Sun Workshop in Partnership with Cleantech Switzerland
ZHAW Winterthur, Germany June 20th 2012
110) PV integration into the grid – cost of storage
Bifacial Workshop www.bifiPVworkshop.com
Konstanz Konzilgebäude, Germany, April 24th 2012
109) Fluktuierende erneuerbare Stromerzeugung Smart Grid und Speicher
Vortrag im Rahmen der Generalversammlung der Thurpower AG
Tufertschwil Toggenburg, Switzerland April 16th 2012
108) Innovative Parkplätze für Frauenfeld – das Potential von Solar Carports
12. Thurgauer Technologietag: Mit Innovation erfolgreich in die Zukunft
Frauenfeld, Switzerland March 30th 2012
107) Fluktuierende erneuerbare Stromerzeugung Smart Grid und Speicher
Impulsvortrag beim BITKOM-Vorstandsmeeting BRD, Gastgeber Huber & Suhner
Pfäffikon, Switzerland March 8th 2012
106) Fluktuierende erneuerbare Stromerzeugung und Speicher
Energie und Umweltapero ZHAW und Stadtwerke Winterthur
www.engineering.zhaw.ch/de/engineering/ueber-uns/aktuelles/veranstaltungsreihen/energie-und-umweltapero/archiv.html
Winterthur, Switzerland March. 23th, 2012
105) Dezentral erzeugte Energie braucht Netze und Speicher
Energie-Apero Aargau
www.engineering.zhaw.ch/de/engineering/ueber-uns/aktuelles/veranstaltungsreihen/energie-und-umweltapero/archiv.html
Baden & Lenzburg, Switzerland Jan. 17th & 19th., 2012
104) Wie weiter nach dem Atomausstieg, Naturwissenschaft & Ethik im Kreuzverhör der Politik
Universität Zürich Philosophische Fakultät
www.ethik.uzh.ch/afe/agenda/Energiezukunft/Atomausstieg_Flyer2.pdf
Zürich, Switzerland Nov. 16th 2011
103) Potential der Erneuerbaren Energien Schweiz
invited talk at VERA 2011, Weiterbildungsseminar für Lehrer
www.forumvera.ch, Spietz, Switzerland Sept. 23th 2011
102) Szenarienvergleich Erneuerbare Stromerzeugung Schweiz
invited talk at Blue-Tech 2011, Kongress und Marktplatz für effiziente Energielösungen; www.blue-tech.ch, Winterthur, Switzerland Sept. 15, 2011
101) Integration der Photovoltaik ins Stromnetz
1st Solarvalley Summer School for Photovoltaics 2011
www.solarvalley.org; and www.uni-halle.de
Halle, Deutschland Sept. 13, 2011
100) Solar Electric Mobility
invited Talk, Public Lectures Program
3nd ISU International Summer University on Renewable Energy: Photovoltaic
www.helmholtz-berlin.de/events/isu-energy
Falera, Switzerland August 25, 2011
99) Stromnetze Erneuerbare Energien und Elektromobilität
Vortrag im Rahmen der Vortragsreihe "Infossion Energie"
Bildungswerk, www.bildungszentrum-waldshut.de, Waldshut, Deutschland; 13. Mai 2011
98) Auf der Suche nach der optimalen Solarmodultechnologie
Vortrag bei der EKZ Fachtagung Photovoltaik, www.ekz.ch,
Dietikon EKZ, Switzerland; 11. Mai 2011
97) 20% Solarstrom in einem ERNEUERBAREN Strommix ist machbar
Kurzpräsentation bei der Pressekonferenz der A EE Agentur für Erneuerbare Energie und Effizienz Schweiz, www.aee.ch, Bern, Switzerland; 3. Mai 2011
96) Nutzung des Solarstroms im Schweizer Netz
Vortrag im Rahmen der Swissolar-Tagung: Photovoltaik 2011; www.swissolar.ch, Fribourg, Switzerland; 14. Apr 2011
95) Die Chancen der Solartechnik für Wirtschaft und Gesellschaft
Vortrag für die Forum Futura im Züriberghotel;
Zürich, Schweiz; www.formafutura.ch; 30. März 2011
94) Messung von Tandemsolarmodulen
Vortrag im Rahmen der OTTI Grundlagenseminar Dünnschicht-Photovoltaik;
Staffelstein, Deutschland; www.otti.de; 1. März 2011
93) Solare Elektromobilität
Vortrag im Rahmen der Generalversammlung Mobility Sektion Zürich; Zürich, Switzerland; 22. Feb 2011
92) Elektromobilität braucht die Solarenergie
Vortrag im Rahmen der Energieausstellung; Fraunfeld, Switzerland;
www.solar-frauenfeld.ch/News/Download/Vortrag_110217_solarmobilitaet_.pdf
17. Feb 2011
91) Photovoltaik Engineering
Vortrag im Rahmen des FAEL Seminar: Erneuerbare Energien – im Blickfeld der Elektrotechnik; www.fael.ch, Hottingen Zürich, Switzerland; 27 Oct 2010
90) Solare Elektromobilität im zukünftigen Stromnetz
Vortrag zum Tag der Technik 2010 an der ZHAW: Innovation für die Nachhaltige Mobilität; www.engineering.zhaw.ch, Winterthur, Switzerland; 19 Oct 2010
89) Integration erneuerbarer Energien ins Stromnetze
Vortrag im Rahmen des Hegau-Bodensee-Seminars am Alexander Humbolt Gymnasium, www.humboldt-konstanz.de, Konstanz, Germany; 4 Oct 2010
88) Renewable electricity and personal vehicles
invited talk at Liechtenstein Congress on Sustainable Development and Responsible Investing; www.lisdar.li, Vaduz, Liechtenstein; 17 Sep 2010
87) Photovoltaik, Solarelektromobilität und die regionalen Stromnetze
invited talk at Blue-Tech 2010, Kongress und Marktplatz für effiziente Energielösungen www.blue-tech.ch, Winterthur, Switzerland; 15 Sep 2010
86) Markteinführung Elektromobilität: Vorzüge und Hürden
invited talk at Blue-Tech 2010, Kongress und Marktplatz für effiziente Energielösungen www.blue-tech.ch, Winterthur, Switzerland; 14 Sep 2010
85) Steps towards integration of PV-electricity into the GRID
invited Plenary Talk 5EP.2.1 at the 25th European Photovoltaic Solar Energy Conf. and 5th World Conference on Photovoltaic Energy Conversion, Proceedings;
Valencia; Spain; 10 Sept 2010
84) Elektromobilität und Solarenergie
invited Talk, Public Lectures Program
2nd ISU International Summer University on Renewable Energy: Photovoltaic
www.helmholtz-berlin.de/events/isu-energy
Falera, Switzerland August 25, 2010
83) Perspektiven der Elektromobilität und ihr Wachstumspotential in der Schweiz
invited talk at Kongress: Stadt Energie Verkehr; Neue Börse Zürich,
www.stadt-energie-verkehr.ch
Zurich, Switzerland; 18 Jun 2010
82) Solare Elektromobilität
invited talk at Lunch&Learn lecture of the AXA Winterthur, Nachhaltigkeitsforum
Winterthur, Switzerland; 9 Jun 2010
81) Effizienz und Erträge gebäudeintegrierter Photovoltaik
Erstes Bodensee Symposium : Architektur und Solartechnik, Fachhochschule Konstanz,
Konstanz, Germany; 20 Mai 2010
80) Power rating of multi-junction solar cells: focus thin film
invited talk at Thin-Film Industry Forum 2010, www.solarpraxis.de,
Berlin, Germany; 11 Apr 2010
79) Strom aus alternativer Energie: Stand der Technik und Potential
Vortragsveranstaltung im Rahmen der Bülacher Köhler Wochen der FDP Bülach; Köhlerei, Bülach, Switzerland; 29 Mar 2010
78) Stromerzeugung aus erneuerbaren Energien Überblick und Einführung in die Nutzung der Geothermie
Vortragsveranstaltung der CVP Winterthur; Rest. Krone,
Winterthur, Switzerland; 23 Feb 2010
77) Integration der Photovoltaik ins Stromnetz der Zukunft
Vortrag an der 8. Nationalen Photovoltaik Tagung Schweiz in Winterthur;
Switzerland; 4 Feb 2010
76) Wirtschaftliche Relevanz des Wirkungsgrades von Solarwechseltrichtern, Leistungstoleranzen von Solarmodulen und deren Langzeitstabilität
Vortrag im Rahmen der Veranstaltungsreihe Energieeffizienz der Industrie und Handelskammer Hochrhein-Bodensee im RIZ in Radolfzell, Germany; 27 Jan 2010
75) Die lokale Gewinnung von Elektrizität aus erneuerbaren Energiequellen
Vortrag vor der Sachkommission Bau und Betrieb des Grossen Gemeinderates Winterthur;
Switzerland; 25 Jan 2010
74) Wann kommt das Solarzeitalter?
Vortrag vor der Naturwissenschaftlichen Gesellschaft Winterthur;
an der ZHAW Winterthur; Switzerland; 15 Jan 2010
73) Potential der Erneuerbaren Stromerzeugung in der Schweiz
Zusammenfassung und Diskussionsleitung der eintägigen Veranstaltung zum Themenschwerpunkt Erneuerbare Energie; Herbsttagung der Kernfachleute Schweiz an der ETH Zürich; Switzerland; 23 Nov 2009
72) Solare Elektromobilität – Zukunftsperspektive 2020
Vortrag im Rahmen der Veranstaltungsreihe Tag der Technik 2009, Forschungs-Highlights aus der ZHAW School of Engineering; Winterthur; Switzerland; 5 Nov 2009
71) Intelligente Netzeinspeisung
Informationstechnische Gesellschaft Schweiz; Jubiläumstagung 25 Jahre ITG
im Technopark, Zürich; Switzerland; 5 Nov 2009
70) Correct power testing of modules - cost avoidance & competitive advantage
Invited Talk at the World of Solar, Photovoltaic Conference organized by the Hong Kong Electronics Industries Association (HKEIA) within the framework of the Asian Electronic Fair; Hong Kong; China; 14- 15 Oct 2009
69) Potential of electrical vehicles powered by photovoltaics and dynamic grid management in the greater Zuerich area
Invited Talk Topic PV System Components, Engineering and System Integration; 4BO.11
24. European Photovoltaic Solar Energy Conf.; Hamburg; Germany; 21- 25 Sept 2009
68) Experiences with cable-based tracking systems and progress toward two-axis large scale Solar Wings system
Invited Talk Topic PV System Components; 4CO.8
24. European Photovoltaic Solar Energy Conf.; Hamburg; Germany; 21- 25 Sept 2009
67) Photovoltaik heute und morgen
Invited Talk, Vorstellung Projektteil Erneuerbare Mobilität im IBH Projekt Baer;
Winterthur, Switzerland, Bluetec-Messe für Erneuerbare Energien 18. Sept. 2009
66) Solar Elektromobilität
Invited Talk, Public Lectures Programe
First International Summer University on Energy: Renewables
Falera, Switzerland August 23 - September 5, 2009
65) Progress of solar inverters and mechanical trackers and the uncertainty of their key parameters
Invited Talk, 5th United Kingdom Photovoltaic Science, Applications and Technology; Conference C90 Glyndŵr University, Manchester, 1 – 3 April 2009
64) Potential der Schweizer Stromversorgung mit Erneuerbaren Energien 2020
Vortrag beim Rotary Club Bad Ragaz, Rheintal
Bad Ragaz, Switzerland, 27 Jan 2009
63) Photovoltaik: Auf dem Weg zum Massenmarkt?
Vortrag im Rahmen des Börsenfrühstücks für Fondmanger einer Schweizer Privatbank, Zürich Hotel Schweizerhof, Schweiz; 11. Nov 2008
62) Strom von der Sonne: Die stabile Energiequelle mit enormen Potential?
Impulsvortrag im Rahmen des Kaminsgesprächs der Regierung Liechtenstein zu Energiefragen am Stammsitz der Oerlikon Solar, mit anschliessender Podiumsdiskussion, Trübbach, Schweiz; 11. Nov 2008
61) Effiziente Stromerzeugung mit Solarzellen in der Schweiz und in Südeuropa?
Vortrag im Rahmen des Schweizer Tags der Technik von Swiss Engineering
an der ZHAW Winterthur, Schweiz; 5. Nov 2008
60) Warum wird Solarstrom immer billiger?
Vortrag im Rahmen der regionalen Fachkonferenz Blue-Tech, Marktplatz für effiziente Energielösungen; Technopark Winterthur, Schweiz; 18. Sept 2008
59) Die Vision "1000 Solardächer Kanton ZH" und Erfolgsstories aus Europa
Vortrag im Rahmen der Klimawerkstatt Winterthur; Veranstalter My blue planet und Stadt Winterthur; Winterthur, Schweiz; 17. Sept 2008
58) Strom von der Sonne
Impulsvortrag an der jährlichen Gewerbeausstellung Liechtenstein; Einladung durch die Liechtensteinische Kraftwerke; Schaan, Liechtenstein; 13. Sept 2008
57) Solar Wings a new light weight PV tracking system
Invited Talk;
23. European Photovoltaic Solar Energy Conf.; Valencia; Spain; 1-5 Sept 2008
56) Eröffnung Pilotlinie Oerlikon Solar
Podiumsdiskussion mit Oerlikon Management, Direktor Bundesamt für Energie, Vorsteher Volkswirtschafts Department St. Gallen, Energieminister Liechtenstein; Wirtschaftsministerin Schweiz; Trübbach, Schweiz; 25. Aug 2008
55) Das Solarstrompotential der Gemeinde Bubikon, ZH
Endpräsentation in der Gemeinde Bubikon vor der Bevölkerung mit Studenten;
Bubikon im Kanton Zürich; 20. Juni 2008
54) Was kann Solarstrom leisten? Technologie, Kosten, Jobs
Fachvortrag im Rahmen des 48. Energie- und Umweltapero der ZHAW Zürcher Hochschule für Angewandte Wissenschaften, Winterthur am 12. Juni 2008
53) Aktive Solarenergienutzung: Integration der Photovoltaik in die Gebäudehülle
Fachvortrag im Rahmen der Reihe "Technologie im Gespräch" organisiert von der Wirtschaftskammer Österreich, und der Wirtschafts-Standort-Vorarlberg Gesellschaft im Technologiepark Röthis, Vorarlberg am 27. März 2008
52) Uncertainty calculation in measurement focused on PV thin film modules
Fachvortrag und wissenschaftliche Leitung der Fachtagung " PV thin film measurement and quality" und Organisation gemeinsam mit Oerlikon Solar an der Hochschule Buchs, NTB am 22 - 23 Oct 2007
51) Status and relevance of the DC voltage dependency of the inverter efficiency
Invited Talk;
22. European Photovoltaic Solar Energy Conf.; Milano; Italy; 2-6 Sept 2007
50) Future and further development of silicon thin film technology: prospects for R&D
Invited Talk; Meeting organized for investors and journalists; together with talks of CEO of Oerlikon, director of Oerlikon Solar and a key customer of Oerlikon Solar.
1. Oerlikon Solarday; Trübbach, Schweiz, 13 Jun 2007
49) Der Solarstrom aktuelle Entwicklungen
Tagung an der Landwirtschaftsschule Hohenems; Österreich; 18. May 2006
48) Die Solar/Wärmepumpe: Photovoltaik und Wärmepumpe
Vortrag im Rahmen der Vortragreihe, Faszination Solartechnik; NTB, 28. Juni 2005
47) Messapparatur für Dünnschichtsolarzellen
Innovation Night, Competence Center Rheintal, Lustenau; 24. Nov 2004
46) Elektrische Messtechnik in der Lehre am NTB: Messunsicherheit, Nutzung Internetlabor, Sensordatenbank
Tagung IG Elektrische Kalibrier- und Prüftechnik; METAS Bern; 17. Nov. 2004
45) MPP Voltage Monitoring to Optimise Grid Connected System Design Rules
Plenary Talk;
19. European Photovoltaic Solar Energy Conf.; Paris; France; 7-11 June 2004
44) Der Reiz der Systemtechnik: vom Mikrosystem bis zur Solarzelle
Vortrag im Rahmen der Startveranstaltung zu den Technikwochen an der Kantonsschule Romanshorn, Schweiz, 24. Mai 2004
43) Systems Reliability and Performance
Euroconference Photovoltaic Devices: Photovoltaics and Environment; Organised by European Commission, EURESCO; Granada, Spain 7–12 Nov 2003
42) Hyperthermie – Magnetfeldsteuerung und Temperaturmessung
Vortrag im Rahmen der Jahrestagung der Schweizer Gesellschaft für Mikrotechnik am NTB in Buchs, 10-10-2003
41) Monitoring of Swiss PV-Plants visible via Internet
European Workshop at European Commission JRC of the
European Working Group on Photovoltaic Plant Monitoring;
JRC Ispra, Italy, 8-9 Sept 2003
40) Sensoren für Kraftstoff und Ölqualität im Fahrzeug
Vortrag im Rahmen der Tagung, Intelligente Kunststoffe für die Automobilindustrie, EMS Chemie in Chur, Schweiz 19-09-2003
39) The future of PV-Systems components
Keynote Lecture, Photovolatics; 1st SWH Solar-Wind-Hydrogen Renewable Energies, Segovia, Spain 7–11 July 2003
38) Web-based Laboratory Training on Electrical Measurement Systems
IMEKO World Congress, Dubrovinik, June 2003
37) Kraftstoffsensoren im Fahrzeug
Vortrag im Rahmen des 6. Kunststoffe Motorteile Forums,
Spitzigsee bei Rosenheim, Deutschland 27-01-2003
36) PV-Gebäudeelemente – attraktive Stromlieferanten
Vortrag im Rahmen des Eurosolar-Symposiums: Solare Stadterneuerung; Wirtschaftsuniversität Wien, 17 - 21. Sept. 2002
35) BOS and Storage in PV Systems
PVNET Workshop of the EU-Commission JRC, Ispra
"Cross-Fertilisation between the Photovoltaic Industry & other Technologies"
Ispra, Italien 28-05-2002
34) Erzeugung von magnetischen Wechselfeldern für die Hyperthermie
Vortrag im Rahmen von Projektpräsentationen der Stiftung SEM an der
ETH-Zürich, 10-04-2002
33) Nachhaltige Energietechnik: Aufgaben für Ingenieure des 21. Jahrhunderts
Öffentlicher Vortrag im Rahmen der NTB Reihe: Nachhaltige Energietechnik
Buchs, 14-03-2002
32) Characterisation of Tandem Solar Mini-Moduls at ESTI
Seminarvortrag an der Universität Neuchatel, Schweiz, 14-02-2002
31) Chairman at 17th European Photovoltaic Solar Energy Conference
Session OA4: PV Modules and Components of PV Systems,
München 22 bis 16 -10-2001
30) Vortrag: Förderung der erneuerbaren Energien in CH, EU, BRD, A
mit anschließender Podiumsdiskussion mit Regierungsvertretern und Fachleuten aus Liechtenstein in Schaan, 13-11-2000
29) Diskussionsrunde im Radio RI zum Thema: Ablehnung der Energieinitiative
einstündige Sendung im Lokalradiosender Radio RI, Buchs 30-09-2000
28) Sensor-Datenbank
Vortrag im Rahmen der Jahrestagung Messtechnik-Dozenten Schweiz,
Bern 30.03.2000
27) Dünnschichtsolarzellen: Funktionale Werkstoffe im Mikrometerbereich
Vortrag im Rahmen der Schweizer Mikrotechnik-Tagung 1999, Buchs 1.10.99
26) Diskussionsrunde zum Thema Solarenergie im Radio RI
einstündige Sendung im Lokalradiosender Radio RI, Buchs 17. Juni 1999
25) FEM - Simulation of the Electromagnetic Field in Eddy Current Proximity Sensors
SENSOR 99 ; Session C1: Design and Simulation; Nürnberg 18-20 Mai 1999
24) Photovoltaik: Stand der Technik Zukunftsperspektiven
Vortrag im Rahmen des Besuchs der Politiker Delegation aus Vorarlberg
Interessensgemeinschaft Erneuerbare Energie Zwischenwasser
an der Interstaatlichen Fachhochschule für Technik Buchs; 03-05-1999
23) Energie, Umwelt und die Solarenergie
Vortrag im Kiwanis Club Rheintal / Liechtenstein, Buchs 12-03-1999
22) FEM - Simulation elektromagnetischer Felder in Sensorik und Aktuatorik
Fachreferat an der Regionalmesse Intertech Bodensee, in St. Gallen 5-11-1998
21) Photovoltaik: Stand der Technik Zukunftsperspektiven
Vortrag im Rahmen des Besuchs des Rotary Clubs Rheintal an der FH-Buchs 31-08-1998
20) Energie aus Sonne, Wind und Biomasse: Potential und Kosten
Fachreferat im Rahmen der Vortragsreihe NEUE ENERGIETECHNIK
an der Fachhochschule für Technik Buchs NTB, Buchs 28-01-1997
19) Photovoltaik: Strom von der Sonne
Fachreferat beim Fortbildungstag für Lehrer der Mechanisch-Elektrotechnischen
Abteilung META der Gewerbeschule
in Buchs 15-08-1996
18) Klimamodelle und Treibhauseffekt
Frühjahrestagung 1996 des Club NTB
in Buchs 04-05-1996
17) Das Elektroauto braucht die Solarenergie
VDI - VDE Fachvortrag in der Fachhochschule Karlsruhe, großer Hörsaal ET
in Karlsruhe 16-04-1996
16) Was kann die Solarenergie leisten ?
Vortrag an der Universität Konstanz auf Einladung des AK Ökonomie-Ökologie
in Konstanz 25-01-1996
15) Die solare Stadt - Sonnenenergie in der Kommune
Vortrag auf Einladung des Lions-Club Donaueschingen
in Donaueschingen 24-01-1996
14) Kostengerechte Vergütung von Solarstrom in Konstanz
Podiumsdiskussion im Technologiezentrum Konstanz mit Bürgermeister Fischer,
Direktor Stadtwerke Knoll, Franzke - Badenwerke Karlsruhe, Herr von Fabek -
Solarenergie-Förderverein Aachen, Baumgartner - Universität Konstanz, Stark -
Naturschutzbund Deutschland und Parteienvertreter
in Konstanz 05-12-1995
13) Energieoptimale Elektrofahrzeuge und Solarenergie
Vortrag bei der Deutschen Luft und Raumfahrtorganisation DLR
in Köln Porz 06-09-1995
12) Energie aus Wind und Sonne
Vortrag an der Universität Konstanz im Rahmen einer Informations-
veranstaltung gemeinsam mit Greenpeace Konstanz 07-06-1995
11) Was kann die Solarenergie leisten?
Öffentlicher Vortrag, Konstanz 18-01-1995
10) Solarenergie: Physikalische und energiewirtschaftliche Aspekte
Fortbildung für Berufsfachlehrer der Elektrotechnik
aus Baden-Württemberg;
im Technologiezentrum Konstanz am 23-11-1994
9) Neue Trends in der Photovoltaik und Antriebselektronik
Fachvortrag beim Symposium "Wassersport und Umwelt - Elektroboote"
im Rahmen der 33. Internationalen Wassersport-Ausstellung
Friedrichshafen, 23-09-1994
8) Die solare Stadt - Beispiele zur Sonnenenergienutzung in Kommunen
Öffentlicher Vortrag im Rahmen einer Reihe des BUND-Umweltschutzzentrums
Konstanz, 21-09-1994
7) Das Elektroauto braucht die Solarenergie
VDE und VDI, Arbeitskreis München, Frauenhofer-Institut Hansastraße
München, 29-03-1994
6) Solarforschung - Neue Impulse in Österreich
im Rahmen der Kolloquiumreihe "Systemforschung", großer Sitzungssaal
Forschungszentrum Seibersdorf, bei Wien am 18-02-1994
5) Performance of two E-vehicles driven by asynchronous motors in real city traffic
Internat.Conf. on Electric/Hybrid and Alternative Fuel Vehicles - 26th ISATA
Aachen, Sept. 1993
4) Solartankstellen und energieoptimale Elektrofahrzeuge: Eine Mobilitätsalternative
1. Österreichische Kongreßmesse für Alternative Energie
Pinkafeld, Österreich, 04-06-1993
3) Der Treibhauseffekt und die Zukunft
Öffentlicher Vortrag im Rahmen einer Reihe des BUND-Umweltschutzzentrums
Konstanz, 11-02-1993
2) Klimamodelle und Treibhauseffekt
Forum Umwelt, Akademie für Natur und Umweltschutz Baden-Württemberg
Konstanz, 9-12-1992
1) Solarmobil TINO Projektpräsentation
Workshop bei der Firma Bizerba Werkstoffsysteme und Fahrzeugbau
Rastatt, 17-11-1990




III. Patente

11) Solarmodulanlage, bestehend aus einer Vielzahl von Solarzellenmodulen mit Trenner für insbesondere teilbeschattete Solarzellenstränge
F. Baumgartner, et. al.
als Erfinder; angemeldet im April 2014
Application Nr. DE201410105990 20140429
10) SOLAR SYSTEM WITH CLEANING DEVICE
A. Büchel, F. Baumgartner
als Erfinder; national angemeldet im Mai. 2013, international veröffentlicht Nov 2014
WO 2014/179894 A1
Patentanmeldung durch die Firma Light Energy, Balzers, FL
9) SOLARANLAGE mit Ruheposition
A. Büchel, F. Baumgartner
als Erfinder; angemeldet im Mai. 2012
CH 706 581 A1
Patentanmeldung durch die Firma Light Energy, Balzers, FL
8) SOLARANLAGE vertikal – mit Netz- neigbar - landwirtschaftliche Nutzung
A. Büchel, F. Baumgartner
als Erfinder; angemeldet im Mai. 2012
CH 706 583 A1
7) Solar panel for solar system, has fold line between primary and secondary solar cells
A. Büchel, F. Baumgartner
als Erfinder; angemeldet im Mai. 2012
CH 706 582 A1
6) Solaranlage Solarnachführsystem
A. Büchel, F. Baumgartner, R. Bartholet
als Erfinder; WO 2010/006460 A3; Veröffentlichungsdatum 21.01.2010
Patentanmeldung durch die Firma Solar Wings, Rugell, FL
5) Solaranlage mit beweglichen Reflektorelementen
F. Baumgartner, A. Büchel,
als Erfinder Patent angemeldet im Juli 2007
CH 702 230 B1 Patent erteilt im Mai 2011
4) Magnetische Energie- und Datenübertragung mit Planarspule bei Sensoren
A. Jäger genannt
mitgewirkt als Erfinder M. Hefti, F. Baumgartner,
DE 20 2004 016 751 U1 - Gebrauchsmuster
US 8,212,642 B2 erteilt in USA Juli 2012
Patentanmeldung durch die Firma Pro-micron, Kaufbeuren, Okt 2004
3) Magnetischer Abriebsensor
F. Baumgartner, Ch. Eugster, M. Rütsche, Ch. Würsch
als Erfinder
DE 102 58 333 B4 Patent erteilt Juli 2013
Patentanmeldung durch die Firma Hilti AG, Schaan, Dez 2002;
2) Lichtstrahlempfänger für Laserpositioniergeräte
F. Baumgartner, S. Liedtke
als Erfinder, Patentanmeldung Anmeldetag 01.08.2001, Hilti AG, Schaan, Liechtenstein,
DE 101 37 751 B1 Patent erteilt Dez 2009
1) Räumliches Kombinationsspielzeug
F. Baumgartner
Österreichisches Patent AT 386542 B erteilt am 12. Sept. 1988

________________________________
Dedicated EUPVSEC Publications

2020 Augmented Reality Supporting the Planning Processes in PV Plants F.P. Baumgartner, F. Carigiet, P. Staiger, B. Bachmann, F. Gundelsweiler

2020 Comparison of Long-Term Indoor and Outdoor Performance Measurement Techniques of Crystalline Silicon PV Modules to Validate Annual Degradation F. Carigiet, C.J. Brabec, F.P. Baumgartner

2017 Optimisation of the Load Flow Calculation Method in Order to Perform Techno-Economic Assessments of Low-Voltage Distribution Grids F. Carigiet, F.P. Baumgartner, P. Korba, R. Knecht, M. Koller, M. Niedrist

2017 PV-Battery and Diesel Hybrid System for Irrigation of a Farm in Patagonia R. Knecht, F.P. Baumgartner

2016 Portable LED Flasher - a Cost Effective Tool to Improve Quality of Field Tests F.P. Baumgartner, D. Schär, R. Knecht, F. Carigiet, C. Frei, F. Beglinger

2015 The Swiss PV Wall System to Maximise Self-Consumption in a Single Building Element F.P. Baumgartner, R. Knecht, D. Lantschner, T. Baumann, H. Nussbaumer, J. Böhler, U. Brühl

2014 Portable LED Flasher with Implemented Bypass Diode Tester D. Schär, F.P. Baumgartner

2012 Spectral Response Measurement of Tandem Modules F.P. Baumgartner, D. Schär, S. Achtnich

2011 Intercomparison of Pulsed Solar Simulator Measurements between the Mobile Flasher Bus and Stationary Calibration Laboratories F.P. Baumgartner, D. Schär, M. Pezzotti, J. Haller, D. Polverini, G. Tzamalis, W. Zaaiman

2009 prEN 50530 - The New European Standard for Performance Characterisation of PV Inverters R. Bründlinger, N. Henze, H. Häberlin, B. Burger, A. Bergmann, F. Baumgartner

2014 Energy Rating Based on Thermal Modelling of Five Different PV Technologies F. Carigiet, F.P. Baumgartner, J. Sutterlueti, N. Allet, M. Pezzotti, J. Haller

2013 ""Urban Plant"" Light-Weight Solar System for Parking and other Urban Double Use Applications F.P. Baumgartner, A. Büchel, F. Carigiet, T. Baumann, R. Epp, A. Wirtz, A. Hügeli, U. Graf

2013 Verification of Measured PV Energy Yield Versus Forecast and Loss Analysis F. Carigiet, F.P. Baumgartner, J. Sutterlueti, N. Allet, M. Pezzotti, J. Haller

2013 Spectral Sensitivity Analyses of Tandem Modules Using Standard Flasher and Dynamic LED Backlight D. Schär, F.P. Baumgartner

2012 Inverter Performance under Field Conditions N. Allet, F.P. Baumgartner, J. Sutterlueti, S. Sellner, M. Pezzotti

2012 Integration and Management of PV Battery Systems into the Grid P. Korba, F.P. Baumgartner, B. Völlmin, A.P. Manjunatha

2011 Evaluation of PV System Performance of Five Different PV Module Technologies N. Allet, F.P. Baumgartner, J. Sutterlueti, L. Schreier, M. Pezzotti, J. Haller

2010 Swiss Mobile Flasher Bus: Progress and New Measurement Features T. Achtnich, F.P. Baumgartner, N. Allet, M. Pezzotti, J. Haller, B. Aeschbach

2008 Redefinition of the European Efficiency - Finding the Compromise Between Simplicity and Accuracy B. Bletterie, R. Bründlinger, H. Häberlin, F.P. Baumgartner, H. Schmidt, B. Burger, G. Klein, M. Alonso-Abella

2020 Performance of New Photovoltaic System Designs IEA PVPS Task 13 Subtask 1.3 M. Littwin, F.P. Baumgartner, C. Biba, R.H. French, D. Gfeller, M. Green, C. Messner, U. Muntwyler, D. Riley, D. Rivola, T. Schott, J.S. Stein, M. Trommsdorff, W.G.J.H.M. van Sark, M. Köntges, T. Ohrdes, R. Brendel

2019 New PV System Concept - Wireless PV Module Prototype F. Carigiet, R. Knecht, T. Baumann, C.J. Brabec, F.P. Baumgartner

2018 New PV System Concept – Inductive Power Transfer for PV Modules F. Carigiet, R. Knecht, T. Baumann, C.J. Brabec, F.P. Baumgartner

2015 Case Study of a Low-Voltage Distribution Grid with High PV Penetration in Germany and Simulation Analyses of Cost-Effective Measures F. Carigiet, M. Niedrist, C. Scheuermann, F. Baumgartner

2012 Solar Ski Lift PV Carport and Other Solar Wings Cable Based Solutions F.P. Baumgartner, A. Büchel, R. Bartholet

2011 The Potential of PV-Carports to Cover the Energy Demand of Road Passenger Transport H.M. Neumann, D. Schär, B. Tappeser, F.P. Baumgartner

2010 Efficiency of Thin Film Silicon Solar Cells with Spectral Down-Converter from Rare-Earth Ion Doped Thin Films K. Baumgartner, B. Ahrens, O. Angelov, M. Sendova-Vassileva, D. Dimova-Malinovska, B. Holländer, S. Schweizer, R. Carius

2010 Cable-Based Solar Wings Tracking System: Two-Axis System and Progress of One-Axis System F.P. Baumgartner, A. Büchel, R. Bartholet

2009 Experiences with Cable-Based Solar Wings Tracking System and Progress towards Two-Axis Large Scale Solar System F.P. Baumgartner, A. Büchel, R. Bartholet

2008 Solar Wings a New Lightweight PV Tracking System F.P. Baumgartner, A. Büchel, R. Bartholet

2020 Module-Level Power Electronics under Indoor Performance Tests C. Allenspach, V. Gonzalez de Echavarri Castro, S. Richter, C. Meier, F. Carigiet, F.P. Baumgartner

2018 Analysing the Voltage Stability of Photovoltaic Inverters Reactive Power Control in the Laboratory Including the Distribution GRID Transformer F.P. Baumgartner, C. Messner, C. Seitl, G. Lauss, F. Carigiet, R. Bründlinger, T.I. Strasser

2018 Techno-Economic Evaluation of Voltage Dependent Active and Reactive Power Control to Reduce Voltage Violations in Distribution Grids R. Knecht, F. Carigiet, A. Schwab, P. Korba, F.P. Baumgartner

2017 Illumination Homogeneity of Bifacial Systems – Outdoor Measurements with Systematically Varied Installation Conditions T. Baumann, M. Klenk, N. Keller, H. Nussbaumer, F.P. Baumgartner

2016 Performance Analysis of PV Green Roof Systems T. Baumann, D. Schär, F. Carigiet, A. Dreisiebner, F. Baumgartner

2015 Survey of Operation and Maintenance Costs of PV Plants in Switzerland F.P. Baumgartner, O. Maier, D. Schär, D. Sanchez, P. Toggweiler

2010 Steps Towards Integration of PV-Electricity into the Grid F.P. Baumgartner, T. Achtnich, J. Remund, S. Gnos, S. Nowak, F. Wiese

2009 Are we Benchmarking Inverters on the Basis of Outdated Definitions of the European and CEC Efficiency? B. Burger, H. Schmidt, B. Goeldi, B. Bletterie, R. Bründlinger, H. Häberlin, F.P. Baumgartner, G. Klein


2019 Development and Evaluation of Open-Source IEEE 1547.1 Test Scripts for Improved Solar Integration N. Ninad, E. Apablaza-Arancibia, M. Bui, J. Johnson, S. Gonzalez, W. Son, C. Cho, J. Hashimoto, K. Otani, R. Bründlinger, R. Ablinger, C. Messner, C. Seitl, Z. Miletic, I. Vidaurrazaga Temez, F.P. Baumgartner, F. Carigiet, B. Fox, S. Kumar, J. Kumar

2018 Performance Analysis of Vertically Mounted Bifacial PV Modules on Green Roof System T. Baumann, F. Carigiet, R. Knecht, M. Klenk, A. Dreisiebner, H. Nussbaumer, F.P. Baumgartner

2017 Field Testing of Portable LED Flasher for Nominal Power Measurements of PV-Modules On-Site R. Knecht, F. Baumgartner, F. Carigiet, C. Frei, F. Beglinger, W. Zaaiman, D. Pavanello, M. Field, R. Galleano, T. Sample

2016 Influence of Low Concentration on the Energy Harvest of PV Systems Using Bifacial Modules H. Nussbaumer, G. Petrzilek, S. Schartinger, M. Klenk, N. Keller, T. Baumann, F. Carigiet, F. Baumgartner

2015 PV Installations Based on Vertically Mounted Bifacial Modules Evaluation of Energy Yield and Shading Effects H. Nussbaumer, M. Klenk, D. Schär, T. Baumann, F. Carigiet, N. Keller, F.P. Baumgartner

2014 Bifacial n-Type Solar Modules: Indoor and Outdoor Evaluation C. Comparotto, M. Noebels, L. Popescu, A. Edler, J. Ranzmeyer, T. Klaus, V.D. Mihailetchi, R. Harney, J. Lossen, T.S. Böscke, D. Schär, H. Nussbaumer, T. Baumann, F.P. Baumgartner

2009 Swiss Mobile Flasher Bus F.P. Baumgartner, T. Achtnich, N. Allet, B. Aeschbach, M. Pezzotti, F. Koch, C. Droz