Prof. Dr. Schirin Akhbari Ziegler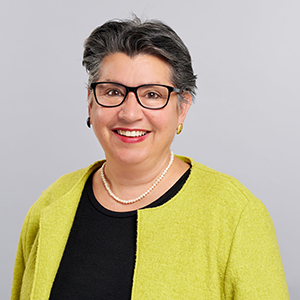 Prof. Dr. Schirin Akhbari Ziegler
ZHAW School of Health Sciences
Institute of Physiotherapy
Katharina-Sulzer-Platz 9
8400 Winterthur
Personal profile
Management role
Head, Head of Master Programme for peadiatric Physiotherapy ad int.
Position at the ZHAW
Head of Master Programme for Paediatric Physiotherapy

www.zhaw.ch/de/gesundheit/studium/masterstudium/master-physiotherapie/schwerpunkte/&
Professional development teaching
Expertise and research interests
Paediatric Physiotherapy
Developmental Paediatrics
Evidence based Paediatric Physiotherapy
Assessments Motor Developmenz
ICF-CY
Early Intervention in paediatric physiotherapy
Educational background
School for Physiotherapy Zurich University Hospital 1986-1990
NDT/Bobath
Instructor Sensory Integration (A.J. Ayres)
Supervisor/Coach 2004
MSc Neurorehabilitation Donau-University Krems 2010
PhD (Implementation of COPCA, a family-centred early intervention programme in infant physiotherapy), University of Groningen 2020

Professional milestones
1990 - 1991 Physiotherapist at Zurich University Hospital
1991 - 2002 Physiotherapist for children, Foundation RGZ, Rapperswil
since 2005 Physiotherapist for children, Stäfa
since 2009 Lecturer at University of Applied Sciences (School of Health Professions)
since 2012 Head of Master Programme for Paediatric Physiotherapy
Membership of networks
Kantonalverband Zürich + Glarus
Schweizerischer Physiotherapieverband
Physiotherapia Paediatrica
Swiss Academy of Childhood Disability
European Academy of Childhood Disability
Projects
Publications
Articles in scientific journal, peer-reviewed
Book parts, peer-reviewed
Rosenbaum, Peter; Novak-Pavlic, Monika; Akhbari Ziegler, Schirin; Hadders-Algra, Mijna,

2021.

Early intervention : what about the family?

.

In:

Hadders-Algra, Mijna, ed.,

Early Detection and Early Intervention in Developmental Motor Disorders.

London:

Mac Keith Press.

pp. 173-184.
Conference contributions, peer-reviewed
Akhbari Ziegler, Schirin; von Rhein, Michael; Meichtry, André; Wirz, Markus; Hielkema, Tjitske; Hadders-Algra, Mijna,

2022.

The coping with and caring for infants with special needs intervention was associated with improved motor development in preterm infants [poster].

In:

34th Anual Meeting of the European Academy of Childhood Disability (EACD) 2022 May 18 - 21.

Winterthur:

ZHAW Zurich University of Applied Sciences.

Available from: https://doi.org/10.21256/zhaw-25096

Akhbari Ziegler, Schirin; Hadders-Algra, Mijna,

2019.

Coaching in COPCA : a promising method to enhance family participation and motor development of infants with special needs [poster].

In:

31st EACD European Academy of Childhood Disability, Paris, May 23-25 2019.

ZHAW Zürcher Hochschule für Angewandte Wissenschaften.

Available from: https://doi.org/10.21256/zhaw-19040

Akhbari Ziegler, Schirin; Hadders-Algra, Mijna,

2019.

Improve implementation of a novel paediatric therapy programme : taking theories of human behaviour into account [poster].

In:

World Confederation of Physical Therapy Congress, Geneva, 10-13 May 2019.

ZHAW Zürcher Hochschule für Angewandte Wissenschaften.

Available from: https://doi.org/10.21256/zhaw-19039
Other publications
Oral conference contributions and abstracts