Peng Yan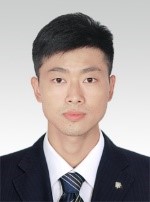 Peng Yan
ZHAW School of Engineering
Centre for Artificial Intelligence
Technikumstrasse 71
8400 Winterthur
Personal profile
Position at the ZHAW
www.zhaw.ch/en/engineering/institutes-centres/cai/computer-vision-perception-and-cognition-group/
Projects
Publications
Conference contributions, peer-reviewed
Publications before appointment at the ZHAW
GAO Yunlong, YAN Peng. Dynamic Economic Dispatch of Wind Power Integrated System With Fully Developed Supply Responses of Thermal Units. Proceedings of the CSEE, 2017, 37(9): 2491-2499.
YunLong Gao, Peng Yan. The unified optimization based on multi-swarm PSO and cuckoo search[J]. Control and Decision, 2016,31(04): 601-608.
YunLong Gao, Peng Yan, JinYan Pan. Nearest neighbor classification method based on the mutual information distance measure[C]. 2014 11th World Congress on Intelligent Control and Automation (WCICA).