Prof. Dr. Irina Nast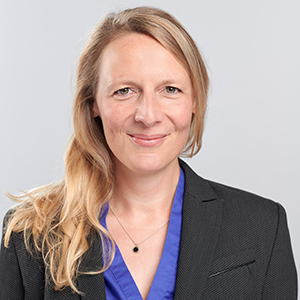 Prof. Dr. Irina Nast
ZHAW School of Health Sciences
Institute of Physiotherapy
Katharina-Sulzer-Platz 9
8400 Winterthur
Personal profile
Position at the ZHAW
www.zhaw.ch/de/gesundheit/institute-fachstelle/institut-fuer-physiotherapie.html
Membership of networks
Interessensgemeinschaft SwissAPP
Projects
Publications
Articles in scientific journal, peer-reviewed
Conference contributions, peer-reviewed
Kofler, Nicole; Graf, Eveline; Nast, Irina; Wirz, Markus; Scheermesser, Mandy,

2022.

Robots as therapists : patients' experiences, motivation and expectations with robot-assisted training - a qualitative study [poster].

In:

RehabWeek, Rotterdam, The Netherlands, 25-29 July 2022.

Schmelzer, Sarah; Hollenstein, Eva; Huber, Marion; Nast, Irina; Wirz, Markus; Liberatore, Florian,

2020.

The impact of task shifting on perceived working conditions and interprofessional collaboration of health professionals : evidence from implementing two task shifting in a Swiss hospital [paper].

In:

20th EURAM Annual Conference, Dublin, Ireland, 4-6 December 2020.

Niedermann Schneider, Karin; Zindel, Barbara; Meichtry, André; Krafft, Valerie; Nast, Irina; Ernst, Markus; Wirz, Markus; et al.,

2019.

A single home-based fall prevention intervention reduces falls in seniors [paper].

In:

World Confederation for Physical Therapy (WCPT) Congress 2019, Geneva, 10-13 May 2019.
Other publications
Oral conference contributions and abstracts