Dr. Amin Mazloumian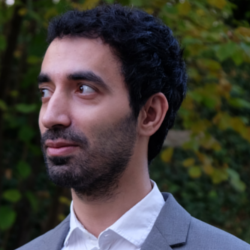 Dr. Amin Mazloumian
ZHAW School of Engineering
Forschungsschwerpunkt High Performance Embedded Platforms
Technikumstrasse 20/22
8400 Winterthur
Personal profile
Position at the ZHAW
Head of Research in EU Projects
Projects
Publications
Conference contributions, peer-reviewed
Zingg, Raphael; Andermatt, Philipp; Mazloumian, Amin; Rosenthal, Matthias,

2021.

Smart food waste management : embedded machine learning vs cloud based solutions [paper].

In:

Mugellini, Elena; Carpanzano, Emanuele, eds.,

Proceedings of the 2nd FTAL Conference 2021 Sustainable Smart Cities and Regions.

FTAL Conference 2021 – Sustainable smart cities and regions, Lugano, Switzerland, 28-29 October 2021.

CEUR Workshop Proceedings.

Available from: https://doi.org/10.21256/zhaw-23847

Gelke, Hans-Joachim; Rosenthal, Matthias; Kammacher, Tobias; Mazloumian, Amin,

2016.

Using mobile processors for general purpose industrial signal processing [paper].

In:

Embedded World Conference, Nuremberg, Germany, 23-25 February 2016.
Other publications
Oral conference contributions and abstracts
Rosenthal, Matthias; Weiss, Armin; Mazloumian, Amin,

2018.

Realtime signal processing on embedded GPUs.

In:

Embedded Computing Conference (ECC2018), Winterthur, 5. Juni 2018.

Weiss, Armin; Rosenthal, Matthias; Mazloumian, Amin,

2018.

Realtime signal processing on NVIDIA TX2 using CUDA.

In:

Nvidia GPU Technology Conference (GTC), San José, USA, 26-29 March 2018.

Rosenthal, Matthias; Mazloumian, Amin,

2016.

General purpose processing using embedded GPUs : a study of latency and his variation..

In:

Embedded Computing Conference (ECC2016), Winterthur, 31. Mai 2016.

Available from: http://www.swisst.net/files/swisstnet/de/dokumente/ECC/ECC16/Referate/S4R2_Matthias%20Rosenthal.pdf