Dr. Heidi Gebauer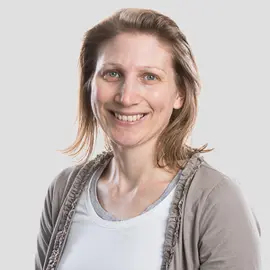 Dr. Heidi Gebauer
ZHAW School of Engineering
Forschungsschwerpunkt Wissenschaftliches Rechnen & Algorithmik
Technikumstrasse 71
8400 Winterthur
Work at ZHAW
Position at the ZHAW
Lecturer

iamp.zhaw.ch
Education and Continuing education
Professional milestones
2011-2013: Postdoc, Institute of Information Technology and Education , ETH Zürich.
2007-2011: Ph.D student, Institute of Theoretical Computer Science, ETH Zurich. Advisor: Prof. Tibor Szabo and Prof. Emo Welzl
2009: Best Student Paper Award at the Annual European Symposium on Algorithms 2009
Educational background
2013: Teaching Diploma (Computer Science and Mathematics)
2011: Doctor of Sciences ETH Zurich (Rado prize)
2007: Master of Science ETH in Computer Science (ETH Medal)
Projects
Publications
Articles in scientific journal, peer-reviewed
Conference contributions, peer-reviewed
Publications before appointment at the ZHAW
H. Gebauer. On the Construction of 3-Chromatic Hypergraphs with Few Edges. Journal of Combinatorial Theory Series A, Vol 120, 1483-1490, 2013.

H. Gebauer. Size Ramsey Number of Bounded Degree Graphs for Games. Combinatorics, Probability and Computing, Vol 22, pages 499-516, 2013.

H. Gebauer. Disproof of the Neighborhood Conjecture with Implications to SAT. Combinatorica, Vol 32, pages 573-587, 2012.
An extended abstract appeared in Proc. 17th Annual European Symposium on Algorithms (ESA), LNCS 5757, pages 764-775, 2009.

H. Gebauer. On the Clique-Game. European Journal of Combinatorics, Vol 33, pages 8-19, 2012.

H. Gebauer. Enumerating all Hamilton Cycles and Bounding the Number of Hamilton Cycles in 3-Regular Graphs. The Electronic Journal of Combinatorics, Vol 18(1), 2011.

H. Gebauer. Finding and Enumerating Hamilton Cycles in 4-Regular Graphs. Theoretical Computer Science, Vol 412(35) pages 4579-4591, 2011.

T. Christ, A. Francke, H. Gebauer, J. Matoušek, T. Uno. A Doubly Exponentially Crumbled Cake. Electronic Notes in Discrete Mathematics, Vol 38, pages 265-271, 2011.

H. Gebauer, R. A. Moser, D. Scheder, E. Welzl. The Lovász Local Lemma and Satisfiability. Efficient Algorithms - Essays Dedicated to Kurt Mehlhorn on the Occasion of His 60th Birthday , LNCS 5760, pages 30-54, 2009.

H. Gebauer, T.Szabo. Asymptotic random graph intuition for the biased connectivity game. Random Structures & Algorithms, Vol 35, pages 431-443, 2009.

H. Gebauer, Y. Okamoto. Fast exponential-time algorithms for the forest counting and the Tutte polynomial computation in graph classes. International Journal of Foundations of Computer Science, Vol 20, pages 25-175, 2009.