Prof. Dr. Bastian Brand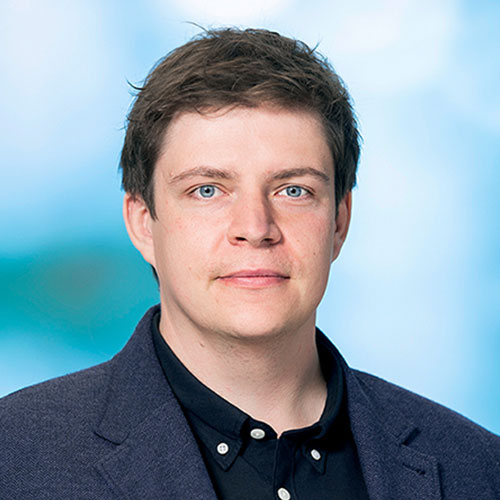 Prof. Dr. Bastian Brand
ZHAW School of Life Sciences and Facility Management
Metrohm Endowed Professorship
Einsiedlerstrasse 31
8820 Wädenswil
Personal profile
Position at the ZHAW
Lecturer at the Institute for Chemistry and Biological Chemistry

www.zhaw.ch/de/lsfm/institute-zentren/icbt/funktionsmaterialien-und-nanotechnologie/metrohm-stiftungsprofessur/
Expertise and research interests
(Ion) chromatography, porous polymers, surface functionalisation
Educational background
2005-2010 Chemical and Bio-Engineering at ETH Zürich
2010-2014 Ph.D. studies at ETH Zürich, c/o. Prof. M. Morbidelli
Professional milestones
2014-2020 Project manager for separation column development, Metrohm AG, Herisau
2017-2020 Technical head of separation column development, Metrohm AG, Herisau
Publications before appointment at the ZHAW
Method for producing a hydrophilic surface on PS/DVB copolymer particles, WO2020208026A1
Glyphosate and AMPA in drinking water. Läubli M., Brand B., Aeschlimann A., Zierfels G. Metrohm White Paper WP–010EN.
Shear-Induced Reactive Gelation. Brand B., Morbidelli M., Soos M. Langmuir, 2015, 31(46), 12727-35.
Strong cation-exchange chromatography of proteins on sulfoalkylated monolithic cryogel. Perçin I., Khalaf R., Brand B., Morbidelli M., Gezici O. Journal of Chromatography A, 2015, 1386, 13-21.
Method for the preparation of macroporous particles and macroporous particles obtained using such a method, EP2922902B1.
Strong cation exchange monoliths for HPLC by Reactive Gelation. Brand B., Krättli M., Storti G., Morbidelli M. Journal of Separation Science, 2011, 34, 2159-2163.
Magnetic Gelation: a new method for the preparation of polymeric anisotropic porous materials. Furlan M., Brand B., Lattuada M. Soft Matter, 2010, 6, 5636-5644.