Dr. Jon Grahame Bell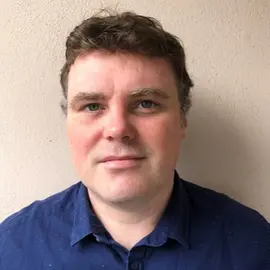 Dr. Jon Grahame Bell
ZHAW School of Engineering
Forschungsschwerpunkt Meteorologie und Luftverkehr
Technikumstrasse 71
8400 Winterthur
Membership of networks
American Geophysical Union
Publications before appointment at the ZHAW
Joining of alumina ceramics with Ti and Zr interlayers by spark plasma sintering
M Stosz, S Narayanasamy, J Bell, T Graule, D Kata, G Blugan, Materials & Design,227,111724 (2023).

From Synthesis to Microstructure: Engineering the High-entropy Ceramic Materials of the Future. AJ Knorpp, JG Bell, S Huangfu, M Stuer, Chimia 76 (3), 212-222 (2022).

Tuning of the microstructural and electrical properties of undoped BaTiO3 by spark plasma sintering. JG Bell, T Graule, M Stuer, Open Ceramics 9, 100244 (2022).

BaTiO3-based thermistor hollow fibers prepared using a phase inversion spinning process for energy efficient gas sorption. JG Bell, N Cavasin, AJ Knorpp, T Graule, M Stuer, Journal of the European Ceramic Society 42 (3), 981-992 (2022).

Barium titanate-based thermistors: Past achievements, state of the art, and future perspectives. JG Bell, T Graule, M Stuer, Applied Physics Reviews 8 (11), 031318 (2021).

Virus removal from drinking water using modified activated carbon fibers. K Domagała, J Bell, NS Yüzbasi, B Sinnet, T Kata, Dariusz and Graule, RSC Advances 11, 31547 (2021).

Adsorption of Carbon Dioxide, water vapor, nitrogen, and sulfur dioxide on activated carbon for capture from flue gases: competitive adsorption and selectivity aspects.
JG Bell, MJ Benham, KM Thomas, Energy & Fuels 35 (9), 8102-8116 (2021).

Bottom-up fabrication of ultrathin 2D Zr metal–organic framework nanosheets through a facile continuous microdroplet flow reaction. Y Wang, L Li, L Yan, X Gu, P Dai, D Liu, JG Bell, G Zhao, X Zhao, Chemistry of Materials 30 (9), 3048-3059 (2018).

Physisorption-induced structural change directing carbon monoxide chemisorption and nitric oxide coordination on hemilabile porous metal organic framework NaNi3(OH)(SIP)2(H2O)5·H2O (SIP= 5-sulfoisophthalate). JG Bell, SA Morris, F Aidoudi, LJ McCormick, RE Morris… - Journal of Materials Chemistry A (2017).

Kinetic molecular sieving, thermodynamic and structural aspects of gas/vapor sorption on metal organic framework [Ni1.5(4,4′-bipyridine)1.5(H3L)(H2O)3][H2O]7.
X Zhao, JG Bell, SF Tang, L Li, KM Thomas - Journal of Materials Chemistry A (2016).

Carbohydrate-mediated purification of petrochemicals
James M Holcroft, Karel J Hartlieb, Peyman Z Moghadam, Jon G Bell, Gokhan Barin, Daniel P Ferris, Eric D Bloch, Mohammed M Algaradah, Majed S Nassar, Youssry Y Botros, K Mark Thomas, Jeffrey R Long, Randall Q Snurr, J Fraser Stoddart, Journal of the American Chemical Society (2015).

Hysteretic gas and vapor sorption in flexible interpenetrated lanthanide-based metal–organic frameworks with coordinated molecular gating via reversible single-crystal-to-single-crystal transformation for enhanced selectivity. C Wang, L Li, JG Bell, X Lv, S Tang, X Zhao… - Chemistry of Materials (2015).

Separation of rare gases and chiral molecules by selective binding in porous organic cages
L Chen, PS Reiss, SY Chong, D Holden, KE Jelfs, T Hasell, MA Little, ...
Nature materials 13 (10), 954-960 (2014).

Gas Storage and Diffusion through Nanocages and Windows in Porous Metal–Organic Framework Cu2(2,3,5,6-tetramethylbenzene-1,4-diisophthalate)(H2O)2. L Li, JG Bell, S Tang, X Lv, C Wang, Y Xing, X Zhao, KM Thomas, Chemistry of Materials 26 (16), 4679-4695 (2014).

Functional hollow fiber adsorbent materials with a self-regulating composite outer layer for gas purification with energy efficient electrothermal regeneration. JG Bell, K Angus, C Todd, KM Thomas, Industrial & Engineering Chemistry Research 52 (3), 1335-1351 (2012).

Adsorption of chloroaromatic models for dioxins on porous carbons: the influence of adsorbate structure and surface functional groups on surface interactions and adsorption kinetics. JG Bell, X Zhao, Y Uygur, KM Thomas - The Journal of Physical Chemistry C (2011).

Adsorption of organic vapour pollutants on activated carbon. AJ Fletcher, MJ Kennedy, XB Zhao, JB Bell, K Mark Thomas, Recent Advances in Adsorption Processes for Environmental Protection and Security (2008).

Assembly of Heterometallic Clusters and Coordination Polymers by Combining Mo−S-Based Clusters with Mn2+. P Lin, W Clegg, RW Harrington, RA Henderson, AJ Fletcher, J Bell, ...
Inorganic chemistry 45 (10), 4284-4302 (2006).

The role of Mo atoms in nitrogen fixation: balancing substrate reduction and dihydrogen production. J Bell, AJ Dunford, E Hollis, RA Henderson, Angewandte Chemie International Edition 42 (10), 1149-1152 (2003).