Prof. Dr. Harald Bärtschi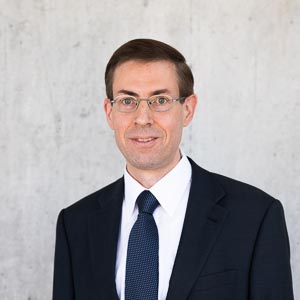 Prof. Dr. Harald Bärtschi
ZHAW School of Management and Law
Center for Corporate and Tax Law
Gertrudstrasse 15
8401 Winterthur
Management role
Head, Center for Corporate and Tax Law
Position at the ZHAW
Senior lecturer for corporate and financial market law
Professional development teaching
Expertise and research interests
Corporate and financial market law (including fintech/Blockchain), contract law
Co-editor of the law journal ius.focus
Complete list of publications (PDF) available on www.barlex.ch/en/people/baertschi
Educational background
since August 2016 Head of Center for Corporate and Tax Law, ZHAW School of Management and Law
since 2013 Senior lecturer for financial market law, ZHAW School of Management and Law
2015 Appointment as adjunct professor of private and commercial law, University of Zurich
2009 Appointment as private lecturer (PD) for private and commercial law, University of Zurich
2005 Admission to New York State Bar, USA
2004 Master of Laws (LL.M.) Yale Law School, USA
2003 Admission to Zurich Bar
2001 Dr. iur. University of Zurich
1999 lic. iur. University of Zurich
Professional milestones
Attorney at Law SwissLegal Fellmann Rechtsanwaelte AG
Attorney at Law with Baertschi Attorneys at Law Ltd
Membership of networks
Articles in scientific journal, peer-reviewed
Books and monographs, peer-reviewed
Book parts, peer-reviewed
Conference contributions, peer-reviewed
Other publications
Meyer, Stephan; Bärtschi, Harald; Jacquemart, Nicolas;

2018.

Winterthur:

ZHAW Zürcher Hochschule für Angewandte Wissenschaften.

Bärtschi, Harald; Lienhard, Andreas,

2014.

"Jeder Arbeiter ist seines Lohnes wert" : rechtliche Schranken der Lohnfestlegung

.

In:

Baer, Josette; Rother, Wolfgang, eds. ,

Arbeit : philosophische, juristische und kulturwissenschaftliche Studien.

Basel:

Schwabe.

pp. 103-139.

Available from : https://doi.org/10.21256/zhaw-3995

Bärtschi, Harald,

2011.

Entwicklungen im Handelsregisterrecht

.

In:

Kunz, Peter V.; Arter, Oliver; Jörg, Florian S., eds. ,

Entwicklungen im Gesellschaftsrecht VI : 6. Tagungsband.

Bern:

Stämpfli.

pp. 117-177.
Oral conference contributions and abstracts
Publications before appointment at the ZHAW
Bärtschi, Harald (2009, Habilitation). Verabsolutierte Relativität, Die Rechtsstellung des Dritten im Umfeld von Verträgen. Zürich: Schulthess.
Bärtschi, Harald (2001, Dissertation). Verantwortlichkeit im Aktienrecht. In: Schweizer Schriften zum Handels- und Wirtschaftsrecht, Band 210. Zürich: Schulthess.