Usability lab
The usability or user-friendliness of a product is a decisive success factor in the field of technical communication. Just think of the problems that can arise when users are confronted with a non-intuitive software interface or with operating instructions that have not been written with the right target group in mind.
As a university of applied sciences, the ZHAW has the mandate to offer practice-oriented degree programmes, to foster continuing education, to carry out applied research and development and to provide services for third parties. In accordance with this mandate, our usability lab contributes to highlighting and reinforcing the importance of usability in our teaching, applied research and business services.
Our rooms and technical infrastructure
Two dome cameras and a flexible camera attached to a tripod allow us to make an accurate recording of the products being tested and of the test subject's actions, verbal remarks, gestures and facial expressions. When testing software products, we also use a screen recording software, which logs the screen content and the entries made by the test subject.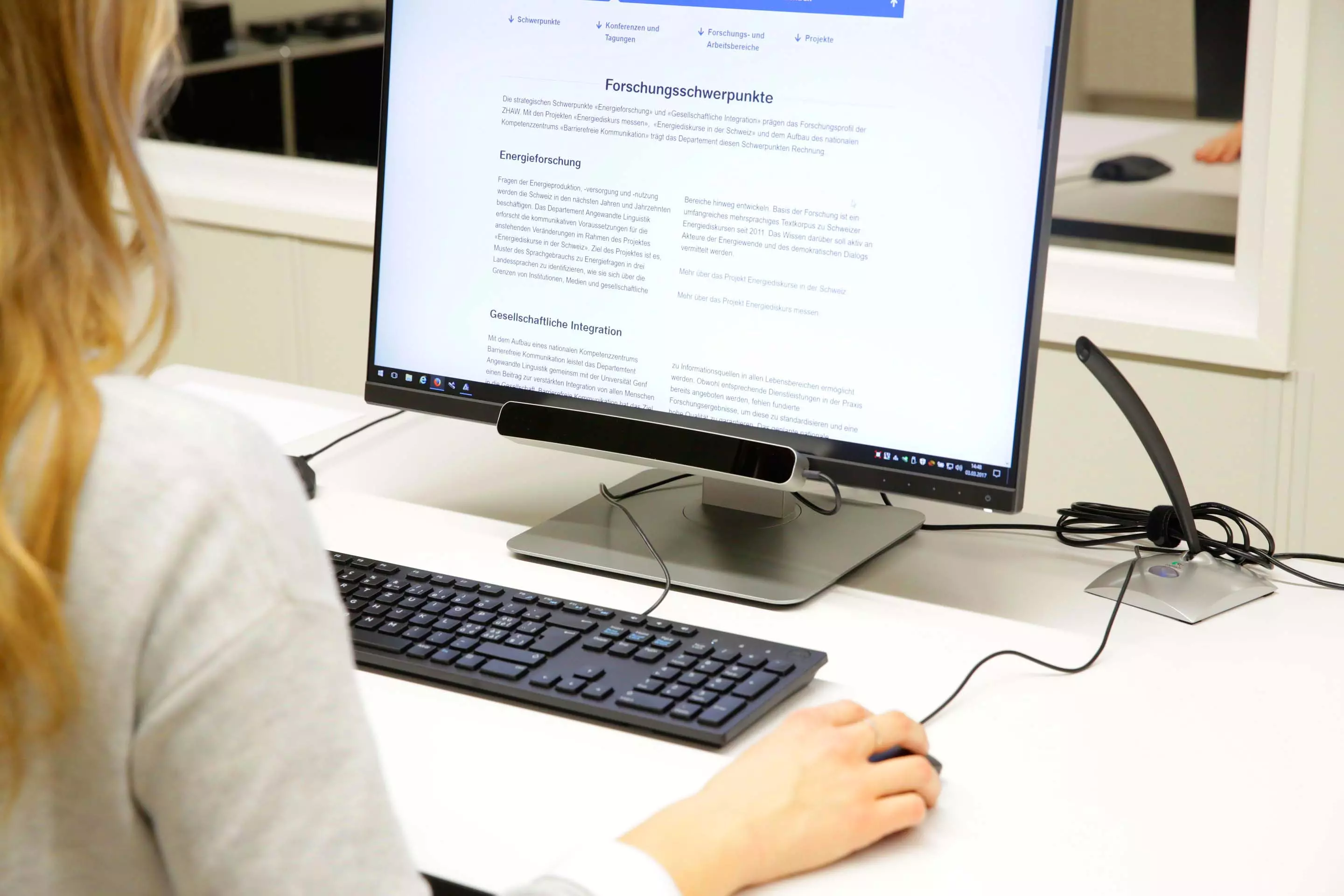 A modern eye-tracking system enables us to examine the eye movements of test subjects as they look at an application on the screen. This is a remote system which, unlike head-mounted display systems, allows test subjects to concentrate fully on screen events without the disturbance factor of any additional devices. The eye-tracking method can be used in combination with a usability test: the test subject completes the task set by the test administrator and, at the same time, his/her eye movements are recorded. This allows us to identify additional valuable pointers, such as areas of an onscreen application which escape the user's attention completely.
The lab is also equipped with a mobile device camera (MDC), which is used to optimise recordings of events and actions on mobile devices, e.g. a remote control or mobile phone. The camera can be attached to the device itself, and it can also be used for field observations outside the lab.
Focus group roomThe focus group room is primarily intended for group tests. Here, potential users of a device can be involved early on in the development process. They can discuss issues related to the optimal design of a user interface, for example, and, as a group, take part in an idea-finding process to identify solutions and proposals.
The focus room is equipped with two dome cameras and two boundary microphones, allowing the observation team to follow and record proceedings from the observation room.
Observation and control room
In a similar way to the stationary eye-tracking system installed in our test room, eye-tracking glasses can record the eye movements of test subjects. The video camera and microphone built into the eye-tracking glasses record events in the test environment. This compact system allows test subjects to move about freely, opening up new potential areas of use for eye-tracking recordings:
Product use

Design of user interfaces

Reading behaviour

Effectiveness of poster advertising

Shopping behaviour in supermarkets

Orientation behaviour in unfamiliar places