Zoom In: Jan Malte Lemke
Jan Lemke graduated from the ZHAW School of Management and Law with a BSc in International Management and is a passionate and successful floorball player.
February 2023
Jan Malte Lemke was born in Germany near Düsseldorf, but lived there only briefly. His father's international activities meant that the whole family moved on to Canada, London and Belgium before settling in Switzerland in Zollikon as from 2005. With Jan's international background, the choice of the BSc in International Management degree program was obvious. In addition to his studies, the 23-year-old is a passionate and successful floorball player.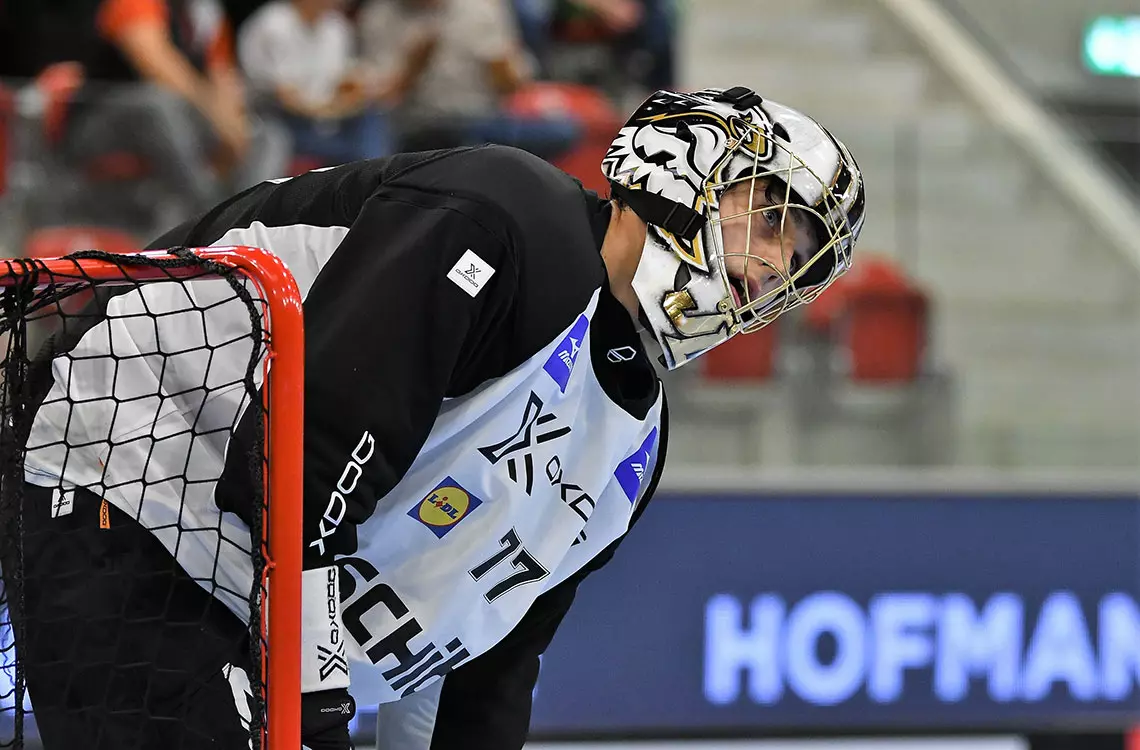 When did you discover your passion for playing floorball?
When I was a kid, I tried out different sports like soccer, judo and floorball. Playing music was also a theme. Finally, at the age of six, I decided to play floorball. At the beginning I was a field player. During training, no one wanted to play goalie, so it was "the youngest goes to goal" - the youngest player, that was me. That's how my goalie career began.
What stations are part of your floorball career?
I started with Zürisee Unihockey, but soon realized that I wanted to train more and achieve more. After a detour to the National League A club UHC Uster, I received an offer from the top team GC Zürich. At GC, I was in action throughout my junior years and was allowed to train in the first team as of 2018.
Then Corona came and it wasn't sure what would happen next for me after the junior level. However, an opportunity opened up for me: a place had become free as backup goalkeeper next to the legend goalkeeper Pascal Meier. I was allowed to take over this position and was proud to train with the national team goalkeeper.
We had a very good team at GC during the 2020-2023 seasons and sensationally won the double with the Cup victory and the Swiss championship title. For me personally, this time was very valuable, as I got playing time at the highest level and also took the last step towards the greatest possible professionalization. My contract with GC was not renewed at the beginning of 2022 and I therefore moved to the league rival UHC Uster.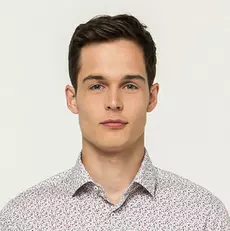 The 2022 Floorball World Championship took place in Switzerland. You were also on duty. What does that mean to you?
Participating in the 2022 World Championship was a childhood dream come true for me. This event was the highlight of my career, as I was in goal for the German team in all seven games.
You played for the German team - why not for Switzerland?
I feel absolutely at home in Switzerland and in Zurich. But my past is strongly influenced by my German parents. Since I have a German passport, I really wanted to play for the German team. It is important to me to give my best for the country of my parents and to help to advance German floorball internationally.
The international disparity in floorball is very large. The dominant teams are Sweden, Finland, the Czech Republic and Switzerland. Germany is ranked lower. German floorball is at the beginning compared to Switzerland, which has a longer floorball history and is more advanced. Switzerland's progress within floorball, both nationally and internationally, depends on many different factors. One important factor is the high quality school sports which makes it possible for children to find good training at a young age.
You completed the BSc International Management at the ZHAW School of Management and Law. Why did you choose this degree program?
After finishing high school with a focus on business and law, I didn't really know which field of study to choose because I was interested in a lot of things. The first idea was to study sports management. But life has more to offer than sports.
When I decided on the BSc International Management at the ZHAW, the international component played a role. The English language is familiar to me and reinforced my decision. I was also under contract with GC, so Winterthur was ideally situated as a place to study.
The International Management program is very multi-faceted. What captured me the most were the leadership topics and the soft skills, i.e. competencies that go beyond professional skills and are based on personality. The art, after all, is to combine the hard facts (the "visible" aspects of an organization, such as goals, technology, structures, figures, data, facts) and soft skills.
Were you influenced by your internationally oriented family in your choice of studies?
The family certainly has an influence. My father is an international manager at a logistics company. My older brother Tim and I both chose the same direction in terms of sports and studies. Tim studied International Business Administration in Berlin and is now studying Business Law at the HSG. He also plays floorball in the National League B with the Kloten-Dietlikon Jets.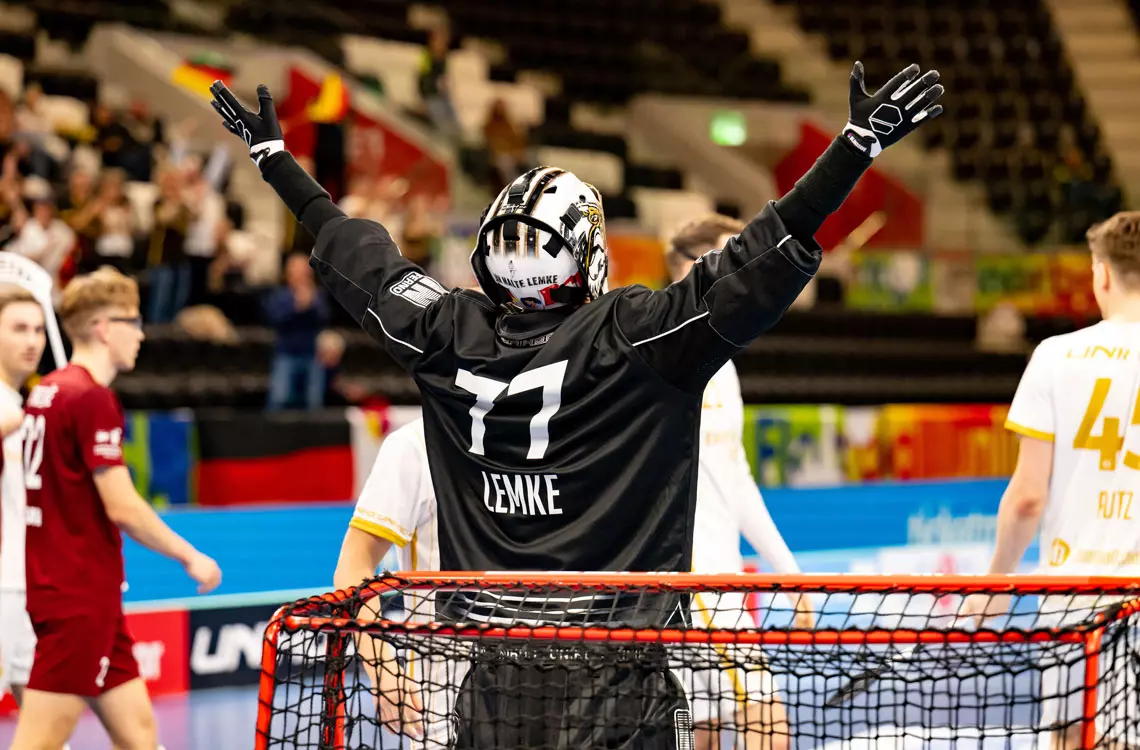 Your shirt number is 77. Does it have a special meaning for you?
I've been playing with this number since the beginning of my floorball career. For me, "7" is a magic number, but it is a classic field player number. So I chose seven twice for my back number as a goalie: 77.
How does your employer feel about your sports career? Are you supported or can you work part-time?
I started my job in June 2022. It is a stroke of luck for me that I can work part-time (40%) and have a flexible boss. For me it is an optimal solution to combine sport and job. I'm convinced that I'm a better employee when I'm active in sports and also a better player when I'm working parallel to sports. An offer as a professional player would be nice recognition, but I prefer the multi-track approach. Besides sports, it gives me an insight into professional life and student life.
"In sports, you learn to make a commitment to everything. To achieve the goal, extra effort is part of it. That's part of the sport."
Jan Lemke, BSc International Management student, floorball player
Can you benefit from your experiences as an athlete in your professional life? What do you take with you from sports into the working world?
In sports, you learn to make a commitment to everything. To achieve the goal, extra effort is part of it. The floorball guys are diligent, work hard and there are no excuses. This drive is often underestimated, but I take this willingness to perform with me into my professional life.
In sports, the team is very important. You spend a lot of time with other players, you have to understand others, and a lot is expected of you interpersonally. You have to be open-minded and find a way to always adapt when there is a team change, new coaches or new teammates. Flexibility and the ability to work in a team is also required in your work life.
With so many activities, isn't it difficult to get the focus right?
I prioritize what's important at the moment. There are weeks when I focus on the job. Then there are times when I focus on sports and other times when I focus on my studies.
During the season, my thoughts are almost exclusively on floorball. I invest about 25 hours a week in the sport, be it for tactics, travel, training or matches. This commitment costs energy, but also gives me a lot of strength and joy. But sport is unpredictable. My studies give me support and create distance when things get difficult in sports.
What are your future plans regarding floorball and your professional career?
In January, the last exams took place, for which I have been preparing for a long time. During this time I focus on studying and the exams. After the exams I will focus on floorball again.
I don't have any concrete plans for the future. I've made the experience that dreams and plans can be thrown overboard, be it because of Corona, a missing contract extension or injuries. Injuries are rather rare for goalies, but if it is no longer possible due to pain, it is better to stop. A good platform is the Swiss network "Athletes Network", which offers athletes a community for life after top-class sport.
But I am not tired of floorball and I will play as long as I enjoy it. Professionally, I would like to grow into the field of finance and consulting and tackle a master's degree. But the direction is still open - versatility is important to me.
What happens after top-level sport?
It's the same for all athletes: unexpectedly or, in the best case, planned, the professional sports career is over. At the latest then success has to be redefined.
The Swiss network "Athletes Network" is a Swiss network for active and former athletes and mediates jobs and further education. A community where athletes can meet and exchange ideas for a successful career after or besides their sports career.