Zoom In: Albena Björck
Dr. Albena Björck is a lecturer at the ZHAW School of Management and Law and teaches Bachelor's and Master's degree programs as well as the MAS Business Administration (MAS BA), Master of Business Administration (MBA), and International Executive MBA (IEMBA) continuing education programs.
April 2021
For almost 30 years, Albena Björck has been involved in international relations, marketing and corporate communication in practice and academia. She has been a lecturer for degree and continuing education programs at ZHAW for six years and helped set up the Corporate Education Unit. Dr. Björck researches international strategic communication from a management perspective with a focus on branding, change, and crisis communication. In addition to her work at ZHAW, she advises and coaches companies and managers.
How long have you been lecturing and how did you get into it?
I love learning new things – so it is natural that you want to pass on your knowledge to others. As a communications specialist, the jump to lecturing and coaching is natural and, in a way, it has always been with me. In the private sector, I was involved in designing and implementing internal training programs, coaching, and managing employees. I have also externally supervised Master's theses at the University of St. Gallen. In this context, I have learned to successfully bridge the gap between theory and practice. After almost 20 years in the private sector, it was a logical decision to become a lecturer and coach and return to the world of higher education.
How does your previous work experience feed into your lectures?
You learn the most from personal experience, but you simply cannot have every useful experience yourself for obvious reasons. I try to match my personal experiences with the literature and put them into an easily understandable context. Here are a few principles I pass on to my students:
Expertise has an expiry date – staying up to date means lifelong learning.

You learn from fascinating individuals – each new encounter adds to your personal experience portfolio.

Professionally and personally, you need a plan – but things rarely turn out exactly the way you expect. I have seen how an unexpected external factor can lead to a major crisis. You never know all the facts, so you must think in scenarios.

You learn the most about yourself and others from your failures and crises, not from your successes.
You are originally from Bulgaria but also have a connection to Sweden and live in Switzerland. Is this an ideal starting point for your work in the Department of International Business (DIB)?
I consider myself lucky to be part of three fascinating, if somewhat different, cultures. Using at least three languages every day is a challenge, but it is also good practice for my work at the ZHAW School of Management and Law. Many of our students come from abroad or have grown up in a multicultural environment. Similarly, many of my departmental colleagues have equally diverse backgrounds. Our exchanges enrich and motivate me.
How does your cultural background influence your research?
My research focuses on the interface between strategy and communication. Both disciplines are highly dependent on context and culture, and the international dimension offers exciting and unexplored topics. Crises often arise from misunderstandings and the inability to approach others. You need sensitivity and empathy when there are different perspectives. At the same time, European crisis communication research is underrepresented on an international level. With my European cultural and professional background, I strive to make a contribution in this area.
"I consider myself lucky to be part of three fascinating, if somewhat different, cultures."
Dr. Albena Björck, ZHAW Lecturer for Degree and Continuing Education Programs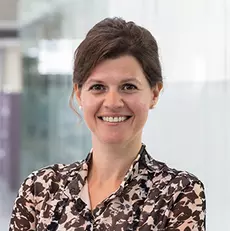 How has the Corona pandemic affected you as a lecturer?
It has been a time of upheaval and change. The global nature of this crisis is extraordinary – not only does it affect most countries, it affects almost every aspect of our lives. It has also been very prolonged. As with any crisis, there is a great deal of uncertainty, information is never perfect, decision-making is complex, and a lot of communication is necessary. This affects lecturers and students alike. In a crisis, personal and direct contact provide stability, but this has seldom been possible in recent months.
There is plenty of scope for experimentation and creativity – new and effective teaching methods and learning content are constantly being developed. I hope we can benefit from this momentum even after the crisis. The students have done a fantastic job coping with this and demonstrated great adaptability. This is reflected in some excellent projects with business partners and student research projects. I am confident we will come out of this fitter and stronger.
What does working at the ZHAW School of Management and Law mean to you?
Engaging with a new challenge every day and enjoying it. Discussing and tackling projects with interesting people with a high level of diversity, as well as constantly building bridges between theory and practice.
What are the current trends to keep an eye on in your field of education?
Digitization offers enormous opportunities to make education more efficient, engaging, and versatile. It will take time to find the optimal mix between traditional and digital formats. One thing is certain, though – with the explosive growth of global data volumes, we need to focus on methodological and communication knowledge in education. After all, digitization also harbors risks, such as fake news, to name just one of them. Filtering information, interpreting data, and presenting it in a comprehensible way are key skills today. So is communicating empathetically without excluding others.