Business in the Middle East
"Middle East & Africa are fast growing regions with huge resources and a large number of customers; entering and developing business in these culturally different markets is a challenge. We help you to solve these challenges in a sustainable manner."
Khaldoun Dia-Eddine, Desk for Middle East and Africa Business
The Desk for Middle East and Africa Business focuses on the member states of the Gulf Cooperation Council, Iran, Turkey, and Sub-Saharan Africa. We maintain long-term relationships in these regions. Based on our strong network and practical experience, we provide competent support for your future business activities in these regions and analyze your potential to expand.
Continuing Education and Training
Our team is able to draw on a wide range of competencies and experience. We also offer practically oriented training solutions tailored to the needs of specific customer segments, sectors of industry, or geographic regions. We support you, your company, and your employees in operating effectively at an international level.
In particular, wie offer consulting services in the following areas:
Intercultural communication

Intercultural negotiations

Islamic finance

International business / internationalization

Management and leadership

Leadership and strategic management simulation

International project management

Coaching
We work with Swiss institutions (and its members) which are or would like to be active in the Middle East and African markets - be it as network partners, agents, academic partners, or consultants. We are continually expanding and strengthening our network in this region - internationally, nationally, and locally. Our cooperation partners include:
Conspiracy Theories are Triggers for Radicalization
18 March 2020
The ZHAW lecturers Mirjam Eser Davolio (School of Social Work) and Khaldoun Dia-Eddine (School of Management and Law) are mediators between cultures. This is a discussion on right-wing extremist and jihadist terror, the prevention of radicalization, and dealing with returnees.
Report in the ZHAW Impact (German)
ZHAW Senior Lecturer at the 2019 Kuala Lumpur Summit
19 Februar 2020
At the invitation of Malaysia's Prime Minister Mahathir Mohamad, several heads of state and government met at the 2019 KL Summit last December. Khaldoun Dia-Eddine, a senior lecturer at ZHAW, was invited to present his research on the digital revolution and Muslim countries.
Interview with ZHAW Lecturer Khaldoun Dia-Eddine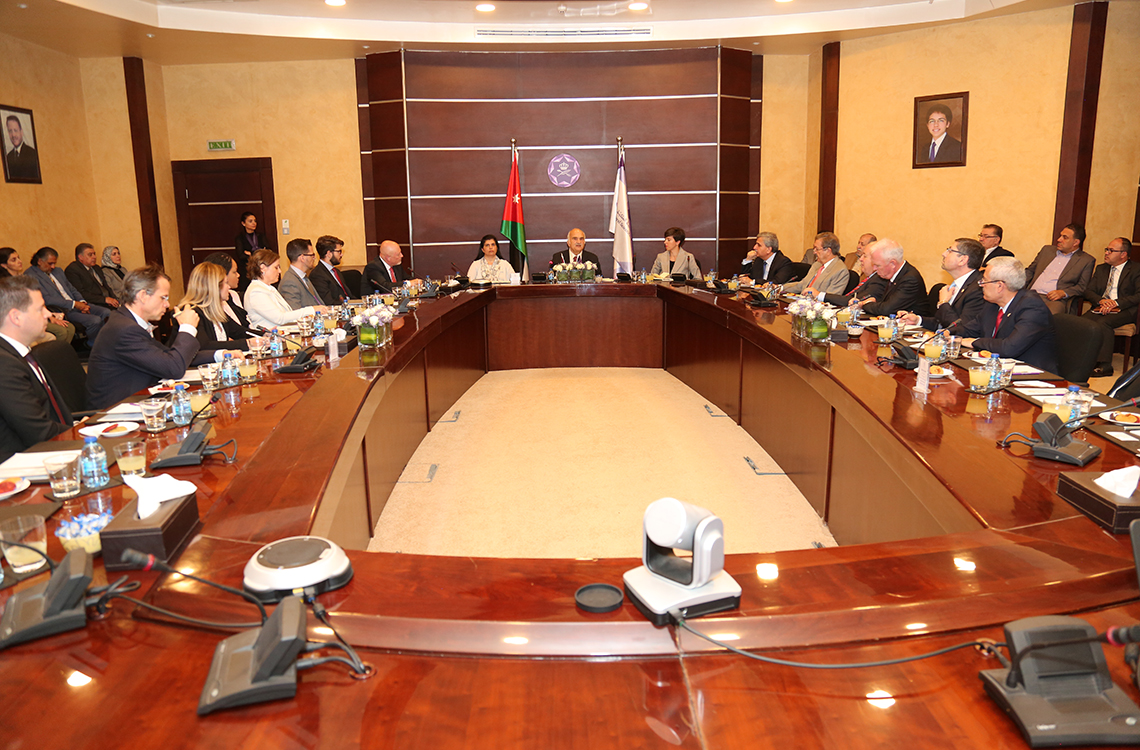 20 November 2019
Khaldoun Dia-Eddine recently accompanied a group of IEMBA students on a study trip to Jordan. We asked him a few questions.
Seminar for Lugano Police Corps
18 July 2016
How do you explain the ban on concealment to Arab guests?
Since 1 July 2016, a ban on concealment has been in force in Ticino. During a seminar, the Lugano police corps learned how to enforce the law without offending Arab guests.
Report in the SML-Blog (German)
Iran: Useful Insights into an Opening Market
1 February 2019
With the lifting of some layers of sanctions against Iran on 16 January 2016, investors all over the world are standing in line to profit from the opening of the biggest market since the fall of the USSR.
But how does one get to the right contacts, information, and business opportunities?

Report in the SML-Blog
Various Training for Guests Coming from the Middle East
How do you deal with new foreign guests? Interlaken Tourism offers workshops for hotel and restaurant employees. Khaldoun Dia-Eddine gives various tips for dealing with guests from the Arab world.