CAS Swiss Social Security, Insurance & Financial Planning
Infor­mation events
At a glance
Certificate of Advanced Studies ZHAW in Swiss Social Security, Insurance & Financial Planning (12 ECTS)
ZHAW School of Management and Law / Campus St.-Georgen-Platz, 8401 Winterthur

Neu: Mix aus Präsenzunterricht am Freitagnachmittag an der ZHAW School of Management and Law und Onlineunterricht am Samstagmorgen
German
Die Kursunterlagen sind in Deutsch und/oder Englisch verfasst.
Je nach Lebensphase und Lebenssituation verändern oder verschieben sich die Kundenbedürfnisse, und andere Fragestellungen rücken ins Zentrum. Eine bedürfnisgerechte und auf die Lebensphasen abgestimmte Absicherung und Vorsorgeplanung ist daher unerlässlich. Zudem steht das Schweizer Vorsorgesystem vor vielfältigen Herausforderungen und Reformen.
In diesem CAS werden Sie zu einer ganzheitlichen und kompetenten Finanzberatung im Bereich «Vorsorge und Versicherung» befähigt, um komplexe Fragestellungen von vermögenden Privatkundinnen und -kunden zu beantworten zu können.
Target audience
Der Lehrgang richtet sich an
Fach- und Führungskräfte in der Beratung von Privatkund:innen, die sich Wissen und Fertigkeiten aneignen wollen, um als Problemlösungsexpert:in im Rahmen einer ganzheitlichen Beratung agieren;

Mitarbeitende, die berufsbegleitend eine umfassende Fach- und Methodenausbildung in der Finanzberatung sowie in der Einkommens- und Vermögensstrukturierung für Privatkund:innen absolvieren möchten;

Mitarbeitende, die ihre Kompetenz für ihre Laufbahn als Fach- und/oder Führungskraft vor allem in den Bereichen Vertrieb und Beratung, Vertriebsmanagement, Relationship Management oder auch Product Management und Business Development erweitern wollen;

alle, die daran interessiert sind, ihre Kenntnisse im Bereich der ganzheitlichen Beratung für vermögende Kund:innen zu vertiefen.
Objectives
Der CAS Swiss Social Security, Insurance & Financial Planning befähigt Sie, komplexe berufliche Aufgaben im Bereich der Finanzplanung bei Banken, Versicherungen oder Finanzdienstleistungsunternehmen wahrzunehmen.
Nach Abschluss des Lehrgangs
sind Sie in der Lage, eine kundenorientierte Vorsorgeplanung zu erstellen und Lebensrisiken abzusichern;

kennen Sie die schweizerische Vorsorgekonzeption (Drei-Säulen-System);

beherrschen Sie die Gestaltungsmöglichkeiten der zweiten Säule;

sind Sie in der Lage, den Vorsorgebedarf einer Kundin bzw. eines Kunden für die biometrischen Risiken Erwerbsunfähigkeit, Tod und Alter zu bestimmen;

können Sie ein angemessenes Deckungskonzept entwerfen und mit geeigneten Produkten und Instrumenten für die Finanzplanung umsetzen;

haben Sie einen vertieften Einblick in Vorsorgeprodukte und -lösungen gewonnen und können diese entsprechend beurteilen.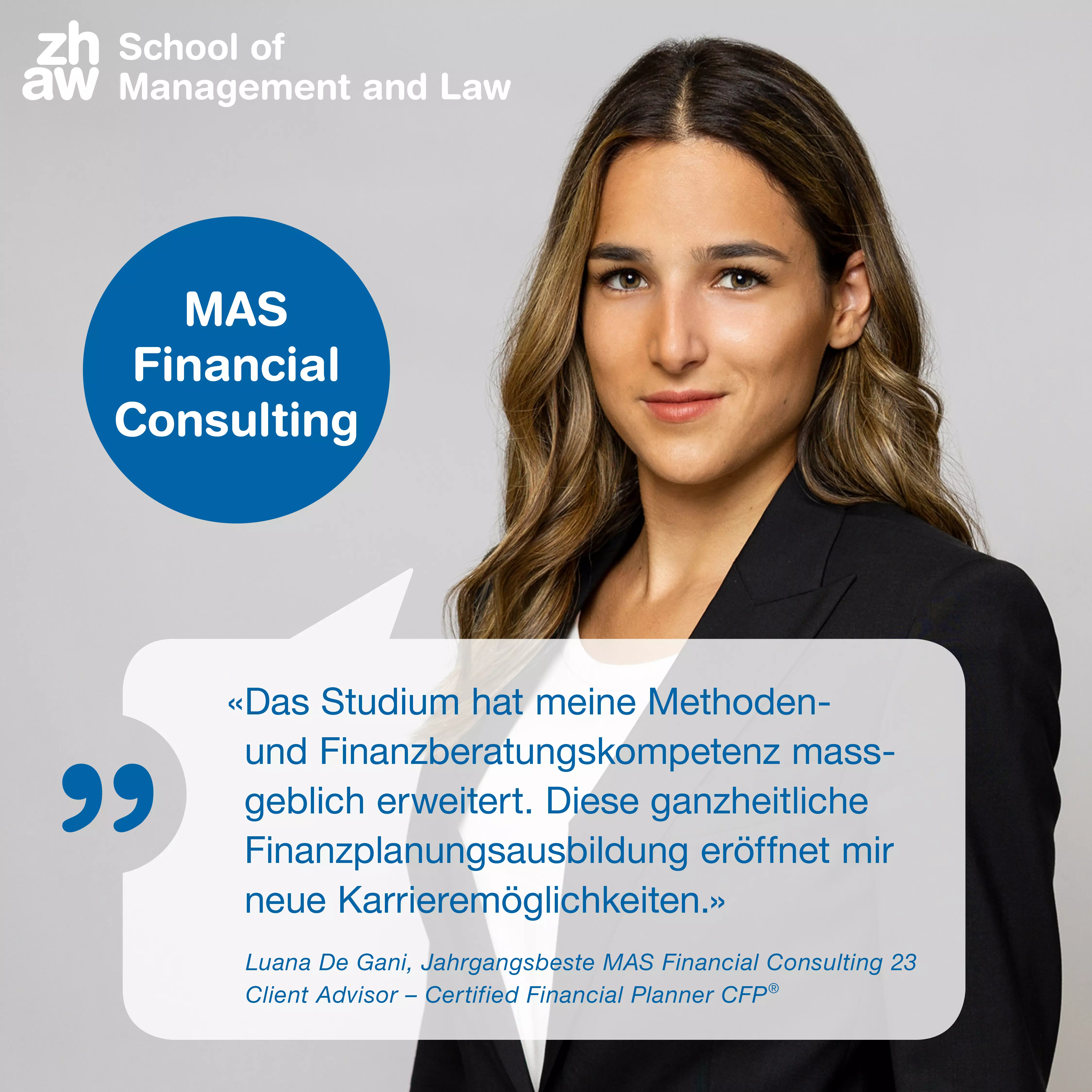 Content
Der CAS Swiss Social Security, Insurance & Financial Planning ist modular aufgebaut und gliedert sich in zwei Module:
Modul 1: Core Financial Planning (6 ECTS)
Überblick Vorsorgesystem (Das Schweizer Vorsorgesystem im Überblick)
Risikokarte private Haushalte (Umfassende Risikoanalyse)
Lebensversicherung und Versicherungstechnik (Produkte; Funktionen und Anwendungsgebiete von Lebensversicherungen (LV); Prämienberechnung; Verträge; Überschüsse; mathematische Grundlagen der LV-Kalkulation
Grundlagen Vorsorgesysteme (Alter/Invalidität/Tod (AHV/IV); Unfall (UVG); Krankheit (KVG); Arbeitslosigkeit (ALV); berufliche Vorsorge/Pensionskassen;Wohneigentumsförderung (WEF); Freizügigkeit; 1e Vorsorge; Säule 3a; Versicherungslösungen für Privatkundinnen und -kunden; kollektive Lebensversicherungslösungen; Bonität von Vorsorgeeinrichtungen)
Leistungsnachweis: Schriftliche Prüfung
Modul 2: Advanced Financial Planning (6 ECTS)
Vorsorgeauftrag (Rechtliche Grundlagen und Praxisfälle)
Internationale Aspekte der Vorsorge (Internationale Erwerbstätigkeit und Vorsorgeprogramme
Praxiseinblick in die Pensionierungsberatung (Praktische Umsetzung einer standardisierten Pensionierungsberatung bei einer Schweizer Grossbank)
Praxistransfer: Erarbeitung von diversen Fallbeispielen (Vorsorgeanalyse; Praxisfall Finanz- und Vorsorgeplanung für Unternehmerinnen und Unternehmer)
Case Study (Verstehen, Anwenden, Analysieren und Evaluieren)
Leistungsnachweis: In Form einer schriftlichen Prüfung sowie einer schriftlichen Fallstudie zu erbringen.
Der CAS kann einzeln oder als Teil des MAS Financial Consulting absolviert werden. Der MAS ist eine reine Fachausbildung in umfassender privater Finanzberatung und modular aufgebaut. Der gesamte MAS Financial Consulting besteht aus den nachfolgenden vier CAS:
Methodology
Der Unterricht knüpft unmittelbar an die Berufserfahrung der Teilnehmenden an. Die Dozierenden vermitteln anwendungsorientiertes Wissen und wenden zahlreiche weitere Lernmethoden in Kombination an:
Referate und Lehrgespräche

Diskussionen und Workshops

Bearbeitung von Fallstudien und Analyse von Best Practices

Einzel- und Gruppenarbeiten
Ein anwendungsorientierter Unterricht steht im Vordergrund. Das vermittelte Fachwissen wird durch die Teilnehmenden anhand von Anwendungsaufgaben und einer Fallstudie direkt erprobt.
More details about the implementation
Der Unterricht in diesem CAS ist neu als Mix aus Präsenzunterricht am Freitagnachmittag und Onlineunterricht am Samstagvormittag geplant. Ausnahmen sind möglich.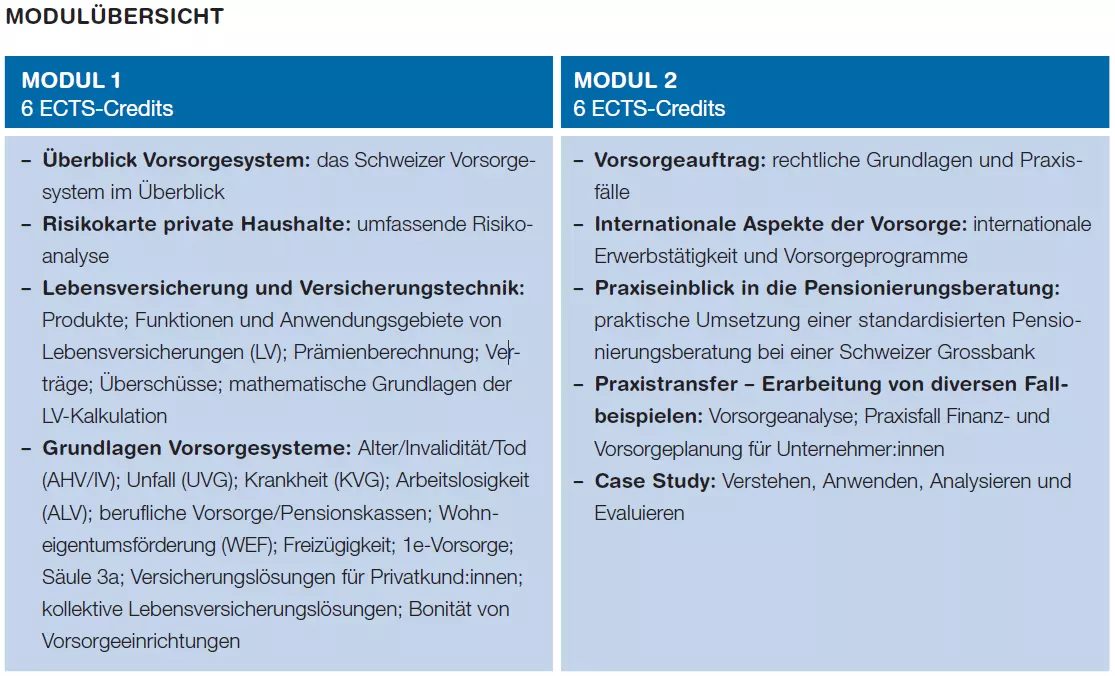 Provider
Institute of Wealth & Asset Management
Instructors
Die Lehrinhalte werden durch Dozierende der ZHAW School of Management and Law mit Forschungshintergrund und ausgewiesener Praxiserfahrung sowie Expertinnen und Experten aus der Wirtschaft vermittelt:
Nora Schöllkopf, Rahn & Bodmer Co.

Anita Burtscher, ZKB

Andreas Hefele, PFP

Reto Spring, Finanzplaner Verband Schweiz

Sowie weitere externe Praxisreferierende
Admission requirements
Zulassungsvoraussetzungen:
Tertiärer Bildungsabschluss und einschlägige Berufserfahrung
Hochschulabschluss (Tertiär A) und mindestens drei Jahre einschlägige Berufserfahrung, oder
Höhere Fachschule, höherer Fachausweis, höheres Diplom (Tertiär B) und mindestens fünf Jahre einschlägige Berufserfahrung
Als Hochschulabschlüsse (Tertiär A - Hochschulen) gelten:
Abschlüsse einer Universität UH oder einer Technischen Hochschule (Diplom, Lizentiat, Bachelor oder konsekutiver Master, Doktorat)

Abschlüsse einer Fachhochschule FH oder einer Pädagogischen Hochschule PH (Bachelor oder konsekutiver Master, FH-Diplom)

Abschlüsse einer Vorgängerschule der heutigen Fachhochschulen (wie ZHAW, HTL, HWV usw.)
Als Abschlüsse (Tertiär B – Höhere Berufsbildung) gelten:
Abschluss einer Berufsprüfung BP (eidgenössischer Fachausweis) oder einer Höheren Fachprüfung HFP (eidgenössisches Diplom)

Abschluss einer höheren Fachschule HF (z.B. HFW, HFBF, HFV usw.).
Folgende Abschlüsse (beispielhaft, nicht abschliessend) gehören weder zur Höheren Berufsbildung noch zu den Hochschulen und ermöglichen keine Aufnahme in den MAS FC oder in einen CAS
Eidg. Berufsattest EBA, Eidg. Fähigkeitszeugnis EFZ, Gymnasiale Matura, Berufsmatura, Fachmatura Nachdiplomstudium Höhere Fachschule (NDS HF) dipl. Finanzberater/in IAF usw.
Die Studienleitung entscheidet abschliessend über die definitive Zulassung zum MAS FC oder zu einem CAS.
General terms and conditions
| Start | Application deadline | Registration link |
| --- | --- | --- |
| 14.06.2024 | 03.05.2024 | Application |
Downloads
Brochure