IT offshoring: London and Bavaria more attractive than Warsaw and Bratislava
Swiss IT companies are offsetting the shortage of skilled labour by outsourcing business processes, and they find neighbouring countries particularly attractive. In addition to the low costs, the cultural and geographic proximity is valued – as demonstrated in the ZHAW nearshoring index.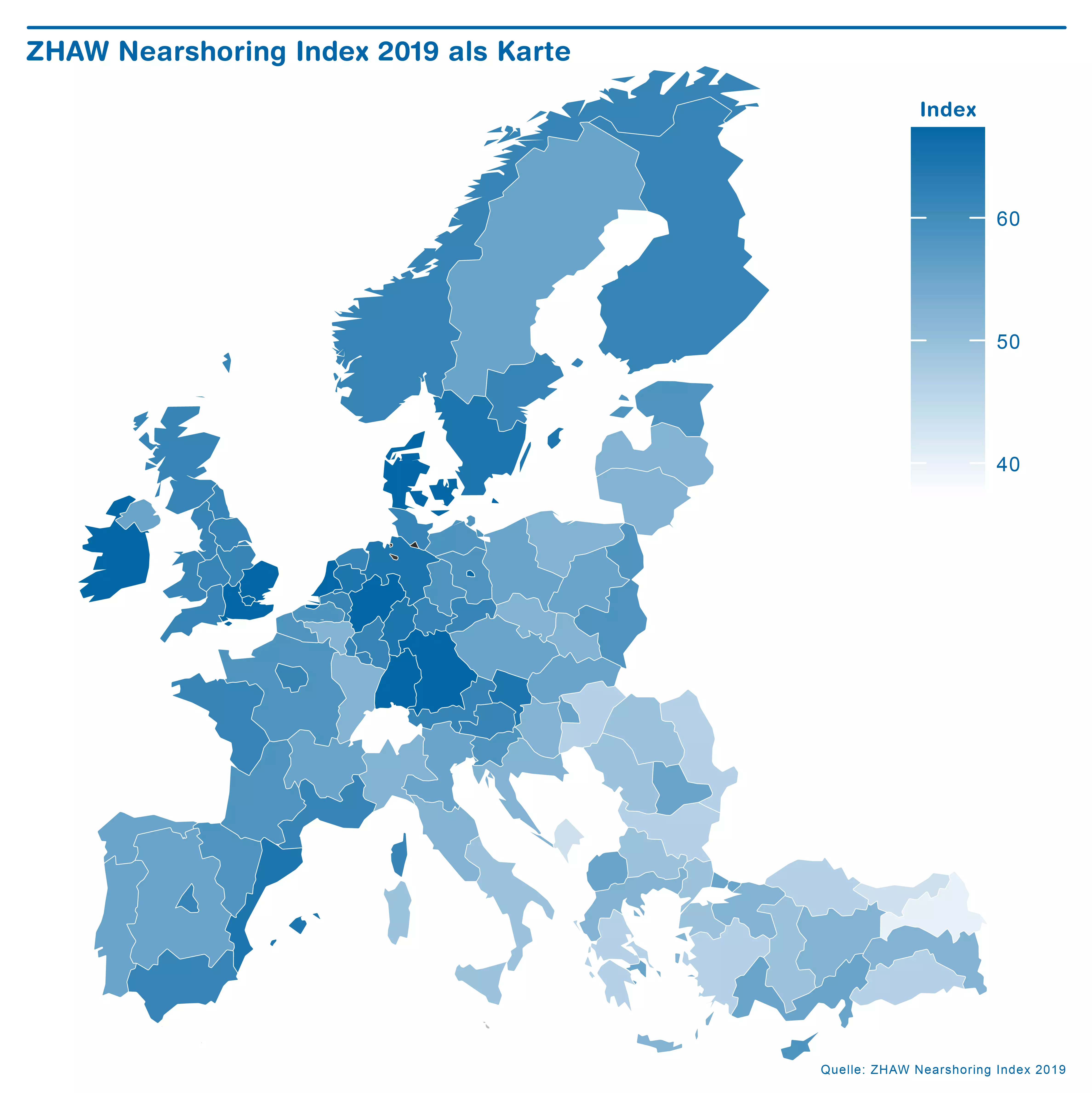 The shortage of skilled workers in Switzerland – especially in IT – is making the option of "nearshoring", a variant of offshoring, increasingly important for Swiss IT companies and service providers. These businesses generally select neighbouring regions with good availability of qualified IT professionals. In the ranking of the most attractive locations, London is in the lead, followed closely by south-east England and Bavaria, as shown in the ZHAW-Nearshoring-Index. «Larger urban areas like Berlin, Amsterdam and Madrid have become especially attractive to outsourcing business activities», says Benedict Zoller-Rydzek, project leader of the ZHAW study.
Skilled workers more important than low costs
Smooth working processes across borders are valued more highly than cost efficiency, which is the standard advantage of outsourcing to a low-wage country. "The geographic proximity and low communication barriers in terms of language and culture all promote efficient collaboration," says Florian Keller, co-author of the ZHAW study. "For Swiss IT companies, nearshoring is a viable option for dealing with the shortage of skilled labour in Switzerland, and it makes it possible for these companies to remain competitive in the long term, nationally and internationally," emphasises Zoller-Rydzek. Contrary to common perception, nearshoring in eastern Europe is not particularly interesting for Swiss IT companies, mainly due to the low availability of IT specialists, but also because of the large geographic distance and cultural disparities. Keller states that the low wages in the region can't compensate for these factors.
Developing an IT nearshoring index
The ZHAW has developed the nearshoring index in collaboration with the swissICT and Information Security Society Switzerland (ISSS) business associations. The index focuses on the optimal country-selection processes from the standpoint of Swiss IT enterprises, and on the fundamental appeal that various European regions offer as locations for IT service centres. In a survey of Swiss IT companies, the key factors for deciding on nearshoring were identified. Indicators included economic, geographic, cultural and institutional factors, as well as labour-market and cost-of-labour factors. Based on an expert survey, a relative weighting method was applied to analyse the factors. Labour-market factors, such as availability of qualified IT professionals, were considered most important, while economic factors, such as the size of the local market, were seen as being less important. The ZHAW nearshoring index was compiled based on these results.
Contact
Dr. Benedikt Zoller-Rydzek, Projektleiter, ZHAW School of Management and Law, tel. +41 58 934 46 90, email: benedikt.zoller

@

zhaw

.

ch
Dr. Florian Keller, Head of Center for EMEA Business, ZHAW School of Management and Law, tel. +41 58 934 46 97, email: florian.keller

@

zhaw

.

ch
ZHAW Corporate Communications, tel. 058 934 75 75, email: medien

@

zhaw

.

ch