TEDD Visit: University of Zurich Department of Pathology and Molecular Pathology
The mission is to support clinicians to better guide the individual cancer therapy for our patients. In order to do so, we use high fidelity patient derived ex vivo models of solid cancers to identify the effects of tumor specific factors upon oncogenic signalling, identify novel targets and treatment strategies with high efficacy.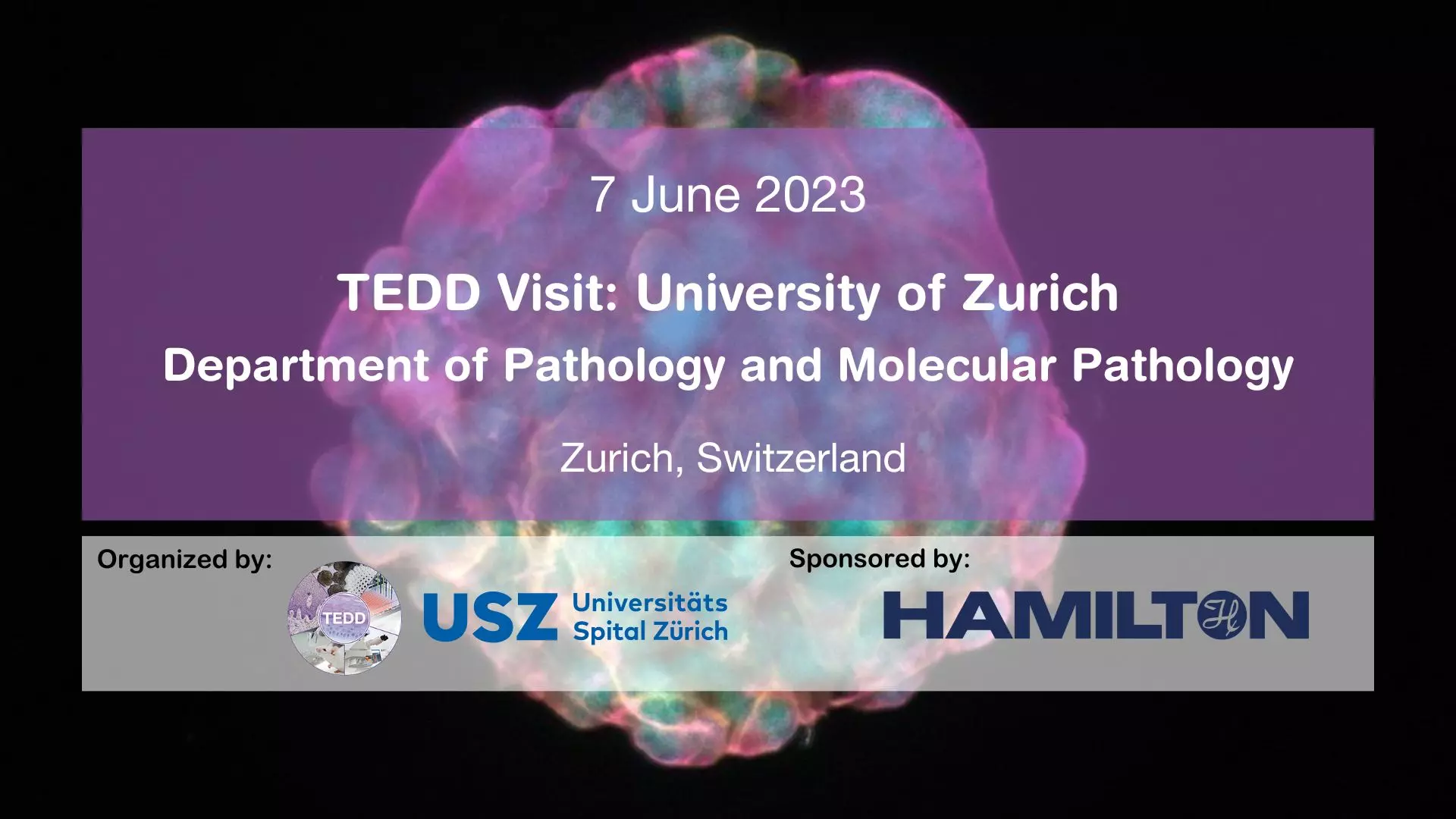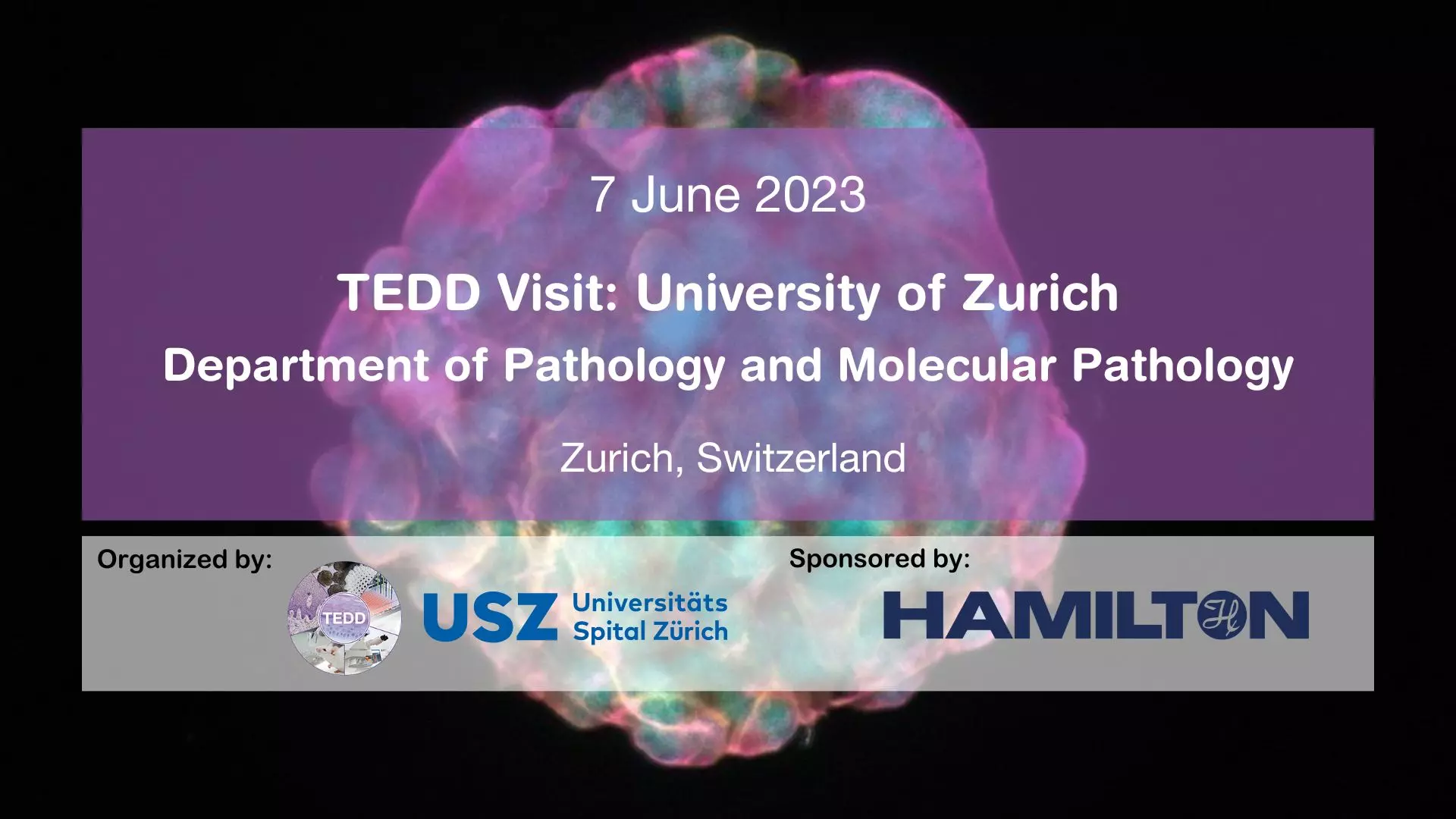 EVENT FOCUS
Our Clinical Activities
Our main focus is the development of high-fidelity patient-derived ex-vivo cancer models for functional precision oncology. With such an approach, we can complement static features by generating dynamic data that may encompass key vulnerabilities, including those conveyed by altered signalling pathways due to, for example, epigenetic changes not necessarily driven by distinct genomic aberrations.
Our functional precision oncology platforms integrate functional testing with comprehensive genomics, transcriptomics and clinical data in order to find druggable targets, redefine the standard of patient care, and improve patient outcomes.
Our Research Activities
Our research activities encompass medium to high throughput drug screening and CRISPR/Cas9 technologies on ex-vivo patient derived cancer models for the discovery and identification of novel drug targets an drug vulnerabilities in especially rare cancers such as soft tissue sarcomas and cancers that are difficult to treat (e.g. pancreatic cancer). We study the environmental influences on drug responses using different hydrogels. With the establishment of resistant patient-derived ex-vivo cancer cell models, we obtain insight into the mechanism of acquired drug resistance. Together with our collaborators, we further pursue projects using cutting-edge machine learning algorithms to better predict drug responses in patient-derived ex-vivo cancer models.
PROGRAM - See full program(PDF 240,0 KB)
10:15 - 10:45 Registration & Coffee

10:45 – 11:00 Welcome by Chantal Pauli and Markus Rimann

11:00 – 11:15 Talk 1: Functional Precision Oncology – A Clinical Approach

11:15 – 11:45 Talk 2: Science Pitches from the Laboratory of Systems Pathology and Functional Tumor Pathology.

11:45 – 12:00 Group photo

12:00 - 13:15 Lunch

13:15 – 14:30 Lab Tour (two-three groups of 10 - 15 minutes)

14:30 – 14:45 Closing words, Chantal & Markus
ORGANIZATION
Chantal Pauli, USZ
Markus Rimann, TEDD
Katarzyna Kopanska, TEDD
REGISTRATION
Register here: https://events.lsfm.zhaw.ch/en/tedd-university-visit
Space is limited. Maximum number of participants is 25. TEDD Partners have priority.
The deadline for registration is 31st May 2023
COST
TEDD Partners (two participants) no entrance fee

3rd and next TEDD Partner CHF 40

Others CHF 80
LOCATION
University of Zurich Department of Pathology and Molecular Pathology
Schmelzbergstrasse 12, 8091 Zürich
Grosser Hörsaal Pathologie Stock D
Switzerland
Date
Start date: 7 June 2023, 10.15 am