TEDD University Visit: Human 3D Tissue Models for Hazard Assesment and Cancer Research
The Adolphe Merkle Institute (AMI) is an independent competence center at the University of Fribourg that focuses on research and education in the domain of soft nanomaterials.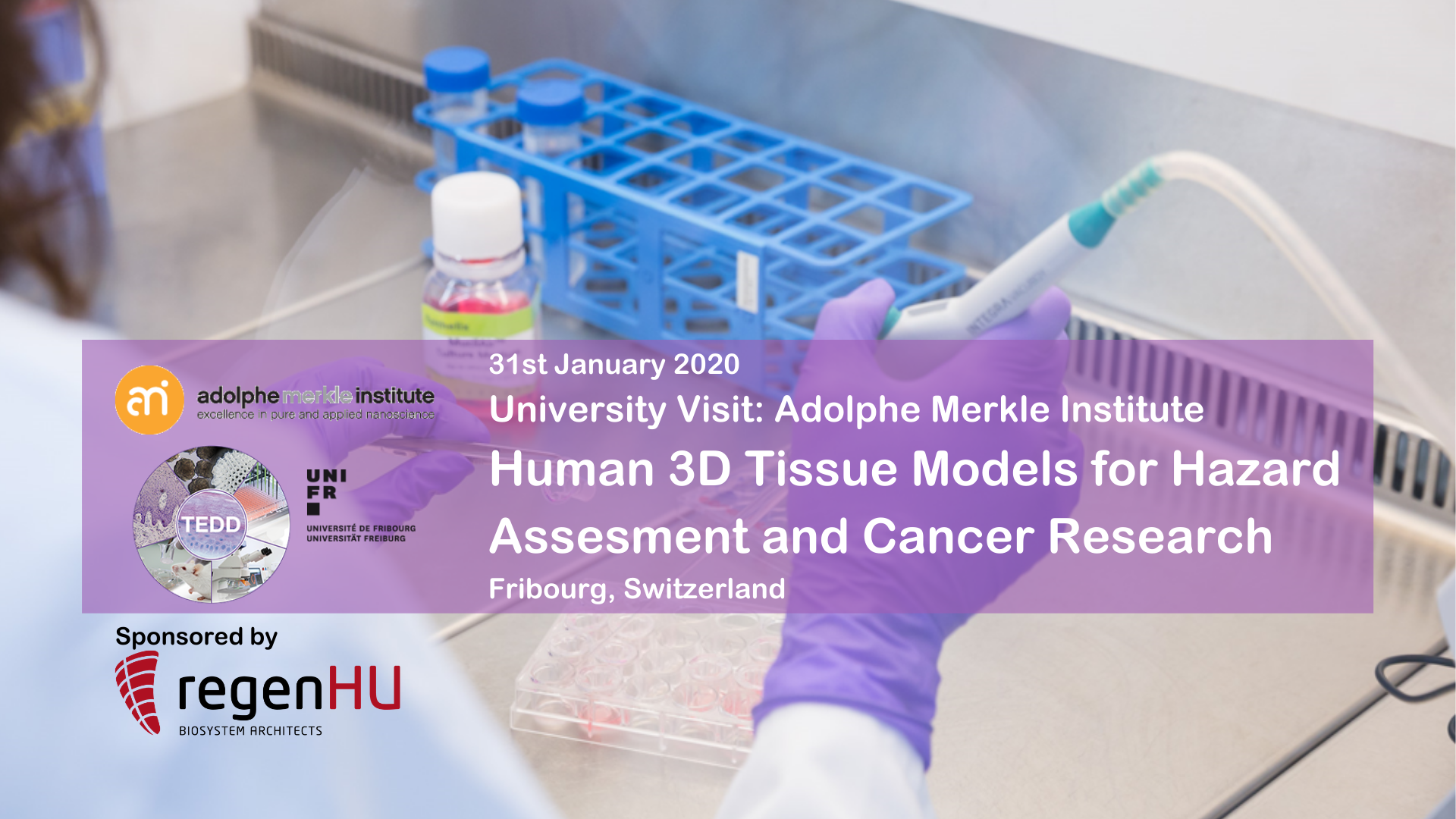 The BioNanomaterials group at AMI is investigating how tissue engineering approaches can be optimized to improve the predictive power of human 3D models. Ongoing research projects will be presented about how to investigate the hazard of aerosolized nanomaterials such as e.g. carbon nanotubes with lung tissue, the interaction of micro- and nanoplastic particles with a novel intestine model, and the effect of diesel exhaust particles on skin properties using a reconstructed epidermal model. Finally, emerging 3D Bioprinting technology for the design of an omental model to study the dynamics of cancer cells will be presented.
Few more spots available.
9.30 – 10.00 Registration and coffee/tea
10.00 - 10.10 Dr. Markus Rimann, TEDD Competence Centre, Prof. Barbara Rothen-Rutishauser, AMI, Welcome
10.10 - 10.30 Irini Dijkhoff, 'Simulating the impact of diesel exhaust particles on human skin.'
10.30 - 10.50 Manuela Estermann, '3D omentum model designed by bioprinting technology to study ovarian cancer spreading.'
10.50 - 11.10 Dr. Roman Lehner, 'A 3D intestinal model to study potential adverse effects of microplastic on human health.'
11.10 - 11.30 Hana Barosova, '3D human alveolar models to assess adverse effects upon exposure to aerosolized particles.'
11.45-12.15 Tour of laboratories
12.15-13.30 Lunch
Topics
Inflammed lung model

Human o mentum model by bioprinting approach

Skin tissue to assess environmental stressors

Intestine model to assess effects of plastic materials

Retina model
Date
Start date: 31 January 2020, 10.00 am

Location
Adolphe Merkle Institute, Fribourg, Switzerland
Organizer
Prof. Dr. Barbara Rothen, Adolphe Merkle Institute, Fribourg, CH