FameLab is back in Switzerland!
Care to share your passion for science with the public? Switzerland is looking for new talents in science communication.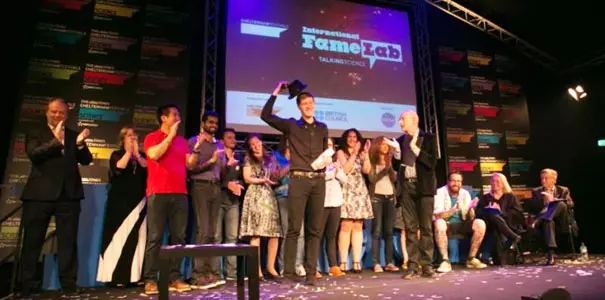 Come and join FameLab 2020, the international competition for science communication and become the new face of science in Switzerland. Amaze audience and jury with an original 3-minute talk on a scientific subject of your choice. Win the national competition and represent Switzerland in the international competition during the Science Festival in Cheltenham, UK, 2-7June 2020. The competition is open to all young scientists and engineers.
Registration for FameLab Switzerland is now open. Apply now!
Important Dates:
Deadline for applications: 21 February 2020

Semi-final Dates: Lausanne 5th March 2020, Zurich 12th March 2020 & Basel 19th March 2020

2-Day Masterclass: Geneva, 4/5 April 2020

Final: Bern, 9 May 2020
For more information on FameLab Switzerland see: www.britishcouncil.ch/famelab
Any questions? Contact FameLab Switzerland on info@lifescience.uzh.ch