TEDD University Visit: EPFL AGORA Translational Cancer Research Center
The EPFL Bioengineering and Organoids platform of the AGORA Cancer Research Center, located in Lausanne, is hosting the next visit event of our TEDD network.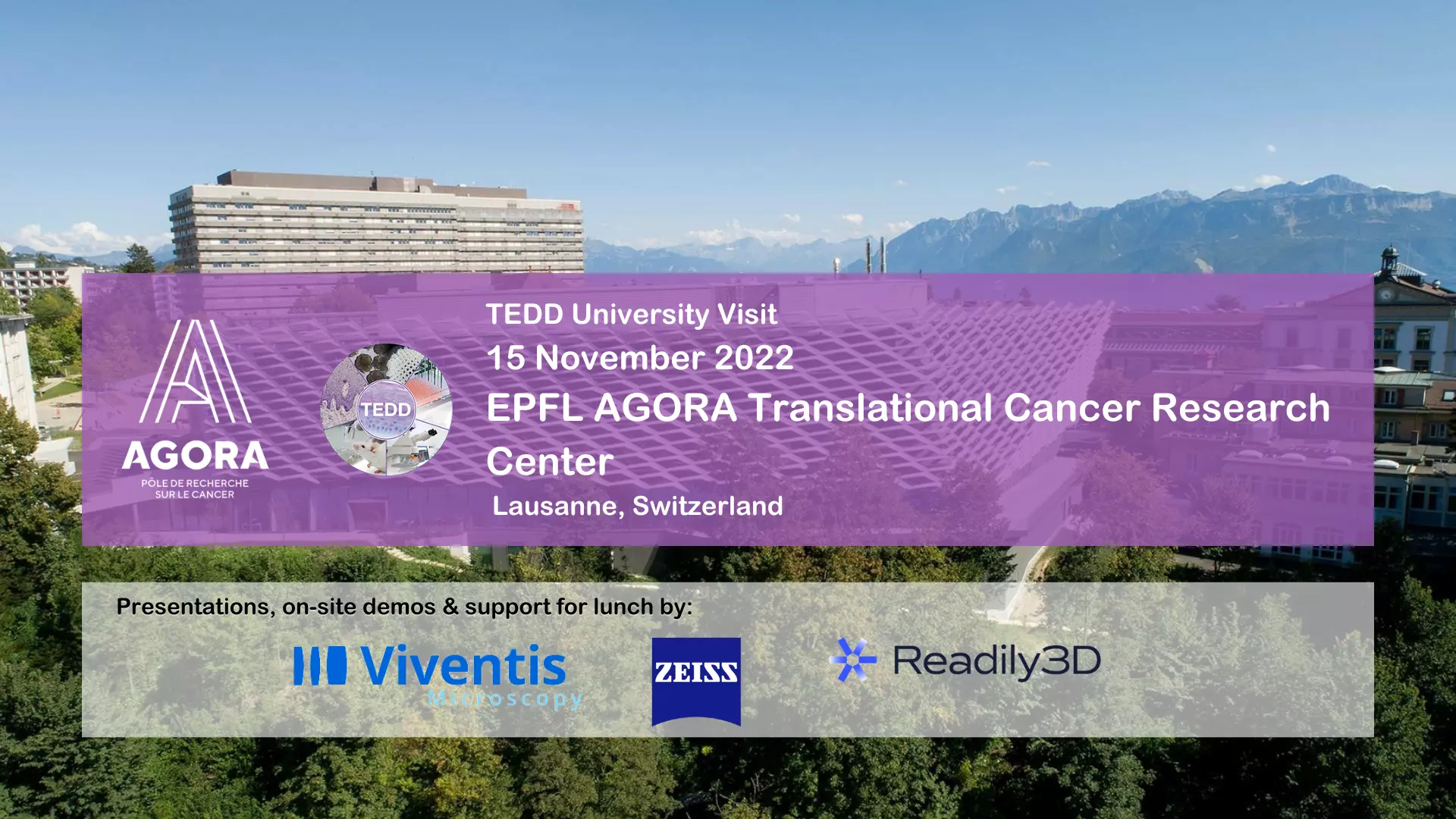 EVENT FOCUS
About AGORA
Founded by ISREC Foundation in 2018, AGORA Cancer Research Center represents a collective effort for the fight against cancer. It results from a partnership between major actors of the Lemanic area: Vaud University Hospital (CHUV), Lausanne University (UNIL), Swiss Federal Institute of Technology Lausanne (EPFL), University Hospitals of Geneva (HUG) and Geneva University (UNIGE).
The AGORA multidisciplinary community gathers cancer biologists, clinicians, bio-informaticians & bioengineers.This integrated & collaborative ecosystem enables to carry out translational development of new therapeutic strategies to fight cancer.
The visit
This event will showcase the AGORA translational research environment and the available infrastructure for bioengineering and organoids research. Scientific talks will present you concrete examples of applications towards clinical translation. A tour will guide you through the AGORA building and core facilities. Also, a dedicated visit of the new Bioengineering & Organoids platform (EPFL) will expose you to the on-site expertise in advanced 3D cell model, microfluidics, and automation.
DATE
15th November 2022
THIS EVENT IS FULLY BOOKED
ORGANIZATION
Gaspard Pardon, AGORA
François Signorino-Gelo, AGORA
Markus Rimann, TEDD
Katarzyna Kopanska, TEDD
COST
TEDD Partners (two participants) no entrance fee

3rd and next TEDD Partner CHF 40

Others CHF 80
Agora Pôle De Recherche Sur Le Cancer
Rue du Bugnon 25A
1005 Lausanne
Switzerland
Date
Start date: 15 November 2022, 10.30 am