Graduate Profile Céline Mathis
Companies are looking for graduates
Céline Mathis studied Electrical Engineering at the ZHAW School of Engineering. Since then she has been working as an all-rounder, successfully engaged in the development of customer-specific electronics – from the hardware through to the appropriate software.
Céline Mathis is highly versatile. As a project manager in a company supplying electronics development services, she not only serves as a direct contact for customers but also works primarily on customer-specific product developments. Her tasks extend from the evaluation of functions, via cost sensitivity, right through to the design of the end product. Today she talks about her projects in a self-assured manner.
This wasn't always the case. Despite training as an electronics technician and then gaining two years' practical experience, Céline Mathis felt that she was not sufficiently prepared for the world of work. "Earlier on, I had many dealings with specialists, including physicists, and realised that I still lacked a certain amount of knowledge," she explains. Taking the degree programme in Electrical Engineering at the ZHAW School of Engineering was thus a logical step for her.
What I learned in my degree programme is ever present in my mind, making it easier for me to understand the challenges I encounter in product development.
Céline Mathis
Surprises with an impact on the future
Céline Mathis was initially surprised by the intimate nature of her degree programme. "I didn't think I'd be learning in a class again once I'd finished school," she recalls. But through the classroom teaching she built up close contacts with her fellow students, which she still maintains today. Céline Mathis completed her three-year degree programme on a full-time basis. As she sees it, the basic prerequisites for coping with the full programme are enthusiasm and an understanding of electrical engineering and information technology issues. Students must also possess the necessary independent planning skills. And, at the same time, it is important not to neglect the ability to work in a team. "The work has to be divided up and the part being done by the other team members must also be respected," she says, because both the project work and the Bachelor's dissertation are best carried out in a team.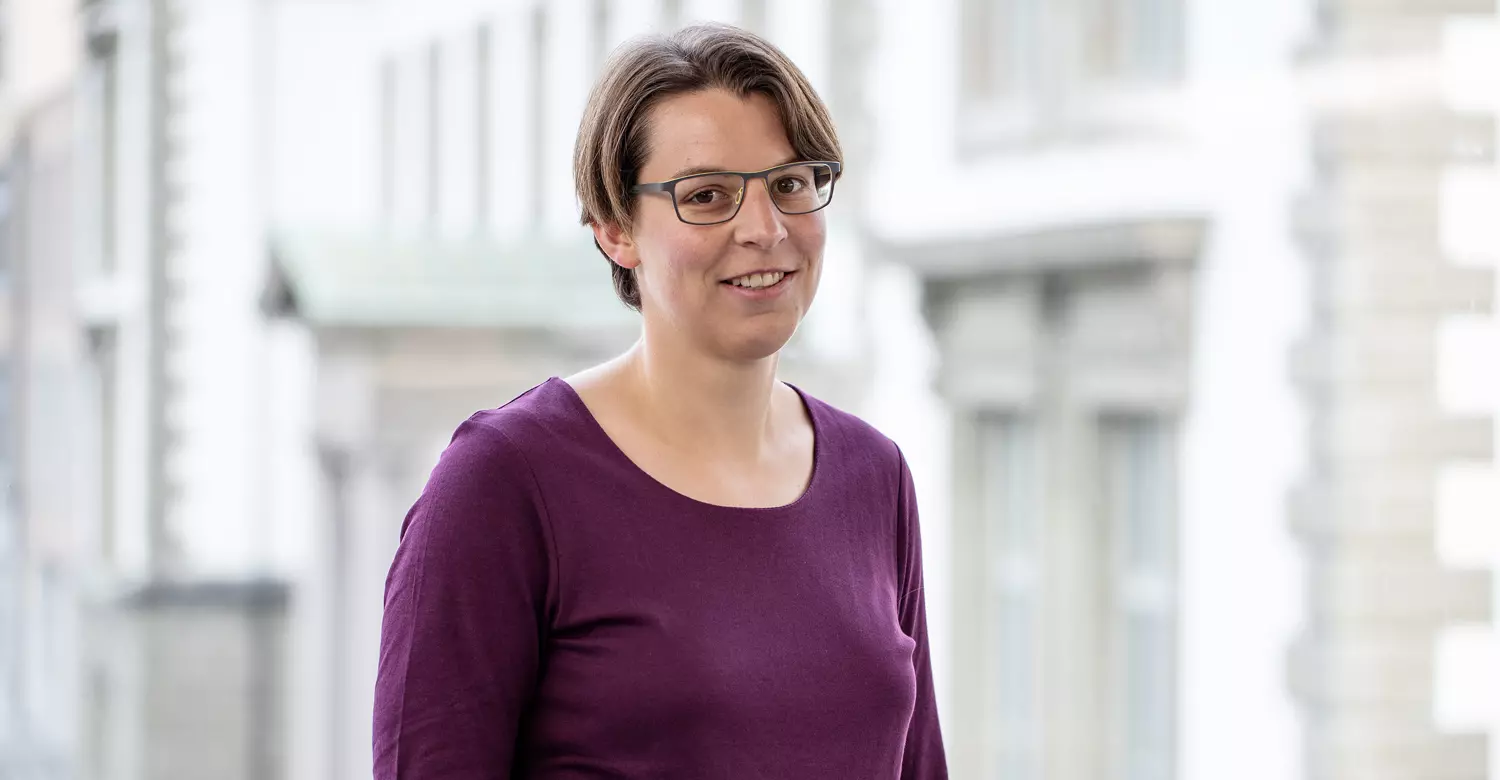 Degree programme the correct choice
If you ask Céline Mathis what she particularly liked about her degree programme, it was the fact that the entire programme was practically oriented. Working in the laboratory was particularly important for her, since this enabled her to put into practice the theory she had learned in the lectures and gain an understanding of how it was applied. In the final year of the degree programme, she particularly appreciated the fact that she was able to put together her own lecture schedule so as to reflect her own interests. This enabled her to pursue individual specialisations within the programme – such as wireless communications and digital signal processing. "These are highly complex topics that you can't learn so easily by yourself. That's why this degree programme was the right choice," says Céline Mathis. She also benefited greatly from the mathematics. "Although you cannot, of course, transfer the calculations one-to-one, you do learn to abstract things," she says. And this is something that helps her now in her day-to-day work. What I learned in my degree programme is ever-present in my mind, making it easier for me to understand the challenges I encounter in product development."
Continuous learning for personal development
Céline Mathis' original specialisations were communications engineering and electronics but, in her professional life, she has continued to educate herself in other areas too – including on the topic of standards. She still regards continuous learning as important for her personal development and independence. She laid the foundation for this with her degree programme in Electrical Engineering.
Her degree programme also helps her when it comes to developing prototypes on the basis of customer requirements, such as a welding machine with the associated power electronics. After evaluating the requirements, Céline Mathis designs the circuit diagrams, configures the hardware and programs the software. She then optimises the devices in consultation with the customer up to the point where they are ready for approval and certification. It is these many different aspects to her work that make the job so attractive for her.
After completing her degree programme, Céline Mathis immediately found an interesting job and was able to choose from a number of offers. She considers that there will be very good job prospects for those completing the degree programme in Electrical Engineering in future. "Companies are looking for graduates," she says. "The market is not saturated and so it's relatively easy to find a job that you will enjoy."