Institute of Signal Processing and Wireless Communications (ISC)
The Institute of Signal Processing and Wireless Communications (ISC) develops solutions ranging from antennas and sensors to digital signal evaluation.

Whether radio frequency, RFID, electronics or digital signal processing - we ensure that your information is precisely measured, securely transmitted and efficiently processed. Both in research and development and in teaching, we focus on the three main topics:
Electronics and Radio Frequency Technology

Communications Engineering and Wireless Systems

Digital Signal Processing
In close cooperation with you as our industrial partner, we develop innovative and sustainable solutions in our well-equipped laboratories. Depending on your requirements, we offer various forms of cooperation:
Project or Bachelor thesis with electrical engineering students

Master thesis of the course MSE Engineering

Research project in cooperation with Innosuisse, SNF and foundations

Direct order in consultation according to your needs
Our team of over thirty experienced and qualified engineers is looking forward to answering your questions.
Bluetooth Low Energy RFID
The Institute of Signal Processing and Wireless Communications (ISC) develops practical hardware and software solutions for communications and measurement systems. The focus is on the holistic optimization of the complete signal chain from the sensor or antenna to the digital evaluation. In addition to theoretical know-how, the ISC also brings many years of experience in product design to the cooperation with industrial partners.


Elektronics and radio frequency technology
In electronics, our particular strengths include analogue signal processing with low-noise and low-power circuits for sensors and energy harvesting. In the high-frequency range we find the suitable design for RF transmitters, receivers and antennas for your applications and needs.
Communications Technology and Wireless Systems
In this research and development area we focus on the physical level of wireless communication: radio propagation, modulation techniques, error correction mechanisms and data compression techniques. Whether RFID, Bluetooth, WLAN, DAB, DVB, GPS or ADS-B - with our expertise in system design you can transmit your information safely, reliably and efficiently over all distances.
Digital Signal Processing
The signal processing is based on algorithms. They are used to adapt the complexity of the data to its use, whereby the rule is: as simple as possible and as complex as necessary. Our experience in designing, simulating and defining algorithms allows us to quickly find a suitable algorithm for the real-time processing of your audio, image and measurement signals of all kinds. And we know how to implement lean and powerful solutions on various microcontrollers, signal processors or CPLD/FPGAs.
Services and Infrastructure
The ISC has well-equipped electronics laboratories and RF measuring instruments up to 20 GHz. Within a short time, functional samples, prototypes and small series can be realized
Studies and continuing education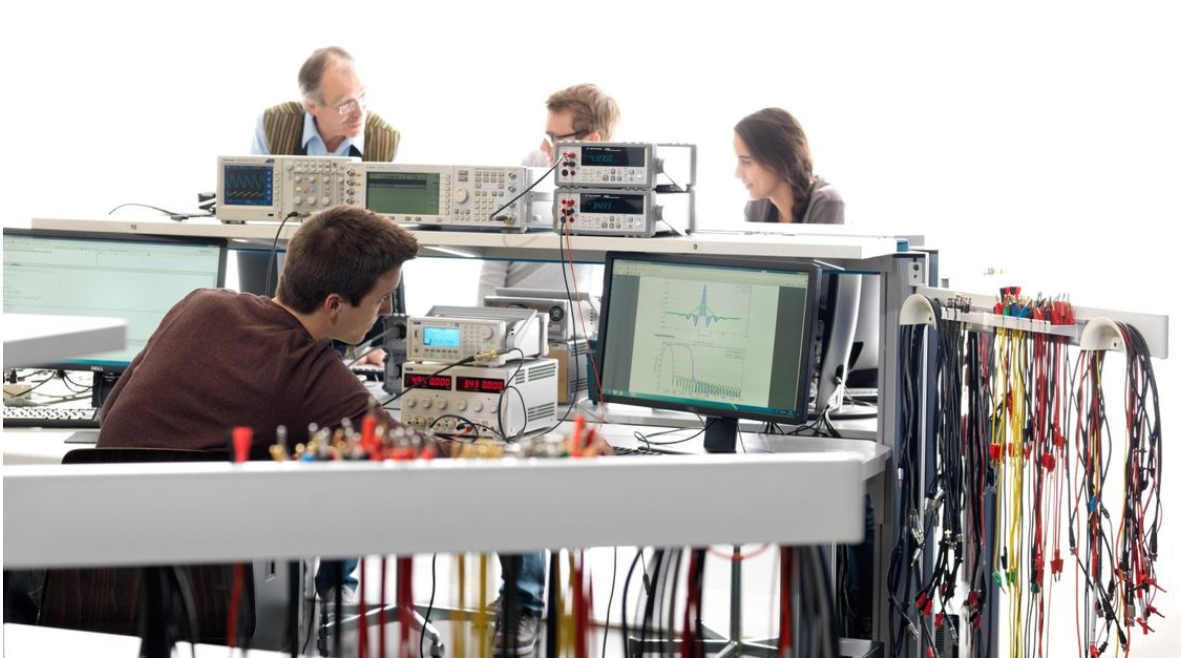 Acquisition, transmission, processing and evaluation of signals: These competencies of the Institute of Signal Processing and Wireless Communications (ISC) are in demand in the Bachelor's and Master's programs of the School of Engineering. Learn with us in the areas of mobile communications, electronics, analog and digital signal processing and you are well prepared for the challenges of your engineering career.


The ISC mainly teaches students of the Bachelor of Electrical Engineering and Systems Engineering.
The lecturers of the ISC continue to teach in the following Bachelor courses:
In cooperation with industrial partners, we carry out project or bachelor theses with the students every semester.
Together with the Institute for Mechatronic Systems (IMS), the ISC forms a Master Research Unit (MRU) of the Master of Science in Engineering (MSE). The MSE is a practice-oriented cooperation master of the seven Swiss universities of applied sciences and is aimed at students with a very good bachelor's degree. They can complete the MSE full-time or part-time. In your master thesis you solve real problems mostly in cooperation with an industrial partner.


ISC at a glance
3 main topics:
Elektronics and Radio Frequency technology

Communications Engineering and Wireless Systems

Digital Signal Processing