Parkmate: Next generation parking aid
Parkmate is an assistance system used for semi-automatic parking. The systems measures cars and parking-spaces and calculates the optimal trajectory for parking.
In the Parkmate project, in collaboration with Siemens VDO, the IMS developed a next generation parking aid.
Parkmate is a system for half automated parking, measuring the parking space and calculating an optimal parking trajectory. Direction is automated during the parking process, the driver merely needs to brake, shift and accelerate. A Human Machine Interface (HMI) is used for interaction between the Driver (who always keeps control over the vehicle) and the mechatronic parking system.
Two test vehicles were used during the project. The algorithms were developed in Matlab/Simulink and C and tested on a DSPACE Rapid Prototyping System in the car. A CAN network for actuator and sensor control was built around the DSPACE car box.
The IMS' tasks comprised the following points in particular:
Implementation of test vehicle interfaces

Development of geometric algorithms for contour detection and parking space orientation

Analysis of the observation density through overlay of the sensor view fields

Development of multi move parking

Implementation of two prototypes, based on a Smart and an Audi A8

Implementation of the parking process and the HMI interface

Development and implementation of a simulation for customer presentation and algorithm testing
Project details
Project partners:
Links to our project partners: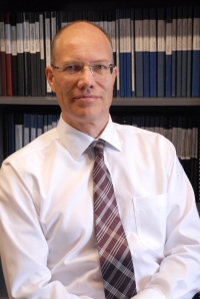 Prof. Dr. Hans Wernher van de Venn
ZHAW School of Engineering
Institute of Mechatronic Systems
Technikumstrasse 5
8400 Winterthur