Photovoltaics plants in Frauenfeld, Switzerland, with audience appeal

Parking lots can be used more efficiently if roofs with solar modules are installed. The roofs produce power and provide shade. If all suited parking lots are covered by roofs, the generated energy could be used to power roughly 20 % of vehicles in Frauenfeld with solar electric power.
Implementation and results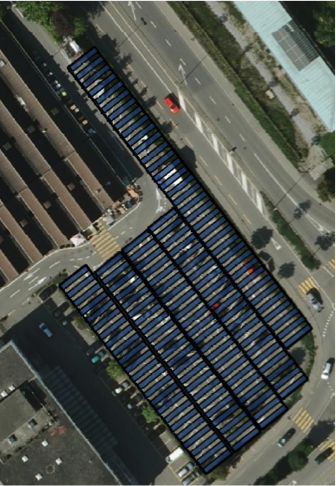 On behalf of Werkbetriebe Frauenfeld, the ZHAW Institute of Energy Systems and Fluid Engineering (IEFE) examined possible sites for photovoltaics projects with audience appeal. The goal for all facilities was to maintain their original purpose and thereby create a dual use for the space. The provision of shade in the areas was measured on site and its yield was simulated. This creates an unused potential of up to 510 MWh power per parking lot, which equals the power consumption of roughly 130 households.
At one glance
Involved Institutes and Centers:
Project partner:
Project status: completed