Dr. Chiara Catalano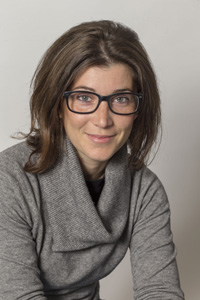 Dr. Chiara Catalano
ZHAW School of Life Sciences and Facility Management
Research Group Green Space Development
Grüentalstrasse 14
8820 Wädenswil
Personal profile
Position at the ZHAW
Scientific Collaborator (Researcher)
Urban Ecosystems Research Area
Research Group Green Spaces Development

www.zhaw.ch/iunr/gruenraum
Expertise and research interests
Architectural Design - Urban Ecology - Vegetation Analysis
Educational background
2017 PhD, Title of the dissertation: "Biodiverse green roofs in Mediterranean climate input and lessons learned from Germany and Switzerland"
2013-2017, PhD student in Technologies for Sustainability and Land Restoration - Università degli Studi di Palermo - Dipartimento di Scienze Agrarie e Forestali, Italy
2012, Master of second level in Eco engineering and Land Restoration, Università degli studi di Palermo, Dipartimento di Scienze Naturali Fisiche e Matematiche, Italy
2008, Master in Architecture (Urban Planning, Building Design and Restoration), Università degli studi di Catania, Italy
2000, High School in Science, Math, Phisics and Informatics specialisation, Catania, Italy
Professional milestones
2017 till present, Employed as Researcher at ZHAW
2014-2016, Employed as Assistant Researcher (Doktorandin) at ZHAW
2010-2011, Assistant Architect by Studiodeda eco-engineering office in Catania (Italy)
2009, Assistant Architect by ecologicStudio London (England)
2005-2008, Internship by Studiodeda eco-engineering office in Catania (Italy)
Membership of networks
Projects
Publications
Articles in scientific journal, peer-reviewed
Books and monographs, peer-reviewed
Book parts, peer-reviewed
Catalano, Chiara; Pasta, Salvatore; Guarino, Riccardo,

2021.

A plant sociological procedure for the ecological design and enhancement of urban green infrastructure

.

In:

Catalano, Chiara; Andreucci, Maria Beatrice; Guarino, Riccardo; Bretzel, Francesca; Leone, Manfredi; Pasta, Salvatore, eds.,

Urban Services to Ecosystems.

Cham:

Springer.

pp. 31-60.

Future City ; 17.

Available from: https://doi.org/10.1007/978-3-030-75929-2_3

Baumann, Nathalie; Catalano, Chiara; Pasta, Salvatore,

2021.

Improving extensive green roofs for endangered ground-nesting birds

.

In:

Catalano, Chiara; Andreucci, Maria Beatrice; Guarino, Riccardo; Bretzel, Francesca; Leone, Manfredi; Pasta, Salvatore, eds.,

Urban Services to Ecosystems.

Cham:

Springer Nature.

pp. 13-29.

Future City.

Available from: https://doi.org/10.1007/978-3-030-75929-2_2
Other publications
Oral conference contributions and abstracts
Catalano, Chiara; Meslec, Mihaela,

2022.

Digital urban development targeting net-gain biodiversity goals : the DeMo Project, a holistic spatial-based framework to integrate habitats in constructed ecosystems.

In:

Book of Abstracts INUAS Konferenz 2022.

INUAS Konferenz 2022 "Urbane Transformationen: Öffentliche Räume", Winterthur, Schweiz, 7.-9. November 2022.

pp. 76-77.

Available from: https://www.inuas.org/wp-content/uploads/2022/09/INUAS_BoA_220906_high.pdf

Catalano, Chiara; Guarino, Riccardo; Brenneisen, Stephan,

2013.

A plant sociological approach for extensive green roofs in Mediterranean areas.

In:

11th Annual Green Roof & Wall Conference, San Francisco, 23-26 October 2013.
Publications before appointment at the ZHAW
Catalano, C., Aprile, S., Guarino, R. (2013). Verde pensile estensivo ad alto valore ecologico in ambiente mediterraneo: aspetti progettuali e funzionali. In Moccia F., D. (eds), Città sobria. Collana: Governo del territorio e progetto urbano - Studi e Ricerche, 7, 489-497. Edizioni Scientifiche Italiane, ISBN 978-88-495-2738-4. DOI: 10.13140/RG.2.1.5035.7520
Other publications
Posters
- Catalano, C. (2017). Can soil-based green roofs sustain Mediterranean dry grasslands of the AU-Habitat 6220*?. Poster at COST FP1204: Nature based solutions for sustainable and resilient cities, Orvieto, 7/4.04.2017

Conference, Seminar and Workshop presentations

2017
- Catalano, C. (2017). Extensive green roofs: stepping stones for Habitat of Community Importance. Seminar "Green Roof and Biodiversity", Presentation at Consiglio Nazionale delle Ricerche (CNR), Pisa, 03.04.2017
- Catalano, C. (2017). Verde pensile estensivo ad alto valore ecologico in ambiente mediterraneo. Presentation at Vestire il Paesaggio, Pistoia. 14.06.2017
- Catalano, C. (2017). Urban stepping stones of 92/43/EEC habitats can be established on green roofs in temperate and Mediterranean cities, through the interaction of plant sociology, land restoration and ecological design. Presentation at the 60th Annual symposium of the International Association of Vegetation Science (IAVS), Parallel session green infrastructure and vegetation science. Palermo, 21.06.2017
- Catalano, C. (2017). Biodiverse green roofs in temperate and Mediterranean climate. Presentation at End of Project Seminar for the LIFE12 ENV/MT/000732, Life Med Green Roof Project, Malta. 20.07.2017
- Catalano, C. (2017). Biodiverse green roofs. Workshop with visitors from Täby Municipality (Sweeden). Presentation at Toni Areal, Zurich, 28.08.2017
- Catalano, C. (2017). Biosolar green roof: Innovation in Integrating Biodiversity with Technology. Presentation at the 4th International Skyrise Greenery Conference. Green Urbanscape Asia, Singapore 10.11.2017

2018
- Catalano, C. (2018). European Green Roof Norms and Guidelines through the lens of Biodiversity. ICIG International Green Infrastructure, SESSION 4: Nature-Based Solutions for Resilient Cities, Porto 24.05.2018
- Catalano, C. (2018). Increasing Urban Biodiversity through Greening, 70TH AIPH Annual Congress, International Green City Conference, Padova 19.09.2018