TEDD Annual Meeting 2020
10th Anniversary - 10 Years of Innovation in Tissue Engineering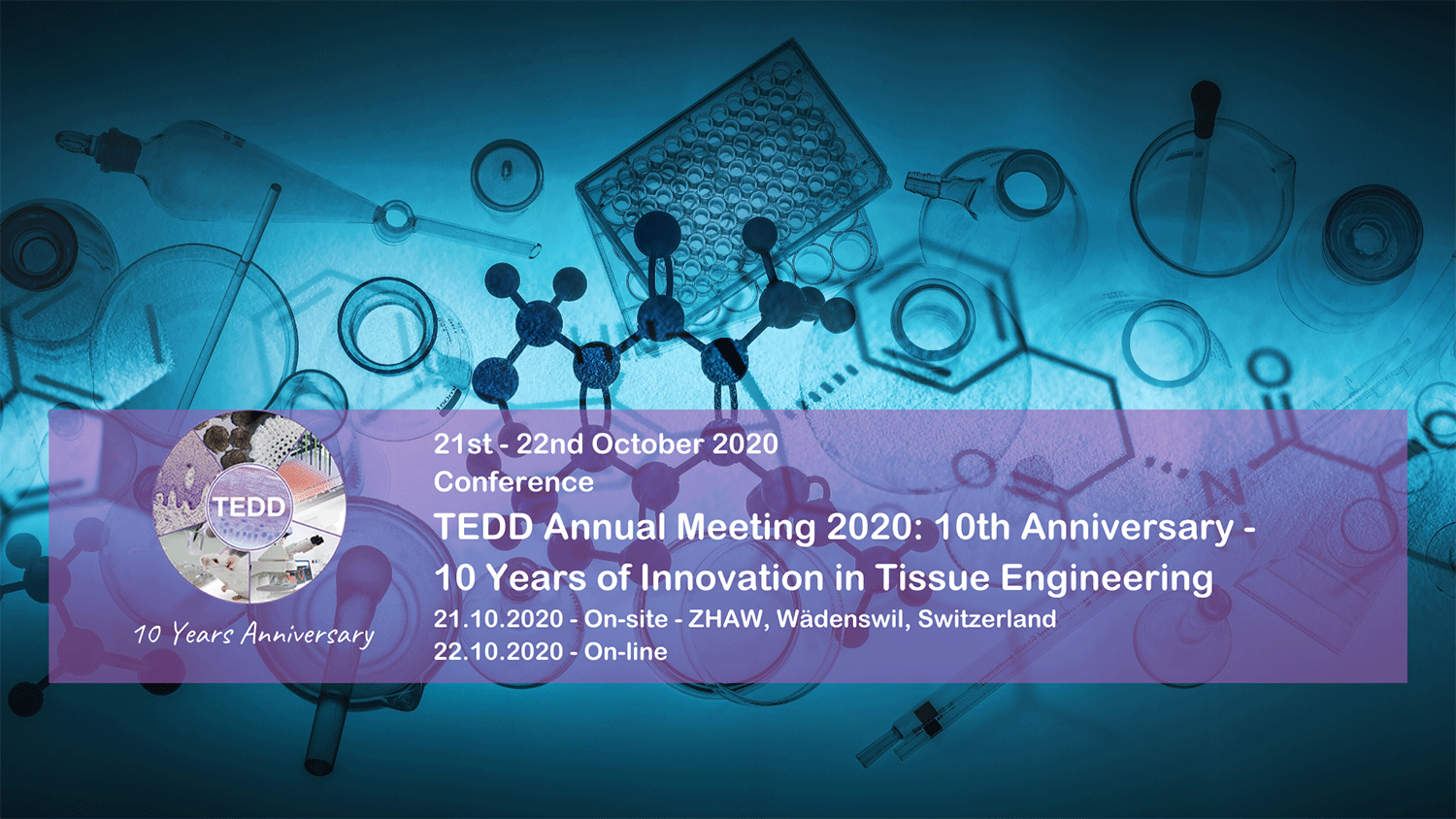 21st October 2020 – On-site Event at Zurich University of Applied Science, Wädenswil, Switzerland
22nd October 2020 – On-line Symposium
This year, the TEDD Competence Centre celebrates its 10th anniversary!
However, this year everything is different. The world is facing the COVID-19 pandemic, and we question our way to live. Nevertheless, things are getting back to the "new" normal, and institutions slowly organise congresses and events with physical attendance again.
The TEDD Annual Meeting 2020 will take place on 21st and 22nd October. On the first day, we will have a physical on-site meeting with the Executive Committee of a potential new National Thematic Network Innovation Booster (NTN IB) "Cell Insights 4 Life" (CI4L). During the meeting, we would like to introduce the vision of the NTN IB CI4L. A Swiss-wide consortium including TEDD submitted a proposal end of February 2020 to the Innosuisse for the NTN IB CI4L aiming to foster the development of next-generation microphysiological systems (MPS) based on 3D cell culture, organoid and organ-on-chip technology. To enable visionary projects and radical innovations, the network will cover multidisciplinary fields and connect different industry sectors, like pharma, medtech, cosmetics, diagnostics, fragrances and food with each other. The members of the Executive Committee will share their vision and demonstrate the benefits of the new NTN IB CI4L.
The second day of the TEDD AM is dedicated to cutting edge academic and industrial research. This year, for the first time, it will be a fully on-line event. The focus will be on MPS and its application in different fields, including research on the novel coronavirus and the development of in vitro disease and infection models. The on-line event will not only provide presentations but also allow you to network through the platform "Talque". Additionally, we provide companies with the possibility to present themselves over the "lunch break" with break-out sessions to compensate for our famous lunch break with the company exhibitions.
We invite you to join us for the TEDD 10th anniversary and encourage you to contribute to the future of TEDD actively.
PROGRAM
Detail program will follow
Confirmed
Keynote: Dr Uwe Marx, CEO of TissUse
EXHIBITION
This year we decided to support our TEDD Partners in their business opportunities. Many organisations faced difficulties due to COVID-19 pandemic. We wave additional TEDD AM2020 exhibition fees.
We cordially invite all organisations to apply for the virtual exhibition booth (first-come, first-served) during the breakouts on the platform Talque.
More information will follow soon.
Book your booth now! If you are interested to book your spot email us as info.tedd@zhaw.ch.
Exhibition Fee
REGISTRATION
Registration will be open in late summer
TEDD Partner - First two participants - No entrance fee
Standard Fee - Two Days - CHF 150
TEDD Partner - Third and next participant - 50% off CHF 75
Students CHF 75
Date
Start date: 21 October 2020
End date: 22 October 2020
Location
ZHAW, Wädenswil, Campus Grüental
Organizer