Editorials Annual Report 2019
Ideal conditions for research and teaching
Dr. Silvia Steiner, Government Councillor and President of the Council of the Zurich Universities of Applied Sciences and Arts
The Zurich Universities of Applied Sciences and Arts are a true model of success. All three universities – the Zurich University of Applied Sciences (ZHAW), the Zurich University of the Arts (ZHdK) and the Zurich University of Teacher Education (PH Zurich) – are well established and offer attractive educational opportunities to young people in the Canton of Zurich. Their applied research has proven its worth to companies as well as to our society. In order to meet upcoming challenges, the universities have launched ambitious projects and initiatives. I would like to mention three of them here.
The ZHAW, ZHdK and PH Zurich individually strive for federal accreditation as universities of applied sciences. Being recognised as such would enable the universities to position and establish themselves as individual institutions within the academic landscape even further. This change requires reorganising the Zurich Universities of Applied Sciences and Arts (ZFH), which until now had acted as an umbrella organisation. The concrete restructuring measures will be elaborated upon within a consultation process conducted by the Cantonal Department of Education on behalf of the Government Council.
The performance mandate of the Zurich Universities of Applied Sciences and Arts has developed both quantitatively and qualitatively over the past years. Besides research and teaching, we have also consistently expanded the fields of continuing education and business services in accordance with the needs of society and the economy. Our task now is to align our personnel's terms of employment with these standards. As a first step, the Canton of Zurich must change the Zurich cantonal legislation governing the universities of applied sciences and arts (FaHG) and subsequently revise the personnel ordinance of the Zurich universities of applied sciences and arts (PVF). These steps will enable the universities to fulfil their performance mandate even more flexibly. At the same time, they will ensure that the universities remain attractive for teaching, research and administrative staff.
We consider digitisation a major opportunity and embrace digital challenges. The Government Council lives up to its responsibility in this regard by supporting the first joint digitisation initiative of universities in Zurich (DIZH). The initiative serves to closely combine efforts in the area of digitisation and aims to bolster the canton's ability to compete as a hub for education, research and development. The initiative supports society and the economy to take advantage of the opportunities that digitisation affords and to use them effectively throughout the canton of Zurich. The universities will, for example, be involved in establishing a centre of competence for digitisation.
I am very proud to say that the Zurich Universities of Applied Sciences and Arts are well prepared for future challenges. I will continue to engage myself in providing ideal conditions for research and teaching. I am certain that Zurich as a location of education will continue to benefit from its excellently positioned Universities of Applied Sciences and Arts.
Making knowledge accessible for everyone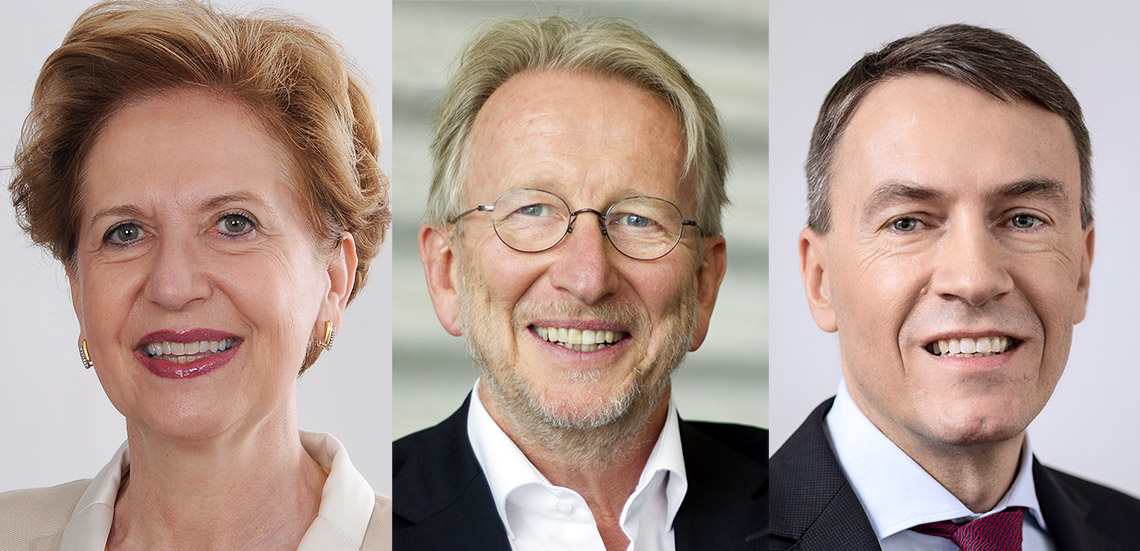 Prof. Dr. Dr. h.c. Andrea Schenker-Wicki, Member of the Council of the Zurich Universities of Applied Sciences and Arts, ZHAW guest lecturer
Dr. Matthias Kaiserswerth, Member of the Council of the Zurich Universities of Applied Sciences and Arts, ZHAW guest lecturer
Dr. Thomas Ulrich, Member of the Council of the Zurich Universities of Applied Sciences and Arts, ZHAW guest lecturer
Open Science aims to achieve a paradigm shift in academic by creating open access to academic publications as well as to open research data. In 2015, an Open Access Policy was implemented by the ZHAW in which it declared that it would provide the public with open access to research findings provided that there are no legal restrictions. The next step is to make research data available to ensure the efficient use of funds, which includes avoiding the duplication of existing data, supporting good academic practices through greater transparency and thereby creating new possibilities for researchers.
This paradigm shift to Open Science is changing academic practice. Keywords representing this change are data management, review processes, and presentation and increased verifiability of results. Universities face an additional challenge, since most of their research and development (R&D) takes place with practice partners whose data management requirements, including the issue of confidentiality, need to be met. The ZHAW addressed this when it adapted its R&D policy in 2019 and committed itself to the Open Science movement. The revised policy also recognises the contractual and legal obligations concerning confidential R&D projects with practice partners or projects dealing with sensitive data.
Various pilot projects in diverse fields reflect this cultural change at the ZHAW. These projects are specifically created to address the requirements for Open Science. Moreover, an interdisciplinary team is developing a comprehensive range of services for managing research data, which includes evaluating suitable tools as well as the service needs of researchers, which are as diverse as their fields of research. In addition, the ZHAW is contributing to two national projects as part of the P- programme "Scientific information" from swissuniversities. These projects focus on creating consistent processes and standards for accessing, editing and archiving research data throughout Switzerland.
Parallel to the Open Access movement is the Open Education movement, which calls for free access to education. In accordance with its strategic goals, the ZHAW strives to achieve a sharing culture in which open educational resources occupy an important position within teaching. The ZHAW encourages and calls for the provision, use and joint development of teaching and learning resources as open educational media through the efforts of its teaching staff. In 2019, a corresponding policy was implemented to reinforce this goal.
When it comes to the future of Open Science, there remain many unanswered questions. For instance, there are legal and ethical questions concerning data sovereignty, data protection, rights of use and personality rights, as well as questions in regard to the inclusion of practice partners. Another open question is how incentives can be created in order to allow the academic community to internalise the concept of Open Science.
The Council of the Zurich Universities of Applied Sciences and Arts recognises that the ZHAW is intensively discussing these issues and actively contributing its expertise to projects throughout Switzerland.
Setting an example for sustainable development
Prof. Dr. Jean Marc Piveteau, President
The debate on climate change has been gathering momentum for a year now, as evidenced by the strong mobilisation of young people. I am excited about this development for two reasons. The first reason is that this subject is attracting the attention it deserves. The second reason is that the younger generation and especially students, including students at the ZHAW, show great commitment with respect to this topic. There is no way around ecological transformation, and universities are assuming an important role in achieving this goal. The ZHAW is aware of its responsibility as can be seen in our university strategy, which contains a "transformative" goal committing the ZHAW to assume joint responsibility for a future-capable society. The 17 UN Sustainable Development Goals, which cover all areas of economy and society, particularly education and research, serve as our compass.
Numerous initiatives have been launched by the ZHAW at the level of Schools, institutes and degree programmes. We have undertaken pioneering work in various fields of sustainable development, mediated the necessary knowledge to both internal and external stakeholders and conducted scientific research for many years now. It is our goal to educate students who are committed to sustainable development and work to preserve the foundations of life. However, there had been a lack in coherent vision and coordination at the level of the entire ZHAW, which is why the Executive Board developed a sustainability strategy, adopted a Green Impact Book, and created the position of sustainability officer. Urs Hilber, member of the Executive Board and Dean of the School of Life Sciences and Facility Management, has taken on this important role in which he is responsible for coordinating and implementing the sustainability strategy.
Like ecological transformation, digital transformation is another strategic topic that deeply affects the ZHAW's future. The two subjects are strongly connected: digital transformation will have a massive impact on all levels of society, and we must ensure that digital innovations make a positive contribution to ecological transformation. More concretely, we have launched the strategic initiative ZHAW digital, which really took off in 2019. The initiative is about fostering an agile organisational structure that will allow us to respond appropriately to the challenges of digital change. The bottom-up approach of ZHAW digital consists of an open network involving all ZHAW employees who work or want to work on digital transformation.
Equally important is the digitisation initiative (DIZH). Approved by the Government Council of the Canton of Zurich in 2019, it will see the ZHAW, the University of Zurich, the Zurich University of the Arts and the Zurich University of Teacher Education cooperate closely in matters related to digital transformation.