Annual report magazine 2019
Energy-efficient soft exoskeleton for people with walking impediments
Current assistive walking devices for people with mobility issues often activate the limbs too little. ZHAW researchers have therefore developed an energy-efficient soft exoskeleton prototype.
Go to «Energy-efficient soft exoskeleton for people with walking impediments»
ZHAW researchers investigate tobacco consumption
Tobacco consumption costs at least 5 billion Swiss francs per year, according to a new study conducted by the ZHAW on behalf of the Swiss Association for Smoking Prevention.
Smoking was responsible for 9,535 deaths in Switzerland in 2015, which corresponds to 14.1 per cent of all deaths. Two thirds of these were men. To put these figures in context: 253 people died in traffic accidents in 2015, and 2,500 people died in the annual influenza outbreak. These are the results of a study on tobacco consumption conducted by the School of Management and Law on behalf of the Swiss Association for Smoking Prevention. The study investigated the number of deaths, the years lost as a result of premature deaths and the reduced quality of life due to illness, as well as the direct medical costs incurred and the economic impact of production losses. The findings are based on calculations for the year 2015.
Three billion in medical costs alone
Tobacco consumption in Switzerland is responsible for medical costs amounting to three billion Swiss francs. This corresponds to four per cent of total health expenditure. The temporary or permanent loss of employees costs the economy a further two billion francs. The conclusion is clear: tobacco consumption costs Switzerland five billion Swiss francs annually.
However, the authors of the study believe that the true costs are likely to be higher than their results indicate, because their study only focused on tobacco-related diseases that have a clear, causal connection with smoking. In addition, other forms of tobacco consumption, such as snuff or e-cigarettes, were not taken into account, nor were second-hand smoking and smoking during pregnancy.
Taking a closer look at eating habits
In the past year, several research projects were conducted at the School of Life Sciences and Facility Management in Wädenswil. Their focus was on nutrition, particularly on meat consumption and food waste.
With the NOVANIMAL.ch project, researchers aimed at finding innovative solutions that would reduce the consumption of animal food products, which will consequently influence the environmental impact of our food habits. Dr. Priska Baur and Dr. Jürg Minsch both conduct research and teach at the ZHAW Institute of Natural Resource Sciences in Wädenswil. Together they led the project, which was funded by the Swiss National Science Foundation (SNSF). The focus was on gastronomy, because out-of-home consumption counts for around 50 per cent of total animal food products consumption. The NOVANIMAL field experiment was carried out together with the catering company SV (Schweiz) AG in two ZHAW canteens over the course of three months. The results showed a significant decrease of meals sold containing meat. For women, the percentage dropped from 39 per cent to 28 per cent, and for men from 65 per cent to 50 per cent. One of the reasons for this decline was that vegetarian and vegan menus were not explicitly labelled as such. Therefore, they were no longer regarded as exotic, which has proven to be a main prerequisite for establishing a more plant-based nutrition.
Researchers analyse disposal of food waste
Project leader Prof. Dr. Urs Baier and his team of researchers from the ZHAW Centre for Environmental Biotechnology helped to close existing data gaps on food waste in Switzerland. By filling this gap, they are supporting the efforts made by the Federal Office for the Environment (FOEN). These include acquiring knowledge about the waste produced at all stages of the food chain, from stable to table. The researchers were able to prove that comparatively less food waste is produced at the agricultural stage. However, at the end of the supply chain, consumers generate a lot more food waste than previously expected. In absolute figures, it is the consumers who throw away food the most and not the food processing industry, retail industry or catering trade. In addition, the study showed that consumers disposed only a quarter of the food correctly in the green waste bin. Three quarters of the food waste ended up in household refuse collection and were therefore not available for energy recovery in a biogas plant. Nevertheless, the researchers believe that a lot has changed in terms of food waste and would like to continue documenting future developments.
Treating neck pain with a computer game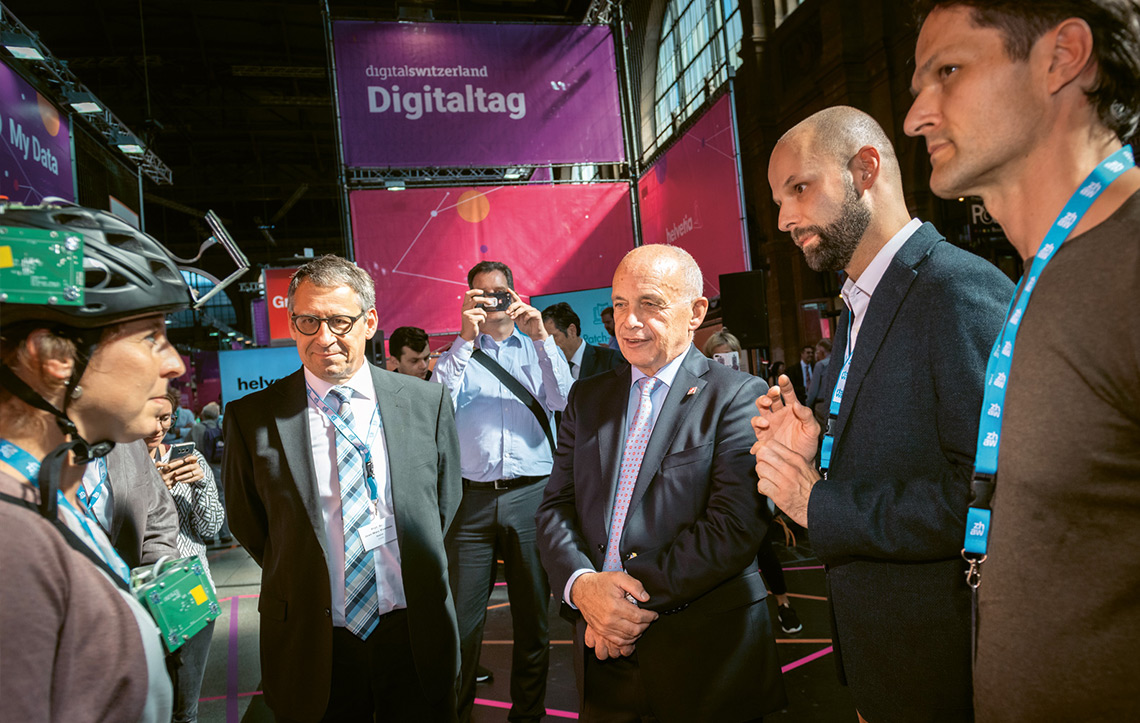 ZHAW researchers have teamed up with partners from industry and clinical practice to develop a system that treats neck problems using computer games.
Go to «Treating neck pain with a computer game»
ZHAW study finds that antidepressants increase risk of suicide
In clinical trials, taking antidepressants increases the risk of suicide. This was the conclusion drawn by researchers from the ZHAW and the University Clinic in Salzburg.
In clinical trials, patients on antidepressants were around 2.5 times more likely to commit suicide or attempt suicide than patients who were given a placebo. This is the conclusion drawn by a meta-study conducted by the ZHAW and the University Clinic for Psychiatry, Psychotherapy and Psychosomatics in Salzburg, Austria. As previous research data on the link between antidepressants and suicide rates was not clear, the researchers analysed data from all antidepressant trials sponsored by pharmaceutical companies that were assessed between 1987 and 2013 by the US Food and Drug Administration (FDA) for the purposes of market approval of the drugs for adults.
Researchers call for more patient and doctor education
The researchers estimate that in the clinical trials 1 in 202 patients given antidepressants attempted suicide due to adverse drug effects, which they would not have attempted without drug treatment. The researchers also could not exclude the possibility that the results would be similar under real-world conditions. "Our analysis does not show whether the risk is the same among real-world routine practice as it was in the clinical trials we examined," says ZHAW researcher Michael P. Hengartner. "However, we can't rule it out".
If the actual risk among the general antidepressant user population corresponds to the risk found in the clinical trials, this would mean that we would see a total of 3,614 additional suicide attempts in the roughly 730,000 patients taking antidepressants in Switzerland. "People should be made more aware of these risks associated with antidepressants. Doctors should also carefully weigh the risks and benefits," says Hengartner.
Urban edges serve as transition points between built-up areas and cultural landscapes. The ZHAW Institute of Urban Landscape has conducted research on how these can contribute to spatial development.
ZHAW-researchers survey energy discourse
The School of Applied Linguistics received federal funding to study the patterns of language usage in Swiss energy discourses. The results are exciting for the national languages.
Swiss energy policy and supply is in a state of flux. Given the uncertainty about future developments and changes in politics, the economy and technology, stakeholders are becoming more and more dependent on knowledge shared in public discourses. Discourses store in linguistic form our collectively shared knowledge, something that is an indispensable prerequisite for democratic dialogue and successful innovation.
"A common ground or common sense develops in public discourses, and these are necessary for those participating in communication to follow if they want to be understood by others," Peter Stücheli Herlach explains on behalf of the project team. "Examples include talking about concepts such as 'renewable energy' or 'climate change'."
Differences in the national languages
The Energy Discourses in Switzerland project, which was funded by the Energy – Economy – Society (EES) research programme of the Federal Office of Energy (SFOE), is one of the largest corpora of texts of its kind, and it lays the foundation for future projects in energy policy analysis. The corpus consists of some 1.2 billion words from freely accessible online texts such as websites from federal authorities, associations involved in energy policy and political parties, as well as daily, weekly and specialised media. It is multilingual (German, French, Italian and English), and the entries date back to 2010.
"Initial results show that the energy discourse in Switzerland's three official languages of German, French and Italian not only differ from one another but also influence each other," says Stüchli-Herlach. The discourses are clearly oriented towards their own language region and neighbouring countries, as can be seen for example in how topics such as renewable energy and fossil fuels were discussed with different frequency in the different language regions.
Self-powered sensors detect water leaks
A team of engineers from the ZHAW and Eawag have developed an energy self-sufficient smart-sensor system to monitor drinking-water mains.
ZHAW conducts research on foster children leaving care
What kind of support do adolescents need when they leave foster families and suddenly find themselves responsible for their own lives? A ZHAW project investigated this with the help of those affected most.
Go to «ZHAW conducts research on foster children leaving care»
ZHAW and Swisscom develop signature for blockchain
The ZHAW and Swisscom have teamed forces to develop a smart contract that makes it possible for legally valid contracts to be concluded on the blockchain. With blockchain technology, transactions can be processed transparently and independent of a centralised organisation (e.g. a bank).
Go to «First-ever qualified electronic signature for blockchain»
Living conditions of students with disabilities at the ZHAW
Great interest in online testing at the ZHAW
Academic Affairs has evaluated the use of digital testing at the ZHAW, laying the foundation to expand its use. The demand for digital testing increased significantly at the ZHAW during the two-year project.
Stefan Jan presented with ZHAW Teaching Award 2019
Stefan Jan, lecturer in physiotherapy at the School of Health Professions, won first prize in the ZHAW Teaching Award 2019 for the topic of "Imparting Basic Knowledge". In his courses, Stefan Jan combines basic knowledge, such as anatomy, pathology, biomechanics and physiology, with patient examples adapted for educational purposes or straightforward patient histories. This approach shows students that even with simple case studies it is impossible to assess a problem and its origin without having a basic knowledge of anatomy or pathology.
Second prize was awarded to Birgit Reutz from the School of Life Sciences and Facility Management. Her students in the Bachelor programme of Environmental Engineering are not only provided with the basics of theoretical technical content, but also learn to apply their theoretical knowledge according to different situations or contexts in partner regions. Third prize was awarded to Thilo Stadelmann from the School of Engineering. His teaching concept illustrates how mathematical and technical instruments are powerful tools for harnessing creativity and developing solutions for practical applications.
Each year, the ZHAW Teaching Award is given in recognition of outstanding teaching concepts.
The dynamic development of the ZHAW is reflected in the construction projects at its various locations across the canton of Zurich. The building envelope for the Adeline Favre House on Katharina Sulzer Platz was completed at the beginning of 2019 and a topping-out ceremony was held, marking an important milestone for the new training centre for occupational therapy, physiotherapy, health promotion and prevention, midwifery and nursing.
A national platform of scientific information
The ZHAW University Library is introducing a new library management system as part of the national Swiss Library Service Platform project.
ZHAW points the way to sustainable development
The ZHAW is assuming social responsibility with its sustainability strategy and embedding sustainable development at the highest level. With Urs Hilber, it has commissioned a profound expert in this field to implement the strategy.